Kevin Macdonald opens the doors to one of Camp Gitmo's most trying cases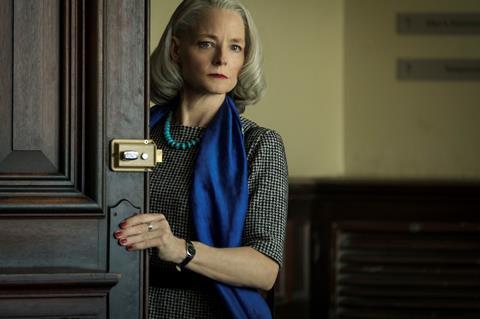 Dir: Kevin Macdonald. UK/US. 2020. 129mins.
The ordeal of Mohamedou Ould Slahi — who in the wake of 9/11 was imprisoned by the American government and held in Guantanamo Bay for 14 years without being charged with a crime — is recounted in the sobering but frustrating The Mauritanian. This straightforward legal drama, highlighted by Tahar Rahim's emotional performance as the imperilled detainee, serves as an important reminder of how the United States flouted the rule of law in order to avenge the 2001 terror attacks. But despite the harrowing details of Slahi's story — and the comfortingly familiar narrative arc of this inspirational tale of the dedicated attorneys who eventually freed him — director Kevin Macdonald can't fully transcend simplistic characterisations and an overall conventionality.
The earnest, pat execution ultimately does a disservice to Mohamedou Ould Slahi's arduous odyssey.
Opening in time for awards consideration, The Mauritanian will aim for release in US theatres on February 19 and arrive in the UK the following week. A high-profile cast which includes Jodie Foster, Shailene Woodley and Benedict Cumberbatch will help build awareness, as will the fact that the film is inspired by Slahi's bestselling memoir 'Guantanamo Diary'.
Rahim plays Slahi, who in late 2001 is seized by authorities at his family home in the African nation of Mauritania. Soon, he is brought to Guantanamo Bay, where American officials are convinced he had a role in the 9/11 attacks. Slahi swears he's innocent, and in 2005, New Mexico defence lawyer Nancy Hollander (Foster) and her associate Teri Duncan (Woodley) visit the Cuban detention centre to offer their services, determined to give the man his day in court — even though the US government has refused to charge him or provide evidence of his supposed guilt.
The Mauritanian recalls other post-9/11 films, such as The Report, which focus on the Bush administration's stunning obfuscation in order to hide the illegality of its actions. As such, Macdonald's docudrama contains uncomfortable echoes of those earlier films, which can sometimes make The Mauritanian feel like a meaningful but minor addition to a canon, which includes Michael Winterbottom's The Road To Guantanamo and Errol Morris's Standard Operating Procedure, of works that explore the ugliness of America's torture program.
Macdonald is aided by Rahim, who is so open and vulnerable as Slahi that he quickly elicits the viewer's sympathy. Cinematographer Alwin H. Kuchler cannily emphasises Slahi's terrifying conditions, which evolve from indefinite incarceration to brutal "enhanced interrogation techniques", by shooting most of the film in sharp widescreen, but depicting his time in Guantanamo Bay in a boxier aspect ratio — essentially, imprisoning Slahi in the tighter frame.
Unfortunately, although Macdonald stirs our outrage, he and his writers fail in their handling of the supporting characters. Initially, both Hollander and the government's military prosecutor, Stuart Couch (Cumberbatch), seem like intriguing variations on standard courtroom-drama attorneys. (Hollander actually doesn't care if Slahi is innocent — she's only interested in upholding habeas corpus — while Couch, although convinced that the man is guilty, wants absolute transparency so that no one will doubt the Bush administration's adherence to the rule of law.) But both lawyers soon become The Mauritanian's focus, as each learns to his or her horror precisely what Slahi endured. As a result, the film turns into a story about how Hollander and Couch are changed by this process, which feels rather beside the point when Slahi is the one in prison.
Foster and Cumberbatch do what they can with their one-dimensional roles. Hollander's no-nonsense bluntness is nicely spiky at first, but soon it becomes obvious — thanks to the urging of the emotional Duncan — that she's meant to learn that she has to think of Slahi as more than just a symbol of America's eroding liberties. Meanwhile, Couch has sufficient motivation to convict Slahi — the Marine lost a close friend in one of the 9/11 planes — but his crisis of conscience that develops after learning that the detainee's confession was coerced isn't particularly compelling.
Certainly, The Mauritanian doesn't lack for sincerity or muted rage. But the earnest, pat execution ultimately does a disservice to Mohamedou Ould Slahi's arduous odyssey. His is a story that needs to be told, but with a little more urgency and ingenuity than what's brought to bear here.
Production companies: Shadowplay Features, SunnyMarch, Wonder Street
International sales: STX International
Producers: Adam Ackland, Leah Clarke, Benedict Cumberbatch, Lloyd Levin, Beatriz Levin, Mark Holder, Christine Holder, Branwen Prestwood Smith, Michael Bronner
Screenplay: M.B. Traven and Rory Haines & Sohrab Noshirvani, screen story by M.B. Traven, based upon the book 'Guantanamo Diary' by Mohamedou Ould Slahi and edited by Larry Siems
Production design: Michael Carlin
Editing: Justine Wright
Cinematography: Alwin H. Kuchler
Music: Tom Hodge
Main cast: Jodie Foster, Tahar Rahim, Zachary Levi, Saamer Usmani, Shailene Woodley, Benedict Cumberbatch