Dir: Stéphane Brizé. Fr. 2015. 91mins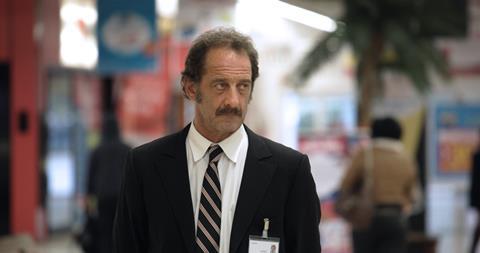 An unflinching look at deteriorating working — and non-working — conditions for the common man and woman in contemporary France, The Measure of a Man (La Loi du marché) has the disquieting ring of truth. Vincent Lindon, in his third collaboration with Stéphane Brizé, is the only trained actor in the cast. Thirty or so non-actors performing roles close to their genuine professions add an often heartbreaking je ne sais quoi to this account of an honest 51-year-old factory worker who has been laid off and can't find work as his benefits are running out.
Vincent Lindon has a wide range as an actor, but he often embodies an ordinary man in challenging circumstances. His performance here is rock solid.
While putting profit before people has long been the trend in many an industrial nation, the brutal downturn in the French labour market is a more recent development. (There is talk, for example, of making it illegal for a profitable company to fire workers or to move offshore simply to make more money.) What may appear to be — literally — business as usual to viewers beyond France can still raise shocked and empathetic eyebrows for local audiences.
The Measure Of A Man may be downbeat but, as with the Dardenne Brothers or Ken Loach, it's not boring. There's plenty of violence — but "only" the verbal and emotional kind.
The film starts with Thierry Taugourdeau (Lindon) respectfully but with escalating exasperation telling an unemployment counsellor that he has just wasted four months doing a paid internship in a field where nobody is hiring. We can tell from the extended, documentary-style sequence that Thierry is a reasonable man without a shred of self-pity.
Because Thierry doesn't appreciate being strung along or humiliated, we, as viewers are invested in his efforts to maintain his dignity and integrity, which isn't easy.
A sequence with former co-workers shows that they were laid off from a firm that was turning a profit, for bogus "economic reasons". They could go to a labour court and might even win. But pragmatic Thierry is only interested in getting back into the workforce and not dwelling on the unfair practices to which he's been subjected.
He's a loving father to his heavily disabled son (Matthieu Schaller) and doesn't relent in his job search except to enjoy family meals or take community centre dance lessons with his wife (Karine de Mirbeck.)
Brizé hired doc cameraman Eric Dumont who has never shot a fiction film before and gave him a free hand with the understanding that Thierry be at the center of the story. Whether it's a pointless job interview via Skype or an even more pointless group critique during a practice interview at the unemployment office, Thierry takes the punches.
Interactions seem to take place in real time, whether they be at the bank, or face-to-face with presumed shoplifters once Thierry finally gets a job as a mall store security guard, a good hour into the proceedings.
This may be his last chance to collect a steady paycheck. But Thierry finds it increasingly difficult to tamp down his conscience. The suspense lies in whether he'll manage to express himself in tiny but essential increments or take another path.
Lindon has a wide range as an actor, from mass market comedies to physically challenging crime drama to socially conscious fare such as Welcome, but he often embodies an ordinary man in challenging circumstances. His performance here is rock solid. Thierry Taugourdeau is a character who lingers in the mind's eye.
Production companies: Nord-Ouest Films, Arté France Cinéma
International sales: MK2
Producers: Christophe Rossignon, Philip Boëffard
Screenplay: Stéphane Brizé and Olivier Gorce
Cinematography: Eric Dumont
Editor: Anne Klotz
Production design: Valérie Saradjian
Main cast: Vincent Lindon, Yves Ory, Karine de Mirbeck, Matthieu Schaller, Xavier Mathieu, Catherine Saint-Bonnet, Roland Thomin, Stephanie Hurel, Saïd Aïssaoui, Françoise Anselmi