Dir. Mads Matthiesen. Denmark. 2016. 106mins.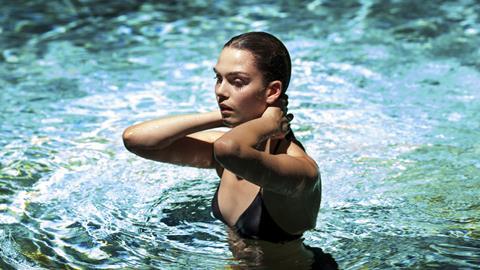 Aspiring model Emma (Maria Palm) dreams of scoring a catwalk show for Chanel. This is her ultimate aim when she leaves her family in suburban Denmark and plunges into the world of Paris fashion. And while the trajectory of her story may seem overly familiar, in this case Emma's ambition, almost as much as the predatory nature of the industry, is shown to be complicit in her fate.
Real-life model Maria Palm is effective in a role which benefits from her lack of acting experience
The second film from Mads Matthiesen, who won a Sundance directing prize for his 2012 debut Teddy Bear, The Model sets out to confirm the worst assumptions about the fashion industry while offering few additional insights. Like the world in which it is set, however, the film's stylish froideur will exert a fascination. And the issue it explores – the exploitation of young women in an industry that expects children to make adult decisions – remains depressingly current. The marketability of the fashion world backdrop may help the film find an audience beyond the festival circuit.
Real-life model Maria Palm is effective in a role which benefits from her lack of acting experience. Emma is, as yet, unformed. She is ambitious, believing she has as much right as any other girl to pursue a career as a model. But she's also passive, and hasn't developed the hard carapace which is necessary to survive the knocks and criticism. She doesn't know how to take a compliment; she covers her mouth when she smiles. Her extraordinary looks give the impression of an emotional sophistication and maturity which is not yet there. In many ways, not least her age, Emma is still a child.
She meets hotshot photographer Shane White (Ed Skrein) on her first booking. It is a disaster. He sends her home in disgrace. But later, at a Paris bar which doubles as a kind of high-fashion meat market, she catches his eye. A relationship develops, and Emma is smitten. Not uncoincidentally, her career is on the ascendant as well.
But Emma is not emotionally equipped to deal with the responsibilities of adult life. She dodges the awkwardness of telling her boyfriend back home that she has met someone else, but then has to deal with the tricky situation of his surprise visit. She breaks the news to him by locking lips with Shane in his presence.
It's not the kindest moment, but we, like everyone in the film, tend to forget that Emma is a child. Shane's reaction when she tells him her real age – sixteen – is to recoil as if she just threw boiling oil at him. He still ends up in bed with her again. Classy guy. And this is part of the problem with the film. Emma at least has her age as an excuse for her lack of depth and complexity. The rest of the characters are vapid and self-serving without the excuse of adolescence.
The descent into melodrama in the final act increases the tension but, in relying on some unexpected actions by several characters, also damages the film's credibility.
Production company: Zentropa
International sales: TrustNordisk info@trustnordisk.com
Producer: Jonas Bagger
Screenplay: Mads Matthiesen, Martin Zandvliet, Anders Frithiof August
Cinematography: Petrus Sjövik
Editor: Pernille Bech Christensen
Production design: Emma Pucci
Main cast: Maria Palm, Ed Skrein, Charlotte Tomaszewska, Marco Ilsø, Thierry Hancisse, Virgile Bramly, Claire Tran