Idris Elba and Kate Winslet headline Hany Abu-Assad's English-language foray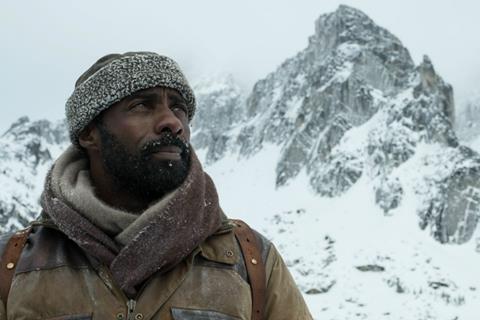 Dir. Hany Abu-Assad. US. 2017. 112mins
A battle for survival blooms into an unexpected romance in The Mountain Between Us, a drama that struggles to balance its life-or-death stakes with its far more florid love story. The considerable chemistry between Kate Winslet and Idris Elba certainly helps sell this tearjerker, but even so the film feels oddly distant and muted, only really coming to life in a denouement that suggests the tasteful passion buried at the story's core.
There's a realism to the actors' interactions that eschews disaster-movie hysterics for a considered, strategic approach to staying alive
Fox will release The Mountain Between Us in the US on October 6, and its starry leads should attract plenty of upscale date-night crowds. Fans of the Charles Martin novel will be intrigued, too, but it's hard to see this rarefied love story catching on with mainstream crowds.
As the film begins, photojournalist Alex (Winslet) and neurosurgeon Ben (Elba) are both stuck in an Idaho airport, unable to get to Denver because of bad weather. Alex introduces herself to Ben and suggests they rent a small plane to fly them to Colorado — which leads to disaster once the pilot (Beau Bridges) suffers a stroke and they crash in the snowy mountains of Utah.
At first, it's a miracle that Alex and Ben even survive their emergency landing. But then they realise that, because they're cut off from civilisation in the dead of winter with no cell-phone service, they must undertake a dangerous trek through the mountains to find help.
Director Hany Abu-Assad (Paradise Now, Omar) elicits relaxed performances from his leads, whose characters barely get to know one another before the crash, thrusting them into a harrowing situation that requires them to build a shelter and find food. We learn the bare minimum about each — she was on her way to her wedding, while he has a wife, whom he doesn't want to talk about — and The Mountain Between Us doesn't try to force them too quickly into a romance. Initially, survival is far more critical.
Winslet and Elba locate the wry humour in Chris Weitz and J. Mills Goodloe's screenplay as they become unlikely partners in this quest — joined on their odyssey by the pilot's dog, who also survived. There's a realism to the actors' interactions that eschews disaster-movie hysterics for a considered, strategic approach to staying alive. In between, they face obstacles that range from ravenous animals to perilously thin ice.
The Mountain Between Us emphasises their horrifying predicament — the movie was shot in the mountains of British Columbia — but Abu-Assad and cinematographer Mandy Walker light their actors with such movie-star glamour that we don't always feel the gravity of their situation. Beyond simply being attractive people, they look a little too fresh and healthy to believably play characters braving treacherous mountain terrain.
As a result, The Mountain Between Us starts creeping into fantasy — a sensation that becomes more pronounced once Alex and Ben act on their growing attraction. Abu-Assad can't quite puncture the setup's romance-novel phoniness, no matter the clear affection that develops between these characters, who start to recognise that they may die together on that mountain.
Winslet subtly charts Alex's emotional evolution. A photographer used to working in dangerous locales, she's no damsel in distress, which makes her softening around Ben all the more touching. As for Elba, he's playing a man with secrets, and despite some stifling narrative clichés, the actor manages to make Ben more than just a cardboard heartthrob. After the film arrives at what seems to be its ending, Winslet and Elba are given one last scene to resolve their characters' complicated attachment. Though it's still dripping in make-believe, the moment proves sufficiently poignant — thanks largely to the compassionate, connected performances they've established.
Production companies: Chernin Entertainment, Fox 2000 Pictures
Worldwide distribution: Twentieth Century Fox, www.foxmovies.com
Producers: Peter Chernin, Jenno Topping, David Ready
Executive producers: Becki Cross Trujillo, Fred Berger
Screenplay: Chris Weitz and J. Mills Goodloe, based upon the book by Charles Martin
Cinematography: Mandy Walker
Production design: Patrice Vermette
Editor: Lee Percy
Music: Ramin Djawadi
Website: www.foxmovies.com/movies/the-mountain-between-us
Main Cast: Kate Winslet, Idris Elba, Dermot Mulroney, Beau Bridges