Sergei Loznitsa's seventh archival doc is an intense, conscience-stirring work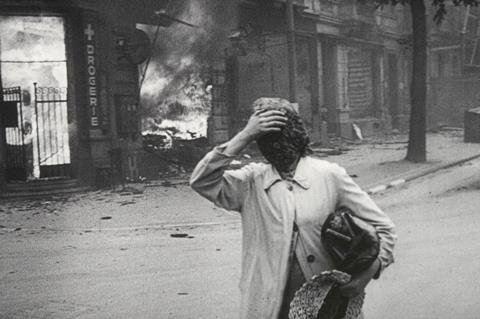 Dir/scr: Sergei Loznitsa, Germany/The Netherlands/Lithuania, 109 mins.
A dense and intense work of archival documentary film-making, The Natural History Of Destruction takes its title from WG Sebold's book of (almost) the same name which examined the carpet bombing of Germany by Allied forces towards the end of the Second World War. The figures are horrifying: a million bombs, 600,000 dead, 3.5 million homes destroyed, 7.5m homeless, lives and towns and cities flattened. Loznitsa's film, though, doesn't take a chronological or factual account of what happened, or even stick to Germany (there are more voices from the UK than Germany, which is rendered mute).
This film may show some images that are known, but here Loznitsa is forcing the audience to really see them.
Sebold's book tried to examine the morality of the mass bombing of civilians, an experiment at the time ("an interesting initial experiment"). The world, though, largely looked away and has never viscerally registered this outrage. Despite the Geneva Convention being amended in 1977 to deem such events war crimes, they continue: most recently in Syria, and, right at this very moment, in Loznitsa's native Ukraine. It's not the first time the director has stepped out of Eastern Europe and into the West, but it's rare for him, and with his seventh archival doc he stirs every conscience in the room with a freeform, roaming - and, as often with his work - circular swirl. The Natural History Of Destruction is not an easy watch on a formal film-making level or its thematic one, as a lost populace gazes into cameras, their tinder stick homes and buildings fallen to rubble behind them.
The deliberately disorientating part of Loznitsa's approach is to throw the audience out of any sense of place or time. Working in Academy ratio, which pulls the eye in, he starts with bucolic pre-war scenes, presumably of Germany - ducks in the road, craftsmen at work, fishermen, etc. He then moves to larger cities long-since destroyed, then Berlin's Unter Den Linden, then, finally, a Nazi flag. We only hear ambient sound and voices, with Loznitsa's genius sound designer Vladimir Golovnitski back at the controls. Then, disorientatingly, we are watching what seems to be bursts of fireworks in the night sky: but it isn't that, those are bombs exploding at an unbelievable rate, and the bright lights are cities imploding in the dark.
Loznitsa switches to a munitions factory - seemingly in England - where workers feed the machines of war with guns, bullets, rapid airplane assemblage. The first person to actually speak in the film is Field Marshal Montgomery, addressing the rapturous workers. We'll later see Churchill visiting a devastated city to admiring crowds, but the only voice the Germans seem to have is Wagner's Meistersinger overture, performed to a silent, dazed audience. There's a point, in the third act, where Loznitsa's film spins into a campaign of terror: planes drop their lethal cargo dozens at a time, rows and rows of corpses line up on streets filled with rubble, while homeless people wheel what's left on prams or in barrows. The fact you don't know where they are takes any possibility of judgement out of the equation: they're people, civilians, and they have been crushed remorselessly.
Christiaan Verbeek's score will rise to an angry crescendo by the end, underscoring the emotion of this carefully edited montage of death and destruction, full of image, devoid of comment. With credit to Manuel Heller as archive producer, this film may show some images that are known, but here Loznitsa is forcing the audience to really see them. It isn't easy, but why should it be? The Natural History of Destruction posits, voicelessly, that the world has looked away for so long that it has doomed itself to repeat these crimes, right now, even as you watch.
Production companies: LOOKSfilm, Atoms & Void, Studio Uljana Kim
International sales: Progress Film, Bettina Offermann, offermann@progress.film
Producers: Regina Bouchehri, Gunnar Dedio, Uljana Kim, Sergei Loznitsa, Maria Choustova
Editing: Danielius Kokanauskis
Music: Christiaan Verbeek
Sound design: Vladimir Golovnitski
Archive producer: Manuel Heller