Dir: Terry George. US/Spain. 2016. 134mins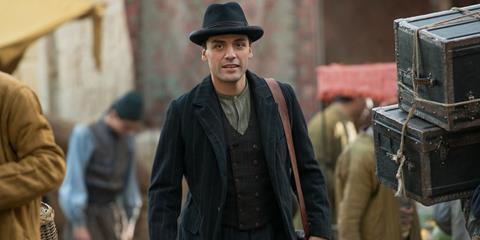 A soggy World War I romantic drama, The Promise finds Oscar Isaac lending his soulful, heartthrob magnetism to material that fails to achieve the timeless, old-fashioned feel to which it aspires. Cataloguing the atrocities of the Armenian genocide, Hotel Rwanda director Terry George buries a worthy subject in a stuffy story of unrequited love and selfless heroism that gives off a strong scent of mustiness.
The Armenian genocide, although it predates the Jewish holocaust, has never been as chronicled on the big screen.
Premiering in Toronto, The Promise will court buyers based on the star power of Isaac and Christian Bale, as well as rising talent Charlotte Le Bon. But reviews could be a problem, discouraging older audiences from taking a chance on an overlong, undernourished war movie.
Kicking off in 1914, the film stars Isaac as Michael, an Armenian apothecary who travels to Constantinople to become a doctor, using the money he's earned from a dowry as part of an arranged marriage to a young local woman (Angela Sarafyan) whom he does not love. Once Michael begins his studies, though, he's smitten by Ana (Le Bon), an artistic fellow Armenian who happens to be dating a fearless American journalist named Chris (Bale). Michael and Ana cannot deny their attraction, but passion must take a backseat to his previous marital promise and the looming presence of a Turkish military that is gathering up Armenians in order to eradicate them.
The Armenian genocide, although it predates the Jewish holocaust, has never been as chronicled on the big screen. For that reason — and perhaps that reason only — The Promise is a meaningful film. Otherwise, this is a pretty standard romantic-triangle narrative in which the combustible chemistry between two of the characters makes their eventual pairing inevitable.
To be fair, Isaac and Le Bon do share a smouldering sexual tension that gives the drama a little zest. But even then, the cast is smothered in George's staid tastefulness, which extends to Gabriel Yared's goopy orchestral score. The Promise seems embalmed in its good intentions, and the air of rampant worthiness gives the proceedings a leaden predictability, all but guaranteeing that a tragedy or cruel twist of fate will visit these characters in due course.
Showing no problem working an Armenian accent, Isaac delivers the kind of intensely present performance that has become his trademark. Even if Michael is a drably honourable character, the actor brings some vitality, proving more successful than Bale, whose activist journalist may want to bring the truth of this genocide to the world but does so in a generically morally-righteous way.
As for Le Bon, she's an ethereal, alluring presence, but Ana isn't so different from the damsel-in-distress heroines of old war romances, her character eventually saddled with crying beautifully and then looking on in awe beautifully. No one would want The Promise to be a darkly subversive rewriting of genre clichés — such an approach would be disrespectful to the movie's underlying purpose — but George has always been an earnest filmmaker, which leaves the love story feeling mannered and the social relevance merely dutiful as opposed to urgent.
Occasionally, he and cinematographer Javier Aguirresarobe will hit upon an arresting image — like Michael dangling from the side of a speeding train carrying frightened Armenian prisoners on a rainy night — but more often, The Promise boasts serviceable battle sequences and some unconvincing computer effects. More than a century after the genocide occurred, the Turkish government has yet to formally recognise its role in the mass murders. That's a bitter legacy — and a movie like The Promise does precious little to bring such an injustice to light.
Production companies: Survival Pictures, Mike Medavoy Productions, The Promise Producciones AIE-Survival Pictures
International sales: William Morris Endeavor Entertainment, info@wmeentertainment.com
Producers: Eric Esrailian, Mike Medavoy, William Horberg
Executive producers: Kirk Kerkorian, Ralph Winter, Denise O'Dell, Mark Albela, Anthony Mandekic, Patricia L. Glaser, Dan Taylor, Sheri Sani
Screenplay: Terry George and Robin Swicord
Cinematography: Javier Aguirresarobe
Production design: Benjamín Fernández
Editor: Steven Rosenblum
Music: Gabriel Yared
Main Cast: Oscar Isaac, Charlotte Le Bon, Christian Bale, Daniel Giménez Cacho, Shohreh Aghdashloo, Marwan Kenzari, Angela Sarafyan