Peter Middleton and James Spinney turn their attention to The Little Tramp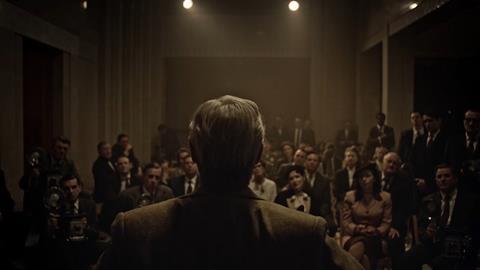 Dirs. Peter Middleton, James Spinney. UK. 2021. 113 mins.
Charlie Chaplin will never cease to fascinate, and Peter Middleton and James Spinney's delayed follow-up to Notes On Blindness is certainly dazzled by him, although it fails to add any fresh insights into the iconic entertainer. Using an array of aural and visual tools to try uncover the "the real" Charles Spencer Chaplin, the British film-making duo succeeds better than most in giving a pungent taste of the entertainer's poverty-stricken background in Lambeth's workhouses and the void of shattering early-life loss that he never could fill.
Too much time is spent on showy sleights of hand
Yet this meticulous documentary can't quite overcome the inevitability of its rise-and-fall trajectory, the familiarity of its sad-clown hypothesis. A painfully slow, didactic narration acts as a contrast to Chaplin's own breakneck vaudevillian antics, dragging on the film. And the fact this most beloved of showmen was a cold and distant man off-screen is well-documented, even when he was alive. Yet The Real Charlie Chaplin is also a treasure trove of archive footage and out-takes, in particular surrounding City Lights. It doesn't shirk away from his messy private life either (again, well-known when he was alive), drawing firm and unsettling parallels with events in today's business — particularly when a group of 'intellectuals' rounds on his second wife in an open letter, calling her, literally, a cow and a parasite. (This was an actress he met at the age of 12 and married at 16.)
Set for US exposure through Showtime after Telluride and London premieres and undoubtedly prestige small-set exposure elsewhere, The Real Charlie Chaplin returns over and over again to footage the film-makers have unearthed of the attic at No 3, Parnell Terrace in Kennington, where Chaplin lived with his mother and watched her go slowly and irrevocably insane. (Chaplin would recreate this single room dwelling in 1921's The Kid). That space haunts the film, much as it seems to have trailed the actor-director through the kind of fame and fortune the world had not known before or since, and shots of the crowds which accompanied him for the ride are almost unbelievable. Images of dissolving celluloid - out-takes from City Lights, where he worked on a pivotal scene for 534 days before getting it right - are an eerie reflection of how fragile that adoration would be.
The film often makes mis-steps, skipping too quickly over crucial parts of Chaplin's life while becoming bogged down in the idea of peeling The Little Tramp away from the man who created him. The film also takes a familiar detour in tracking Chaplin's rise with that of Adolf Hitler - they were born in the same year - and following them through to The Great Dictator (where Chaplin finally talked and his mouth got him in trouble). Middleton and Spinney do add atmosphere through re-enactments, however. Staged to original audiotapes, they're surprisingly effective, particularly with an interview given by one of Chaplin's old Lambeth schoolfriends. Yet the device of jerking old black-and-white images back and forth to intimate movement is over-used.
Too much time is spent on these showy sleights of hand, while the film cuts other parts of Chaplin's life short. His move from the Lambeth workhouse to the London stage to America and the precision pratfalls of Fred Karno is tantalisingly brief. His arrival at Keystone Studios and the first appearance of the Tramp is well documented, but from that point to co-founding United Artists and becoming the kind of demanding film-maker who would shoot for more than two years on a single film are frustratingly cut short. He had four wives, but only two get more than a name-check. The film ends up with Hoover, the House Un American Activities Committee, and Chaplin's exile from the United States in 1952, and this section is almost perfunctory.
Yet The Real Charlie Chaplin does come alive again in Switzerland, when it connects the old man with his youth. Family members (in voiceover) remember a distant, controlling man. Perhaps one of the saddest notes comes when his daughter, Geraldine, reflects on her mother's life: "I imagine it would be lonely, being the wife of Charlie Chaplin." Oona O'Neill met Charlie Chaplin when she was a 17-year-old ingenue and he was 52. They had eight children together. Were they happy? She never spoke. It seems he only ever turned it on for the cameras. From the opening frames of this film the viewer can never escape the fact - or the original archetype - that while Charlie Chaplin was the ultimate comedian who made a sad world laugh, his own life seems to have been lived without much mirth.
Production companies: Passion Pictures Archer's Mark, Smaller Biggie
International sales: Altitude
Producers: Ben Limberg, John Battsek, Mike Brett, Steve Jamison, Jo-Jo Ellison
Screenplay: Oliver Kindeberg, Peter Middleton, James Spinney
Cinematography: James Blann
Production design: Neil Allum
Editing: Julian Quantrill
Music: Robert Honstein