Dir: Michael Dudok de Wit. France-Japan. 2016. 80mins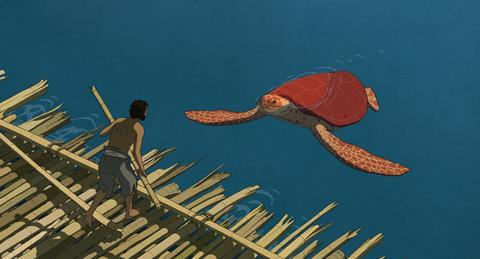 The passage of time, the power and indifference of nature and the tenets of survival are beautifully incorporated into The Red Turtle, a dialogue-free animated fable in which a shipwrecked man makes a life for himself on a remote island. With unpretentious poetry to spare, Dutch illustrator and animator Michael Dudok de Wit winningly expands to feature length the verve that has been evident in his award-winning short films for two decades.
This is, quite simply, thoughtful and ultimately moving animation at its best
Leisurely yet captivating saga parlays carefully dosed humour and surreal touches at just the right junctures to jostle and confound narrative expectations. Creative sound design and a thoughtful score round out an unconventional but presumably marketable visual and emotional experience for everybody, animation fan or otherwise.
In the powerful opening sequence, the sounds of thunderous waves accompany the sight of a man struggling not to drown in extremely rough seas. He awakens on the beach of an island whose terrain he explores: sand, giant rocks, lots of forest and a fresh water pond inland. The horizon is ocean, ocean and more ocean. Our supple and resourceful hero, who clearly has no intention of staying longer than necessary, shakes fruit from trees and eats fish to survive.
He industriously builds a raft with foliage for a sail. But once he's a modest distance offshore, something in the water thumps his makeshift craft to smithereens from below, leaving our frustrated guy to swim back to the beach to build another raft. This happens more than once.
Then, 25 minutes into the story, the title creature appears — a giant turtle with a distinct red shell and red-hued flippers. The man sees to it that the turtle won't interfere with his next raft. But the vanquished turtle eerily turns into something else, opening up the possibility for companionship, and an ethereal courtship ensues.
Adorably animated scuttling sand crabs provide comic relief as the ebb and flow of existence takes on a universal resonance. This is, quite simply, thoughtful and ultimately moving animation at its best.
Subtle Japanese influences have long made themselves felt in the Dudok de Wit's illustration style - Studio Ghibli first approached the director back in 2006 - annd here they're especially evident in some luscious dream sequences and the ever-changing beats of nature. The depiction of light at various times of day is exquisite and the use of color and chiaroscuro couldn't be better. If there was an award for Most Expressive Shadows in a Motion Picture, this would be a prime candidate.
Production companies: Why Not Productions, Wild Bunch, Studio Ghibli, CN4 Productions, Arte France Cinéma, Belvision
International sales: Wild Bunch
Producers: Isao Takahata, Toshio Suzuki, Vincent Maraval
Screenplay: Michael Dudok de Wit, Pascale Ferran
Chief animator: Jean-Christophe Lie
Animation Studio and executive producers: Prima Linea Productions — Valérie Schermann and Christophe Jankovic
Sound design: Alexandre Fleurant, Sébastien Marquilly
Storyboard: Michael Dudok de Wit
Production design: Michael Dudok de Wit, Julien De Man
Music: Laurent Perez del Mar