A seemingly perfect marriage begins to collapse under the weight of mental illness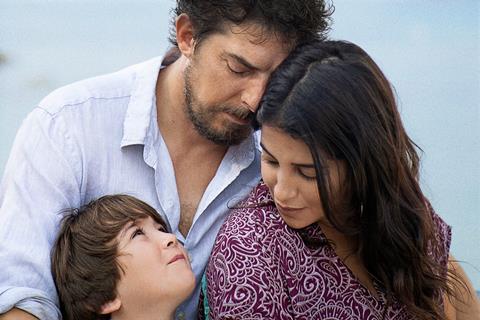 Dir: Joachim Lafosse. France, Belgium, Luxembourg. 2021. 117 mins
The marriage between furniture restorer Leila (Leïla Bekhti) and artist Damien (Damien Bonnard) is, at its strongest, a febrile and thrillingly unpredictable thing. But passion and spontaneity starts to lose its charm when it accelerates into yet another of Damien's spiralling bipolar episodes. Joachim Lafosse, a director who is particularly adept at teasing out the frictions and complicated dynamics in marriages in films like Our Children, After Love and Keep Going, delivers an impressively nuanced portrait of the three-way relationship between a man, a woman and his disease.
Pulls no punches when it comes to exploring the impact of mental illness on even the strongest of marriages
While not a picture which is formally risk-taking in approach, this is a quality production which explores its uncomfortable subject matter with sensitivity and uncommon depth. Two strong central performances are a further selling point for a film which will likely enjoy a healthy festival run after its premiere in Cannes Competition, followed by interest from specialist arthouse distributors.
Filmed in some particularly blissful locations in rural Luxembourg and France, and unfolding in a world filled with art and beauty, The Restless is a film which goes to great lengths to flesh out the bond between Leila and Damien and to celebrate their unconventional, Bohemian existence. It's an astute decision – while After Love, Lafosse's previous picture about a terminally strained marriage, was undeniably compelling, it was less easy to mourn a relationship that the audience has never seen as a full-blooded, thriving entity.
Here, through sensuous lensing from Lafosse's regular collaborator Jean-François Hensgens, we get to know them both as lovers and as loving parents to a young son, Amine (Gabriel Merz Chammah, well cast). We glimpse moments of luxuriant intimacy, we see the pleasure that Leila and her husband take in each other. Damien's creativity – the very gift that makes him a successful, widely exhibited painter – is a key part of his personality and informs every aspect of his life choices. But it gradually becomes clear that his creativity and the rising tide of sickness which periodically engulfs him are inextricably linked. And gradually, it dawns on Leila that the restless impulse that drives Damien to fix a bike at 2am and to cook a vast, kitchen-wrecking banquet, is not just Damien being Damien. It's a warning sign.
As with many troubled marriages, the child becomes a flashpoint. And sweet, sensitive Amine is intuitive enough to recognise real danger in his father's increasingly erratic behaviour. The child features in two of the film's most powerful scenes – a horrifying school run in which Damien, unreachably high, insists on driving at breakneck speed along winding lanes. And while Amine is no longer in danger once he gets to school, the scene which follows immediately afterwards is, in its own way, equally traumatising. Caught in a whirl of pinballing impulses, Damian hurtles into a nearby bakery and buys up all the cupcakes, then bursts back into Amine's classroom with arms spilling empty calories and a half-formed idea of a class trip to the lake. His son shrinks under the pitying gazes of his classmates.
A clearly well-researched screenplay provides a solid framework for this perceptive picture, which pulls no punches when it comes to exploring the impact of mental illness on even the strongest of marriages. Once Leila has spotted the danger signs in Damien's behaviour, she can't unsee them. Her caution around him is a learned behaviour which crushes the impulsive joy she once felt in their marriage. She coaxes him to take his medication while also realising that Damien, without his illness, is not the man she fell in love with.
Production company: Stenola Productions, Samsa Films, KG Productions, Prime Time
International sales: Luxbox info@luxboxfilms.com
Producers: Anton Iffland-Stettner, Eva Kuperman, Jani Thiltges, Alexandre Gavras, Antonino Lombardo
Screenplay: Joachim Lafosse, Anne-Lise Morin
Cinematography: Jean-François Hensgens
Editor: Marie-Hélène Dozo
Production design: Anna Falguères
Main cast: Leïla Bekhti, Damien Bonnard, Jules Waringo, Gabriel Merz Chammah, Luc Schiltz, Larisa Faber