Dir/scr. Rose Bosch. France-Germany-Hungary. 2010. 124 mins.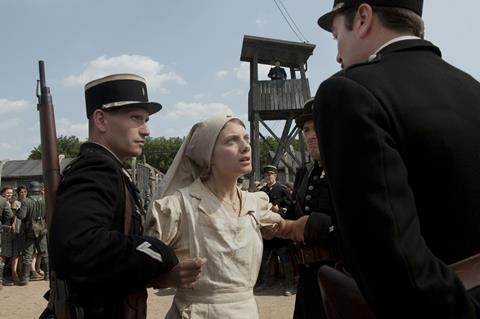 The harrowing true story of how French police rounded up civilian Jews living in Paris in order to send 13,000 men, women and children to their deaths at Auschwitz is given an accurate, sometimes wrenching and occasionally overly theatrical treatment in The Round Up (La Rafle). Demonstrating exactly how French authorities pandered to the Nazis, this ambitious period drama boasts a prestige cast that should help draw local audiences to an uncomfortable subject.
Adorable Nono truly conveys the obscenity of sending thousands of innocent children to their deaths.
Producer Ilan Goldman, who gambled and won on La Vie En Rose, has taken on a difficult slice of French history. Apart from 1973's Les Guichets du Louvre (Black Thursday) and Joseph Losey's Monsieur Klein, dramatic attempts to address the so-called Vel d'Hiv roundup of July 16, 1942 are virtually non-existent. Not unlike Andrzej Wajda's Katyn, which set the record straight about another wartime travesty long ignored, The Round Up doggedly relates the morning raid and its aftermath in human terms.
Despite some didactic moments, this is at least a welcome educational tool, and recent EFM sales suggest an international future aided by strong performances from both Melanie Laurent (Inglourious Basterds, The Concert) and Jean Reno. But the child actors make this tale both bittersweet and bearable, playing five-year-old Nono (twins Mathieu and Romain Di Concetto) and 11-year-old Jo (Hugo Leverdez), two Jewish boys who witness the events as they happen.
Meticulously researched, The Round Up is initially set in a mostly poor but tightly knit Montmartre neighborhood, where we are introduced to school children who have just been obliged to war a yellow Jewish star. Some adults mock the measure, but the occasional racist is glad to know who to insult.
Schmuel Weismann (Gad Elmaleh), a veteran of the First World War whose modest refugee family is proud to live in France, scoffs at the looming danger. Dina Traube (Anne Brochet) and her professor husband represent the wealthy end of the Jewish curve.
Meanwhile (using actors) Hitler is seen demanding that French Jews be captured posthaste and the Vichy government and Paris authorities are shown in complicity, planning mass deportations from detailed lists.
The raid itself is mercilessly efficient as 13,000 Jews are roused from their beds and hustled off to an indoor cycling stadium with few toilets and one water tap. It's summer, it's hot and the giant holding pen turns hellishly unhygienic.
Protestant nurse Annette Monod (Laurent) arrives to help overwhelmed Dr. David Sheinbaum (Reno). A stunning crane shot reveals the sheer quantity of people under lock and key, ailing and thirsty but unaware they're doomed.
Transferred to heavily guarded camps on French soil, stripped of their valuables and weakened by meager rations, the prisoners' situation continues to deteriorate, with French jailers brutally mistreating people whose only "crime" was to have been born Jewish.
Without diluting horrific events, screenwriter-director Rose Bosch implies that the thousands of Jews who avoided the initial roundup were tipped off and/or aided by gentiles.
Thoughtful art direction and overall attention to detail work in the story's favour. But it's adorable Nono who truly conveys the obscenity of sending thousands of truly innocent children to their deaths.
Production companies
Gaumont
Legende
International sales
Gaumont
+33 1 46 43 21 80
Producers
Ilan Goldman
Catherine Morisse
Cinematography
David Ungaro
Production design
Olivier Raoux
Editor
Yan Malcor
Main cast
Jean Reno
Melanie Laurent
Gad Elmaleh
Hugo Leverdez
Olivier Cywie
Mathieu and Romain Di Concetto
Anne Brochet
Sylvie Testud