Dir. Shimon Dotan. France, Canada, Israel, Germany, 2015. 110 min.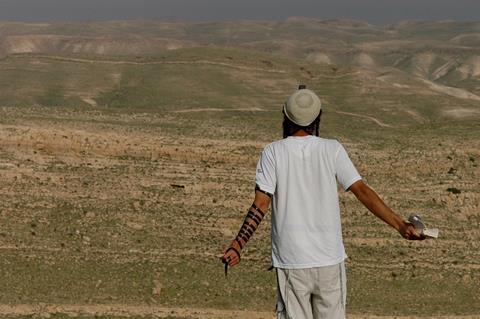 "I am a settler, yes," says a longhaired Israeli man, with a broad and revealing smile. "I love this land, and I hope to be bound to it until I'm buried in it."
…yet another convincing example of Israel's self-critical cinema and the endless intractability of the Israeli-Palestinian conflict
In this early exchange in Shimon Dotan's nonfiction follow-up to 2007's Hot House, The Settlers establishes a key aspect of its main object of study: Israeli settlers are a prideful and unwavering bunch. A competently made and mostly compelling chronicle, the film follows these ardent individuals' steadfast commitment to their beliefs from their blossoming after the 1967 Six Day War to their firm entrenchment today.

Following in a long line of recent Israeli documentaries that take a critical look at Israel's past in conjunction with its present (Censored Voices, The Gatekeepers, Waltz with Bashir), The Settlers doesn't exactly cover the freshest material. The film goes over several now familiar moments in Israeli history, from the assassination of Yitzhak Rabin to the rock throwing and bus bombings of the Second Intifada. But judging from the continued appetite for such documentaries and Dotan's behind-the-scenes insights into some lesser-known right-wing triumphs, The Settlers will likely be welcomed by international TV and streaming buyers.

Largely structured chronologically, The Settlers traces the rise of settlements within the disputed "Occupied" or "Held" Territories since the 1967 Six Day War. Dotan examines the Messianic founding of the settlement movement spurred on by Rabbi Zvi Yehuda Kook; government settlement restrictions (under Rabin); expansions (under Menachem Begin and Ariel Sharon); and restrictions again (under Rabin); as well as the persistent building of settlements and outposts, which flout both international and Israeli law. One Israeli Deputy State attorney accuses the government of "institutional illegality" in covertly allowing and even funding the settlements to continue.

To flesh out the historical narrative, Dotan intercuts interviews with instrumental pioneers in the movement as well as more critical voices from the Israeli left, including professors, government officials and one Palestinian human rights activist. As expected, the settlers come across mostly as right-wing extremists, so fixed to what they perceive as their God-given right that they are completely inured to intellectual reason or political realities, focusing instead on a variety of rationalisations and justifications for their actions.

But their insights into their cause can also be genuinely disturbing. A particularly haunting sequence, related by Sarah Nachshon and partially animated, relates an incident in which she defied IDF forces and buried her dead infant child in the Palestinian town of Hebron, thereby paving the way for a permanent Israeli settlement there. Earlier on, Nachshon declares, "I wanted to be a bone in the government's throat." Another pivotal member of the movement, Yehuda Etzion, speaks proudly of his involvement in the assassination of three Palestinian mayors.

But not all of the settlers are religious ideologues. Though a short sequence, Dotan offers a refreshing interview with a settler who says she was born into her place; she admittedly lives in a yurt-style tented home because, as she claims, it will be easier to take down if and when the time comes. Another man, who surprisingly hails from a WASP background, has opened up a bridal salon in a broken-down bus in the middle of nowhere. What's also fascinating, though briefly addressed, is the growth of certain settlements into upper-middle-class suburban oases. With elaborate bridge-and-tunnel networks for speedy access into Jerusalem, these residents may be driven as much by economic mobility as Zionist zealotry.

Because of the escalating tensions and conflicts of the settlement movement, with increasing cycles of violence and vengeance on the part of settlers and Palestinians, The Settlers is captivating viewing for the most part. But it's also muddled in its combination of historical and contemporary storytelling. At some points, it feels like a history lesson; at others, particularly during the second half, it is more an observational documentary.

The film also oddly pivots between didactic and more open-ended rhetorical strategies. Early on, for example, an officious Frontline-sounding narrator explicitly stakes out the film's main question: Whether the Israeli settlers are leading the country "toward divine redemption or toward apartheid?" Later, Dotan chronicles members of the "Hilltop Youth," a fringe sect of young extremists who would seem to be the stars in their own separate documentary.

Despite such problems, The Settlers ultimately proves to be yet another convincing example of Israel's self-critical cinema and the endless intractability of the Israeli-Palestinian conflict.

Production Companies: Les Films du Poisson, Talisma Productions, Filmoption International

International Sales: Cinephil, info@cinephil.com

Producers: Estelle Fialon, Jonathan Aroch, Paul Cadieux, Shimon Dotan

Executive Producers: Philippa Kowarsky, Charles Ferguson, Maryse Rouillard

Screenwriter: Shimon Dotan, Oron Adar

Cinematography: Philippe Bellaiche

Editor: Oron Adar

Music: Original music: Ray Fabi