Dir/scr. Kirill Serebrennikov. Russia, 2016, 118 mins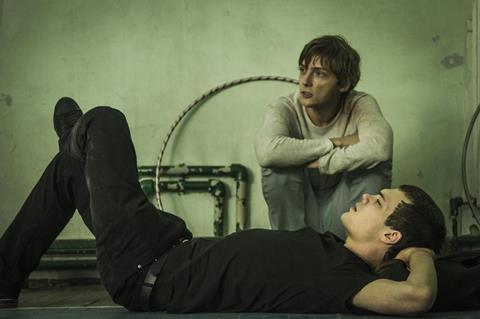 Virtue is a matter of interpretation in The Student (Uchenik), as the titular teen challenges the patience and perspectives of his mother, teachers and classmates by spouting bible verse. Adapting German playwright's Marius von Mayenburg's controversial theatre work Martyr, writer/director Kirill Serebrennikov extends the concept of the disillusioned youthful know-it-all to an uncommon extreme, complete with new-found faith, near-constant theological debates, and alternatingly satirical, scathing and surreal dissections of religious fanaticism; however his assured handling of the ambitious material inspires an intriguing film to match.
The end result proves commanding and fascinating, even if it's not wholly satisfying from start to finish.
The Student is the type of feature programmers will appreciate but broader audiences may struggle with, marking the international film festival circuit as its likely home after its Cannes Un Certain Regard premiere. That said, Serebrennikov's penchant for lengthy, unbroken shots ensures interest never wavers, as does his ability to stage a raft of standout scenes (a naked outburst about the merits of sex education, and a heavy metal-scored, cross-bearing walk through the streets among them).
In fact, the Russian filmmaker astutely lets his aesthetics do as much heavy lifting as possible. That includes cinematographer Vladislav Opelyants' crisply lensed — and equally visually and thematically effective — lighting choices, sometimes preferring the harsh, dull glow of naturalistic light, sometimes saturating the screen with almost divine radiance, but always making a statement.
The feature's opening, a prolonged argument between protagonist Veniamin (Petr Skvortsov) and his overworked single mother (Julia Aug), typifies this approach. In endeavouring to immerse viewers in such a heightened scenario, and one that even its characters seem perplexed by, a continuous six-minute take that fluidly bobs and weaves through their apartment as they bicker over swimming lessons feels fitting as well as telling.
Veniamin's unwillingness to get into the water is revealed to be spiritually motivated: adhering to the letter of biblical law, he's protesting the revealing costumes donned by his female peers. As his objections and impromptu sermons on this and other matters escalate in frequency and fervor, his mother demands assistance from the school.
Headmistress (Svetlana Bragarnik) acquiesces, as does the bulk of the faculty, leaving biology teacher Elena (Victoria Isakova) as the primary source of dissent against what she labels "pseudo-prophetic hysterics". Among his contemporaries, the attractive Lidia (Aleksandra Revenko) and the bullied Grigoriy (Aleksandr Gorchilin) are drawn to Veniamin, and while he easily dismisses the former's sexual advances, the increasingly emotional and physical tenor of the latter's affections troubles him.
The chaos that arises from Veniamin's fundamentalist beliefs and feverish behaviour — successfully manipulating those around him through his rigid reading of ambiguous passages of scripture, with all references catalogued on screen — borders on farcical, though cultivating amusement isn't The Student's main aim.
Instead, exposing the perils of blindly complying with any form of overarching doctrine, particularly the religious dogma that has become influential in his homeland, always takes centre stage. The condemnation Elena's boyfriend directs at her equally ardent opposition to Veniamin aptly encapsulates the film's point, and its willingness to highlight the problems on both sides of the divide: "You're like a doctor snorting coke to test it. You've become a religion junkie," he comments. And yet, Serebrennikov rarely misses the chance to exercise his sense of humour, whether placing vision of animal copulation in the background as the headmistress condemns lessons about condom use, or setting Elena's realisation that fighting fire with fire is her only option to the refrains of the Righteous Brothers' Unchained Melody.
The end result proves commanding and fascinating, even if it's not wholly satisfying from start to finish. In his first feature since 2012 Venice competitor Betrayal, Serebrennikov attacks his hefty subject with guns blazing, and with corresponding stylistic acumen too, but occasionally allows the unsubtle film to labor under its own weight. Thankfully, strong performances across the board offer just the jolts some scenes need, particularly the often unnerving Skvortsov and the nuanced Isakova. The duo rightfully monopolise attention, as well as provide a formidable battle; with mainstream filmmaking currently obsessed with superhero clashes over ideological differences, their spiritual head-to-head feels both suitably timed and substantial.
Production company: Hype Film
International sales: Wide, infos@widemanagement.com
Producers: Ilya Stewart, Diana Safarova, Yury Kozyrev.
Executive producers: Murad Osmann, Cosimo Fini.
Co-producers: Sergey Shtern, Svetlana Ustinova, Ilya Dzhincharadze, Katerina Komolova.
Cinematographer: Vladislav Opelyants
Editor: Yury Karikh
Production designer: Ekaterina Scheglova
Music: Ilya Demutsky
Main cast: Petr Skvortsov, Julia Aug, Svetlana Bragarnik, Victoria Isakova, Aleksandra Revenko, Aleksandr Gorchilin, Anton Vasiliev, Irina Vasiliev.