A 14-year-old girl becomes the third wife of a wealthy landowner in 19th century Vietnam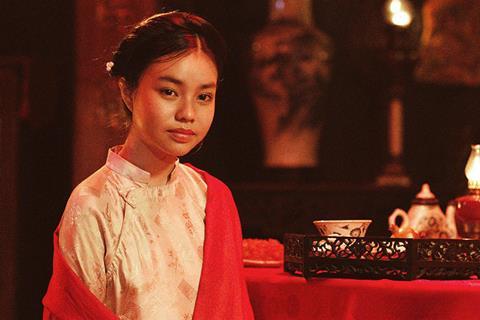 Dir/scr: Ash Mayfair. Vietnam. 2018. 96mins
Ash Mayfair's supremely atmospheric feature debut explores repressed desires against the resplendent but emotionally suffocating landscape of late-19th century rural Vietnam. Telling the story of a young girl who enters an arranged marriage to a landowner, The Third Wife echoes the ravishing art-house triumphs of Tran Anh Hung, who serves here as an 'artistic advisor', while his wife and frequent collaborator Tran Nu Yen Khe plays one of the principal roles. Yet Mayfair acquits herself in such confident fashion that her sensuously elegant drama isn't at all hindered by the inevitable comparisons.
A finely detailed and quietly devastating tapestry
Receiving its world premiere in Toronto's Discovery strand,The Third Wife presents its commentary on female independence in a vividly seductive manner, which should ensure a smooth journey around the festival circuit. If carefully handled by the right distributor, Mayfair's refined critique of patriarchal culture could be parlayed into a tantalizing theatrical proposition for the specialty crowd.
Taking inspiration from Mayfair's family history, events unfold in and around a sumptuous Ninh Binh estate that is paradoxically surrounded by lush nature yet claustrophobically closed-off with a specific set of politics for its titular newcomer to navigate. From the outset, this space is framed from the perspective of 14-year-old May (Nguyen Phuong Tra My). A hypnotic, wordless opening section finds her arriving to marry the wealthy Hung (Le Vu Long) in an opulent ceremony. When dialogue is eventually spoken, the conversation concerns who in the extended family will benefit from the sale of a newborn calf.
Paradise, it seems, is rife with selfish impulses, most of which can only be satisfied by the whims of the patriarch. May realizes that the only way to obtain significant status in the household is by giving birth to a male child. After becoming pregnant, she convinces herself that everything is achievable. This entails swiftly maturing from naïve child, to subservient wife and lover and, ultimately, to responsible mother, with the relative brevity of the film's running time accentuating her accelerated development. The demands and consequences of this arranged marriage allude to contemporary struggles regarding female identity, particularly with regards to developing nations, without sacrificing context.
May's circumstances are mirrored with the plight of Lien (Lam Thanh My), the new wife of Hung's firstborn son (Nguyen Thanh Tam), who is cruelly neglected because her husband is infatuated with his father's second wife Xuan (Mai Thu Huong). Witnessing their feverish affair gives rise to longings that prompt her to question whether it is worth forgoing the pursuit of self-discovery in order to maintain the conditional affluence to which she is becoming accustomed.
The almost entirely female cast is captivating throughout. Nguyen conveys May's shifts in moods through facial expression, running the gamut from wide-eyed eagerness to subdued acceptance via snatched moments of awakening. Although often on the periphery of the narrative, Tran as the first wife, Ha, is a controlling presence, suggesting the levels of hierarchy that exist in a repressed sisterhood. Mai is suitably alluring as the second wife who strives for a measure of freedom within restriction through forbidden trysts.
Making exquisite use of natural light, cinematographer Chananun Chotrungroj captues routines and rituals, such as the gentle massaging of bodies, the preparation of delectable dishes, and a river funeral, in an observational manner that placidly notes all the time-honored practices. Her evocation of time and place exudes a languid texture, although tension cuts through the hazy surface once May becomes painfully aware of her limited agency.
Ton That An's graceful score adds to the ambience with its delicate strings and, in the final stretch, foreboding piano notes. The visuals are at their most potent, however, when enhanced by Edouard Morin's layered sound design, which calls attention to the patterns of nature and the forces that shape destiny by trapping individuals within cycles.
All these elements are woven into a finely detailed and quietly devastating tapestry where rare moments of genuine intimacy are intensely experienced. If this focus on fleeting pleasures occasionally risks exoticizing the subject, Mayfair's sensory approach to illustrating an almost unbearable absence of female fulfillment achieves a powerful universal resonance.
Production companies: An Nam Productions, Three Colors Productions, Mayfair Pictures
International sales: m-appeal world sales, www.m-appeal.com, sales@m-appeal.com
Producers: Tran Thi Bich Ngoc, Ash Mayfair
Production design: Do Trọng An
Editing: Julie Béziau
Cinematography: Chananun Chotrungroj
Music: Ton That An
Main cast: Tran Nu Yen Khe, Nguyen Phuong Tra My, Mai Thu Huong, Le Vu Long, Nguyen Thanh Tam, Lam Thanh My