Dir/scr: Michael O'Shea. US. 2016. 97mins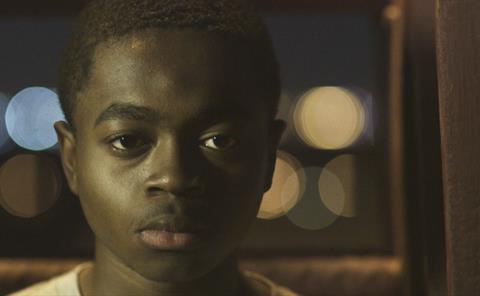 Native New Yorker Michael O'Shea makes an impressively confident directorial debut with The Transfiguration, a vampire movie that looks, feels, walks and talks like a gritty US indie flick. More credibly positioned as a nicely achieved example of the latter than as a full-on horror picture, the film should appeal to the smart genre audience that embraced the likes of Let the Right One In – which is in fact referenced a couple of times in the dialogue – and It Follows.
Eric Ruffin brings a quiet intensity that proves consistently commanding.
Our teenage protagonist Milo (The Good Wife's Eric Ruffin) is introduced in an act of seeming intimacy with an older man in the stall of a public bathroom; we quickly discover that he is in fact feasting on the blood of his victim's neck. Milo then steals all the banknotes from the man's wallet, before returning to the apartment in Rockaway, Long Island, which he shares with his older brother Lewis (Aaron Clifton Moten).
Writer director O'Shea doles out the information skilfully, easily sustaining our interest in this misfit 14-year-old who is receiving counselling after committing acts of animal cruelty, has no parents or school friends and is routinely bullied by a gang of older males on his housing project. Strongly present in every scene, Ruffin brings a quiet intensity that proves consistently commanding.
The film pivots into slow-burn romance when the slightly older Sophie (Chloe Levine) shows up to stay with her never-seen grandfather – seemingly the only white family in this strongly African-American housing block. An orphan who self-harms, she is attracted to Milo's taciturn self-possession, and only slightly fazed by his attempt to lick her bleeding wrist scratches, or his showing her grisly documentary footage of an animal slaughterhouse.
She also finds his obsession with vampires cute, including his charmingly retro home-taped collection of VHS films, although he has yet to see her particular favourite, Twilight. The steady chatter about vampire films risks becoming rather overdone, although horror geeks may enjoy brief cameos by filmmakers Lloyd Kaufman and Larry Fassenden as Hobo and Drunk Man.
While the romance helps humanise a protagonist that is essentially a serial killer, the dramatic stakes are raised when Milo witnesses a murder committed by the gang that torments him – generating a general sense of jeopardy while withholding some crucial information about the lad's longer game plan. Intriguingly, the film continues to offer more than one plausible interpretation of Milo's true nature. He certainly displays few of the characteristics we have come to associate with vampires, and has not much of a stomach for the blood he consumes at monthly intervals.
Evoking a strong sense of place from the Rockaway Beach locations of O'Shea's own home town, The Transfiguration also benefits from the moody drone-toned score by Margaret Chardiet (aka industrial music artist Pharmakon). Overall, it's a strongly achieved piece from O'Shea, whose sole prior screen credit, per IMDb, is the 2014 ten-minute short Milo. It's an achievement that should prove inspiring to late bloomers all over – as the filmmaker concedes in the press notes, he's making his feature debut as a man who is "not young".
Production company: Susie Q Productions
International sales: Protagonist, vanessa@protagonistpictures.com
Producer: Susan Leber
Cinematography: Sung Rae Cho
Editor: Kathryn J Schubert
Production design: Danica Pantic
Music: Margaret Chardiet
Main cast: Eric Ruffin, Chloe Levine, Aaron Clifton Moten, Carter Redwood, Danny Flaherty