Perplexing, confrontational AI-themed feature from Austria poses some troubling questions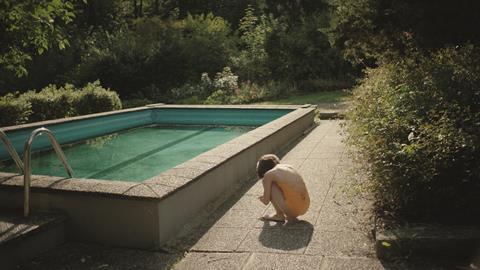 Dir. Sandra Wollner. Austria/Germany. 2020. 94 mins.
At first sight, there's nothing especially new about The Trouble With Being Born, a drama revolving around a more than familiar science-fiction trope. But it's the unexpected ways in which Austrian director Sandra Wollner extemporises on the topic that make this such a powerful and revelatory achievement. Awarded the Special Jury Award in the Berlinale's new Encounters section, Wollner's feature has attracted some controversy, one newspaper headline labelling it the "android paedophile film". But there's more at issue here than mere provocation, with Wollner's complex, artfully crafted, sometimes wilfully perplexing film delving boldly into questions of memory, gender, identity and indeed film language.
The most unsettling special effect is simply the waxy, mask-like blankness applied to Lena Watson's features
The subject matter, uncompromising style and the confrontationally sexualised presentation of its 10-year-old female lead will make this a tough call for distributors, but there's an absolutely serious, distinctive artistic vision at work here, which should put second-time director Wollner firmly on the map.
The film begins with what would normally be a shock moment, involving an accident in a swimming pool – but, given the true nature of the person involved, it doesn't quite carry the usual emotional impact, and at that point, in terms of the viewer's feelings about the characters, all bets are off. The film's first part is set at a secluded modernist country house, where a middle-aged man (Dominik Warta) lives with a pre-teen girl named Elli (Lena Watson), who calls him Daddy, and who delivers an interrmittent voice-over narrative. They spend their days by the pool, or in the house, and Daddy sometimes makes sorties to drink with his male pals, or to buy dresses in which Elli poses for him, striking troublingly sexualised stances.
They appear to have an intimacy that goes far beyond acceptable paternal fondness, although the film is oblique on this score.
It is clear, however, that Elli is not really Daddy's daughter, or even a human girl, but an android. What we don't know is whether he is her creator – the Geppetto to her female Pinocchio – or simply an owner, and this is one of the many uncertainties that ferment throughout. Who, for example, is the 'Mama' that Elli refers to, and did she and Daddy ever really spend time in Belgrade, an experience she seems to have forgotten?
Things take a disorienting turn when Elli sets out on a journey alone and finds herself in the care of an elderly Austrian woman (Ingrid Burkhard), whose son customises the girl in conformity with the emotional needs of his mother. Elli, now effectively another character entirely, begins a very different but no less disturbing relationship with her new custodian.
The narrative turns and changes of identity are combined with a complex and ever-shifting time scheme, so that we're often unsure exactly what is happening, or from whose perspective events are seen. At one point, a considerably older Elli enters the frame (played by Jana McKinnon, from the director's first film The Impossible Picture). Wollner's tendency to build her narrative on quicksand rather than terra firma begins in the opening sequence, with a roaming camera apparently representing Elli's point of view and she ultimately suggests that perhaps Elli has more than one self floating around this story. Eerie night scenes, with a forest and other locales pitched into barely penetrable darkness add to the cultivated indeterminacy.
Art-house faithfuls and science-fiction adepts alike will appreciate thematic echoes from films such as A.I., Ex Machina and even Jonathan Glazer's differently-themed Under the Skin, which this somewhat resembles in its confrontation of a radically alien consciousness with an everyday world of realist mundanity (here, malls and parking lots). The end crawl includes credits for prosthetics and 'Android' work, although the most unsettling special effect is simply the waxy, mask-like blankness applied to Watson's features (CGI was used for Elli's nude scenes).
Watson herself gives an utterly eerie, super-controlled performance; Timm Kröger's cinematography at different points pushes both modernist gloss and dense shadow to their extremes; while the multi-layered sound design by Peter Kutin (also one of the film's composers) is thoroughly disturbing on a sometimes near-subliminal level. The score also takes in Jo Stafford's 1950 ballad 'No Other Love', Daddy and Elli's special 'our tune' – presumably a sly in-joke, since the Chopin melody it uses was also the basis of Serge Gainsbourg's contentious hit 'Lemon Incest'.
Production companies: Panama Film, The Barricades
International sales: Cercamon, hello@cercamon.biz
Producers: Lixi Frank, David Bohun
Screenplay: Roderick Warich, Sandra Wollner
Cinematography: Timm Kröger
Editor: Hannes Bruun
Production design: Pia Jaros
Music: David Schweighart, Peter Kutin
Main cast: Lena Watson, Dominik Warta, Ingrid Burkhard, Jana McKinnon