Is there a hope in hell for Sony's Easter supernatural thriller?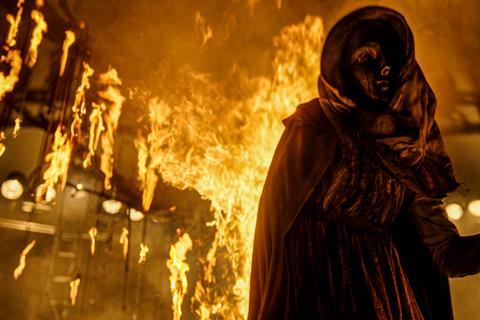 Dir. Evan Spiliotopoulos. US. 2020. 98 mins.
A cheeky Easter release for The Unholy is the most shocking part of Evan Spiliotopoulos' debut, an adaptation of the supernatural novel 'Shrine' produced by Sam Raimi with a keen eye on the cost line. Starring Jeffrey Dean Morgan, who could bring his legion of Walking Dead fans to the hybrid launch in the US on Good Friday, this religious-themed horror based around the phenomena of Marian apparitions has an intriguing premise but cuts too many corners in its catechism. Viewers on bended knees for an Exorcist or Omen may be intrigued, and the Easter release could, at a stretch, tickle the faithful into some sort of Paschal outrage. But it's a long time since Life of Brian or even The Last Temptation Of Christ, to give two sides to the Easter cinematic protest coin, and The Unholy would appear not to have much of a prayer.
All hell is unleashed, albeit in a fairly cost-efficient way.
Not quite as ripe as Conjuring spinoff The Nun – and with considerably less ingenuity on the special effects – The Unholy adheres to a rigid three-act structure complete with a hokey prologue set in 1845 involving a witch, a priest, a hanging tree and a doll. The film then moves onto a scenario of an "alternate Lourdes" - where a Marian apparition may or not turn out to be the devil in disguise.
Morgan's easy, shambling presence helps audiences through a brisk set-up in the first half-hour: he's a heavy-drinking, down-on-his-luck Boston journalist called Fenn who tries to scam up a story in the small town of Banfield, Massachusetts, by faking an incident involving the aforementioned grungy doll (a malevolent corn baby), who has been sitting in the tree waiting for him for the last 170-odd years. When he brings his heel down on its head, all hell is unleashed, albeit in a fairly cost-efficient way.
The tree stands on the grounds of the local Catholic Church, St Joseph's, run by creaky, wheezing old Parish Priest Father Hagan (William Sadler) and his ward, the deaf-mute orphan Alice (Cricket Brown). Soon, Alice is attracted to the shape-shifting tree, where she has visions of Mary, and performs miracles at her behest – including on herself ("giving a voice to the voiceless"). But Father Hagan (William Sadler) is less impressed, warning (via Martin Luther): "When God builds a church, the devil builds a chapel next door." An attractive, age-appropriate local doctor (Katie Aselton) is on hand to both explain the physical aspects of the miracles and become a confidante to Fenn, who finds himself at the right place at the right time to rebuild his career.
With a breakneck speed not usually associated with the Catholic Church, an impossibly young and hot Inquisitor Monsignor Delgarde (Diego Morgado) is dispatched from Rome to see whether Banfield is a new version of Lourdes, Fatima or Medjugorje. The local bishop (Cary Elwes), meanwhile, is bewitched by dollar signs, and Alice is giving press conferences which attract an army of pilgrims to the site. She bonds with Fenn, who is soon given exclusive access to her by the Church because "everyone deserves a second chance" (the question being whether the boozehound will really "sell his soul for a story").
This is a film which pilfers heavily from its antecedents, whether that be a girl in a nightdress suddenly appearing in a dark road at night, or statues which cry bloody tears in a prophetic way. There's a lot of hocus-pocus about exorcism, redemption and the power of prayer, with Fenn rummaging around old trunks in the church where he finds elaborate sketches of the devil. Mary, when she speaks, turns out to have a Mrs Doyle-style Irish accent – there were quite a lot of 'moving statues' of Mary in Ireland in the 1990s, although it seems unlikely the film-makers are making that connection. "Mary" is also quite hesitant about unleashing her fury, and somewhat inconsistent on who she curses, occasionally retiring into the shadows for no real reason apart from someone opening a door on her rage.
Spiliotopoulos leaves room open for a sequel, of course. But it seems likely that The Unholy hasn't a hope in hell.
Production company: Ghost House Pictures
International distribution: Sony
Producers: Sam Raimi, Rob Talpert, Evan Spiliotopoulos
Screenplay: Evan Spiliotopoulos, from the novel 'Shrine' by James Herbert
Cinematography: Craig Wrobleski
Editing: Jake York
Production design: Felicity Abbott
Music: Joseph Bishara
Main cast: Jeffrey Dean Morgan, Diogo Morgado, Cary Elwes, Katie Aselton, William Sadler, Cricket Brown.