A stunning performance by Andra Day elevates Lee Daniels' sad biopic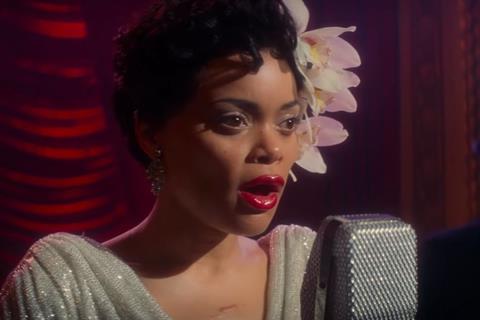 Dir: Lee Daniels. US. 2019. 130 mins.
A film star is born in Andra Day, the singer-songwriter who channels the sad ghost of Billie Holiday in Lee Daniels' tragic biopic. Structured to an unusual beat and often stuck in its own feedback loop, The United States…is a flawed film, much like its protagonist, but Day doesn't set a foot wrong throughout, even as Daniels' adoring camera traces her every breath in full close-up. The result is a haunting story of persecution and self-harm, whether that be at the hands of the US Government, the men Billie Holiday chose, the overt racism she encountered, or the drugs and drink she plied herself with in order to forget a shocking past and often pitiful present.
The light of day reveals the truth of a life of abuse and trauma and a brilliant, beautiful talent for the ages captured so thrillingly by a young star of today.
The United States Vs Billie Holiday, now set to launch via Hulu in the US on Feb 26 after the Disney-owned streaming service picked the title up from Paramount, is in the frame for this year's Academy Awards; Day could fit nicely into the place taken by Renee Zellweger last year for another musical biopic of a damaged chanteuse, Judy. Daniels' film hinges on 'Strange Fruit', one of the most disturbing songs ever written and first sung by Holiday in New York's Café Society club in 1939. The film attempts to show how her insistence on singing about Southern lynchings brought her into direct conflict with the FBI which used its war on drugs, led by Harry Angslinger (Garrett Hedlund), to hound her off the stage and an early death.
Following in the footsteps of 1972's Lady Sings The Blues, based on Holiday's flawed memoir and also starring a singer, Diana Ross, The United States Vs. Billie Holiday leans heavily on its musical numbers in telling that story, often sung in full (glorious renditions of Strange Fruit, All Of Me, Them There Eyes, Ain't Nobody's Business, and, wrenchingly God Bless The Child). Staging is intense and seductive. In fact, it often lures its director off track as he juggles his film's delicate skeins.
The beautiful Billie Holiday, gardenia fixed in her hair, has always owned her story. An abused child, a prostitute, a defiant chanteuse, a wrecked heroin addict – she's essentially unknowable. Working with the Pulitzer Prize-winning author Suzan-Lori Parks, Daniels succeeds better than most at getting to the heart of her, but it's the horrific roots of her life which set her trajectory, and he avoids these assiduously until the 80-minute mark. The rest is music, beauty, and drugs soaked in a smoky, jazzy melancholy: the twist here is Lady Day's entanglement with a black FBI agent named Jimmy Fletcher (Trevante Rhodes), who both pursues and falls in love with Holiday as he betrays her and his own race.
Like Lady Sings The Blues, The United States Vs Billie Holiday focuses on the singer's Carnegie Hall show as a moment of triumph frozen in time: the pinnacle of everything she wanted and could never regain. Stripped of her cabaret performing licence after a drugs bust set up by Fletcher, the rest of her life was spent chasing money and drugs and men who were all very, very bad for her. The film is ostensibly set as up as an extended flashback, via an interview in 1957, two years before her premature death at the age of 44.
Having started the film with an shocking pre-titles note detailing how the US had failed to ban lynching by the time Strange Fruit was first sung - or, it transpires, since - Daniels faces his film directly into the racism which Holiday experienced her entire adult life. This ranges from the persecution by the FBI for singing 'Strange Fruit', to the awful segregated conditions on her tours and the distressing fact that she was not allowed enter the same lift with her reputed lover, the actress Tallulah Bankhead (Natasha Lyonne, in little more than a cameo). In her own demi-monde she had a loyal entourage, lovers and husbands, but never family to rely upon. She often felt her own race was the hardest on her.
The answers that lie in her childhood – the rape, the prostitution – underlie the proceedings but are only are glanced upon in a semi-fugue sequence where the adult Billie revisits her past, showing it to her friend and collaborator Lester Young (Tyler James Williams). By then, though, her life is ruined, and the film winds down to her death with a further detailing of her relationship, at a certain level deeply masochistic, with the rather ripped and frequently shirtless FBI agent Fletcher.
The United States Vs Billie Holiday is shot largely in New York at night, through heavy velvet curtains and flock wallpaper where the glint of diamante through the amber haze of cigarette smoke holds out the promise of treasure. With trims, it could almost be viewed as an extended concert film, a melodious message from a dangerous time. The light of day, however, reveals the truth of a life of abuse and trauma and a brilliant, beautiful talent for the ages captured so thrillingly by a young star of today.
Production companies: New Slate Ventures, Lee Daniels Entertainment, and Roth Kirschenbaum Films
International sales: Sierra/Affinity
Producers: Lee Daniels, Pamela Oas Williams, Tucker Tooley
Screenplay: Suzan-Lori Parks, adapted from 'Chasing The Scream' by Johann Hari
Cinematography: Andrew Dunn
Editing: Jay Rabinowitz
Production design: Daniel T. Dorrance, Elise De Blois
Main cast: Andra Day, Trevante Rhodes, Garrett Hedlund, Miss Lawrence, Tyler James Williams, Da'vine Joy Randolph, Natasha Lyonne