Anthony Hopkins stars in a hitman thriller that fails to thrill or hit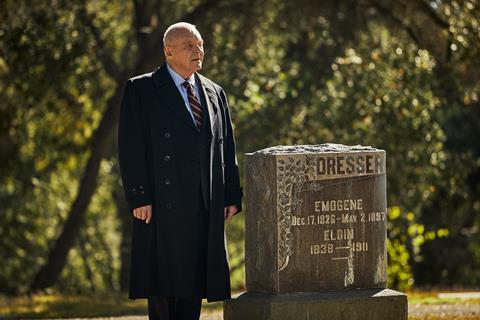 Dir: Nick Stagliano. US. 2021. 110mins.
A taciturn assassin faces his most challenging job yet in a twisting thriller that, despite dealing in double-cross and betrayal, proves deathly dull both in story and, somewhat ironically, execution. As the expert hitman attempts to track down his quarry in small-town US, a sterling cast including Anson Mount, Abbie Cornish, Eddie Marsan (in a blink-and-you'll-miss-it role) and Anthony Hopkins are unable to breathe life into this tired material, which hits a bum note at almost every turn.
The rote nature of the material is hammered home by an overused deadpan voiceover
Lionsgate, which secured UK and US rights to the 2019-shot film earlier this year, plans a limited theatrical release in the US from April 30, followed by a quick move to on-demand and home entertainment on May 4. The film may pique audience interest thanks to its moody marketing and the presence of recent Oscar-winner Hopkins, but anything more than modest success seems unlikely.
Mount (likely best known for his regular appearances as Captain Christopher Pike in Netflix series Star Trek: Discovery and its spin-offs) is The Hitman — none of the characters are given names beyond their role in the story. In fact he calls himself a "virtuoso", thanks to his incredible attention to detail. He lives a solitary existence in a woodland cabin; takes clandestine jobs from his boss The Mentor (Hopkins); practises smiling in the mirror; and slowly befriends a nervous stray dog, whose only purpose is to serve as a heavy-handed metaphor for the issues of trust and loneliness that plague him.
When one of his carefully planned jobs goes awry, resulting in so-called "collateral damage" — the fiery death of an innocent woman that we witness in flashback several more times in a move which smacks more of budget showboating than narrative necessity — The Hitman suffers post-traumatic stress that begins to affect his judgment. After delivering a tone-deaf pep-talk that invokes explicitly violent Vietnam war imagery, The Mentor sends his protégée off to another job at a backwater diner. With no name or description to work with, just the term 'White Rivers', The Hitman must use all the tricks of his trade to work out which of the diner's ragtag customers is his mark.
These include covert actions such as taking photographs of car number plates, staring intensely at his fellow diners and making subtle enquiries of everyone he meets, including, "What is White Rivers?" It is all made rather more convoluted when he sparks an attraction with The Waitress (Abbie Cornish, in an entirely thankless role), whose attentions muddy the already murky waters. She is, like the rest of the few women in this feature, treated poorly by filmmakers who think nothing of employing domestic violence, misogynistic slurs and exploitative female nudity as throwaway plot points.
Indeed, the clunky screenplay from James C Wolf resolutely hits all the clichés of the genre including the hitman as besuited loner, the shadowy boss behind a looming desk, the beguiling woman, and the waxing and waning of loyalties. The rote nature of the material is hammered home by an overused deadpan voiceover, delivered by The Hitman in the second person, which details every moment of the story. "Experience has taught you that homes as remote as this are often unlocked," he intones as he tries a front door that is, in fact, locked. "It's possible the front door may be locked," he continues as he skulks around to the back, "but it's unlikely that all of them are." And so on.
This, together with the excessive flashbacks, gives the impression that director Nick Stagliano believes this story is so enigmatic, so thorny, that he doesn't trust an audience to understand what is going on. With the film's likely ending telegraphed so early in proceedings, however, the only real mystery here is how The Virtuoso has reached the screen in its current state.
Production companies: Nazz Productions, Pelican Films
Contact: Lionsgate
Producer: Nick Stagliano
Screenplay: James C Wolf
Cinematography: Frank Prinzi, Dejan Georgevich
Editor: James LeSage
Production design: Norm Dodge
Music: Brooke Blair, Will Blair
Main cast: Anson Mount, Abbie Cornish, Anthony Hopkins, Eddie Marsan, David Morse