Corneliu Porumboiu delivers a crime thriller set in the Canary Island of La Gomera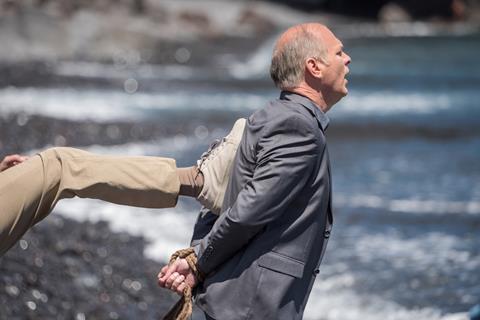 Dir/scr: Corneliu Porumboiu. Romania/France/Germany. 2019. 97 mins
Ever since his breakout film, 12.09 East of Bucharest, Romanian auteur Corneliu Porumboiu has been interested in what language can reveal and conceal. In his latest, the ancient whistling language of Gomera, the Spanish Canary island, is grafted onto a Euro crime yarn packed to the warehouse roof with double-crossing cops and robbers.
A little woolly and unfocused
As the tale of femmes fatale, gangsters and bent policemen builds to a kind of existential Mexican standoff, there are hints that what this oblique thriller really cares about is the human condition. Power and vulnerability, loneliness and companionship, play-acting and sincerity, trust and betrayal, they're all there to be sifted through in a story that deliberately casts its central character – a corrupt Romanian police detective – as something of a passive cipher, a poker-faced Everyman.
But The Whistlers makes too little attempt to lend heft and coherence to the scattershot nature of its themes and obsessions, wrapped up in a package that plays with the hard-boiled crime genre without delivering much of a punch. Arthouse fans of the director's thought-provoking debut, who stayed faithful through the demanding but equally trenchant Police, Adjective, and the absurd but absorbing meander of The Treasure, could part ways with Porumboiu on his 2019 Cannes Competition title which for once feels a little woolly and unfocused.
Iggy Pop's The Passenger is cranked up loud in the opening sequence, which tracks the arrival of Romanian policeman Cristi (Romanian actor Vlad Ivanov, last seen in Sunset) on craggy Gomera. Invited by sultry Gilda (Catrinel Marlon) and coached by a locally-based crime gang member, he has come to learn the island's whistle language, which converts vowels and consonants of any spoken tongue into squawks and trills unintelligible to all but the uninitiated.
Divided into colour-coded chapters that bear the name of key characters (but rarely reveal much about them), the story then fragments into a series of Romanian-set flashbacks that establish why Cristi and Gilda are here and why they need to communicate in 'el siblo', as the whistle language is called. It has all to do with a big chunk of money hidden somewhere in a mattress factory by Bucharest wheeler-dealer Zsolt (Sabin Tambrea) in league, perhaps, with powerful Spanish crime kingpin Paco (Agustí Villaronga).
Though he's on the take, Cristi is strangely passive and unimaginative, his transparent moves no match for the two women that emerge as the sharp-eyed players in this world of men who are unimaginatively stuck in the roles assigned to them (cop, gangster, boss). The first is sexy Gilda, who in an early scene dodges and plays the surveillance cameras hidden in Cristi's apartment as if giving a performance; the second is his police chief Magda (Rodica Lazar), a tough, wary, strategic thinker, who never lets her guard down.
Porumboiu's brand of humour was never of the laugh-out-loud variety, but here only a few of the whistling scenes, as Cristi struggles to master the technique, raise a deadpan smile. Only in certain scenes do story and ideas really mesh – such as a fantastic sequence set amidst rugged Gomera mountains, where Cristi's newly-acquired whistling skills are put to test in a triangular translation exercise, a sort of mountain-top spin on Chinese Whispers.
Production companies: 42 Km Film, Les films du Worso, Komplizen Film
International sales: mk2 Films, intsales@mk2films.com
Producers: Marcela Mindru Ursu, Patricia Poienaru
Production design: Artantxa Etchevarria Porumboiu
Editing: Roxana Szel
Cinematography: Tudor Mircea
Main cast: Vlad Ivanov, Catrinel Marlon, Rodica Lazar, Antonio Buil, Agustí Villaronga, Sabin Tambrea