Alice Englert and Olivia Colman anchor this tale of repression in an Appalachian sect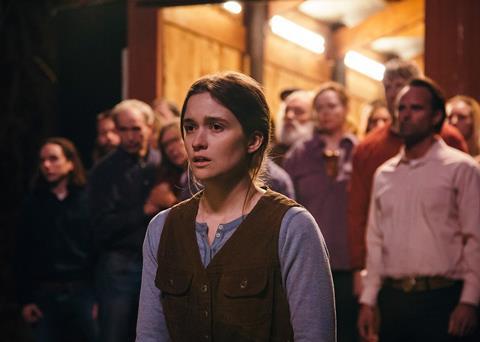 Dirs/scrs: Britt Poulton & Dan Madison Savage. US. 2018. 98mins
Them That Follow plunges us into the stiflingly close-knit world of an extreme religious group, and it will be up to viewers to decide whether the dramatic rewards are worth the slow suffocation. There's no questioning the intensity of writer-directors Britt Poulton and Dan Madison Savage's portrait of a community that values God over medicine and believes women should be subservient to men, and a fine cast (led by Alice Englert) brings unshakable conviction to these cloistered, narrow-minded characters. But as grimly gripping as Them That Follow is, the proceedings have a stacked-deck quality to them, which keeps this compelling tale from being truly galvanising.
There's a clenched anguish to much of Them That Follow, and the film often risks a thematic monotony.
Screening as part of Sundance's US Dramatic competition, Them That Follow has a star-studded indie cast that also includes Olivia Colman and Walton Goggins, and in an era in which The Handmaid's Tale has become a zeitgeist-y cultural touchstone, this film's worrying depiction of a harshly patriarchal society could resonate.
Taking place in the Appalachian Mountains far from the local towns, the film stars Englert as Mara, the dutiful daughter of Pastor Lemuel (Goggins), who leads a small community of Pentecostals who have cut themselves off from society in order to be closer to God. Using venomous snakes in his ceremonies, Lemuel preaches a deeply conservative gospel of female obedience and traditional marriage, which means that Mara has asgreed to wed the timid Garret (Lewis Pullman). But Mara is hiding a secret: she's secretly pregnant by her true love Augie (Thomas Mann).
Making their feature directorial debut, Poulton and Savage have crafted a film that's very much about the danger of ignorance and blind religious faith. As shaped by Carmen Navis' lived-in production design and Brett Jutkiewicz's unadorned cinematography, Them That Follow gives us a rustic community that feels far from idyllic. As the film begins, Mara remains loyal to the strictures of Pentecostalism, but she knows a conflict is coming once anyone discovers that she's pregnant. And yet, she tries to deny that inevitability, accepting Garret's marriage proposal and pretending that everything is normal.
Them That Follow charts Mara's realisation that she can't live under her father's thumb for much longer, and the film succeeds in giving her plenty of reason to flee. Lemuel believes that only God can cure illness, and if the community's children happen to die of easily treatable diseases, well, their faith in the Almighty must not have been strong enough. Unsmiling, judgemental elders like Hope (Colman), who is Augie's mother but has no idea about the pregnancy, try to instil the image of a vengeful God who demands utter submission. Not surprisingly, then, when unspoken tensions begin to simmer within this repressive ecosystem, they'll explode in violent, terrible ways.
There's a clenched anguish to much of Them That Follow, and while Poulton and Savage impressively sustain this smothering mood, the film often risks a thematic monotony. These Pentecostals can be terrifying in their beliefs, but outside the harrowing sequences of Lemuel and others handling the slithering snakes, Them That Follow is a fairly standard depiction of an out-of-the-mainstream religious sect — at least in terms of how they're portrayed in the movies. So while what we observe is often infuriating, a sameness starts to creep in, which perhaps forces the filmmakers to go to further and further extremes in order to ratchet up the tension.
What holds Them That Follow together are the performances, many of which are resolutely unsympathetic. Colman expertly brandishes a regional accent to play a beaten-down woman who wields her faith like a weapon, while Goggins gives no quarter as a pastor whose fire-and-brimstone forcefulness extends to every aspect of his life. In his little Appalachian kingdom, he might as well be God.
As the escalation of tragic events unfolds during the film's final third, Them That Follow sometimes feels contrived and manipulative. (If something terrible can happen, rest assured it almost certainly will.) But Mara's quiet decency, brought to stirring life by Englert, becomes our North Star, giving us a sense of sanity amidst this intolerance and madness. Mara's rapport with Augie, who also feels like an outsider within this claustrophobic sect, is so delicately established that we fear these Pentecostals could destroy it. That anxiety is palpable, and it carries Them That Follow through its uneven and overheated moments.
Production companies: Amasia Entertainment, G-BASE Film
International sales: CAA, filmsales@caa.com
Producers: Bradley Gallo, Michael A. Helfant, Gerard Butler, Alan Siegel, Danielle Robinson
Production design: Carmen Navis
Editing: Joshua Raymond Lee
Cinematography: Brett Jutkiewicz
Music: Garth Stevenson
Main cast: Olivia Colman, Kaitlyn Dever, Alice Englert, Jim Gaffigan, Walton