A young woman attempts to sate her addiction to sex in the final instalment of Fruit Chan's 'Prostitute Trilogy'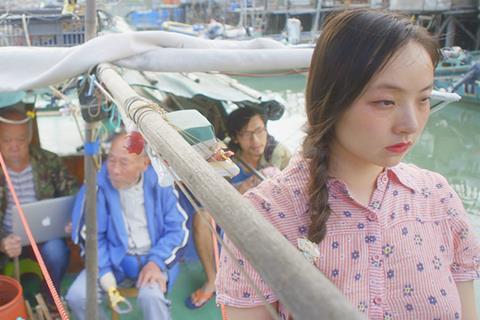 Dir/scr. Fruit Chan. Hong Kong. 2018. 101 mins
The third entry in Fruit Chan's 'Prostitute Trilogy', low-budget satire Three Husbands is a sex comedy with much to say about the state of modern-day Hong Kong, but forcefully thrusts its way far from standard territory. Focusing on a young woman with an insatiable libido and the three men who can't come close to satisfying her lustful urges, it's an overt parody of today's all-consuming times that's relentless in its attempts to push the audience's buttons.
With Maayan's performance hamstrung by the material, Mui proves a problematic figure in a purposefully provocative feature
Premiering in Tokyo's official competition, festival interest in Chan will likely provide his latest with its only avenue to audiences. While never feigning to trade in realism, much about this thematic follow-up to Durian, Durian and Hollywood, Hong Kong is a tough sell. There's a fine line between empowerment and overkill, even in a movie about exploitation and the ease with which it prospers in contemporary society. The barrier between boundary-breaking comedy and discomfort is similarly flimsy, and Three Husbands never perfects the balance as it throws everything from incest to bestiality into its storyline.
Sex worker Mui (Chloe Maayan) and sex-starved handyman Four Eyes (Chan Charm-man) both want the same thing. She gets it all day and night, plying her trade on a fishing boat in Hong Kong's Gin Drinkers Bay, while he's one of her many paying customers lined up along the harbour. When Four Eyes finally amasses the cash to secure Mui's hand in marriage from her current husband, and vows to treat her infant son as his own, he thinks that steamy wedded bliss will follow. Alas, life on land — and in Four Eyes' grandmother's cramped, overflowing apartment — can't make the locally notorious "Tanka boat girl" happy.
Four Eyes believes that he has rescued Mui from a thankless existence spent on her back with a parade of strangers, but Mui had never realised that there was any alternative — or, courtesy of her constant yearning for intercourse (resulting in exaggerated fit-like spells of writhing and groaning between amorous encounters), has ever wanted something different. It's this murky area that Three Husbands endeavours to explore, terrain that's all the more complicated thanks to Mui's transient father, dubbed Big Brother, and Second Brother, the old, disabled fisherman and gambling addict to whom he initially married Mui off. When the three men join forces to oversee Mui's wellbeing, Four Eyes is given a comparable moniker: Little Bro.
Repetitively depicting something isn't the same as convincingly interrogating it; when Mui is asked "haven't you done enough moaning?" partway through the film, audiences might wonder the same thing. And ascribing Mui's hot-blooded state to a medical condition isn't the same as fleshing out a character that's defined by sex. That Mui barely talks, is shown to have an almost child-like fascination with water and objects floating through the air, and is deemed slow-witted by everyone around her always feels challenging at best, and uncomfortable at worst.
With Maayan's performance hamstrung by the material, Mui proves a problematic figure in a purposefully provocative feature that casts its net wide, including referencing the legendary half-fish, half-human Lu Ting creatures and bookending its contents with ventures between Hong Kong and China. But again and again, any complexity that the film purports to offer — be it in general, or regarding its characters — is simply lost in the bump and grind.
Still, when Chan aims to make a splash visually, it's a feat that he achieves. Three Husbands sports a low-fi sheen, but one specific lovemaking scene in the back of a truck filled with plastic balls — and driving through the city streets as Mui and Four Eyes get busy — is shot with eye-catching flair by DoP Chan Ka-shun. It's emblematic of a film that's eager for attention and knows how to get it, yet is often trapped on an aimless journey.
Production company: Nicetop Independent Limited
International sales: Golden Network Asia Ltd info@goldnetasia.com
Producer: Doris Yang
Screenplay: Fruit Chan, Lam Kee-to
Production design: Ngai Fung-me
Editing: Tin Sam-fat
Cinematography: Chan Ka-shun
Main cast: Chloe Maayan, Chan Charm-man, Chan Man-lei, Mak Keung