Jury- and Fipresci-prize winner from China looks at modern pressures on an ageing couple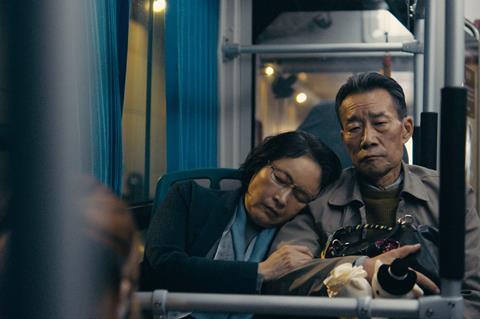 Dir/scr: Gao Linyang. China. 2022. 92 minutes
Scenes from a marriage, Chinese style: that's the nub of Gao Linyang's To Love Again, an exercise in subtle restraint which demands and rewards patient attention. World-premiering in the Tiger Competition at Rotterdam, it shared the runner-up Special Jury Award and landed the international critics' FIPRESCI award outright. Further festival play around the world is a given, and with suitable handling the film could even have limited theatrical possibilities.
Present contentment is disrupted by unexpected, unwelcome echoes of past traumas.
Mature audiences will respond most strongly to this tale of a couple who have been together for three mainly happy decades. A character-driven piece which unfolds at a very unhurried clip, it is given heart and soul by the authenticity of Li Xuejian and Song Xiaoying as Xi'an-based protagonists Nie Li and Nie Suzhen.
The closest occidental parallel is probably Andrew Haigh's 45 Years (2015): in both films, present contentment is disrupted by unexpected, unwelcome echoes of past traumas. In the opening scene, Li receives news that his long-deceased former wife's body must be moved from its grave in Li's native, far-off Shanxi province. The elderly man is thus spurred to ponder his impending mortality and its practical aspects. Both he and his wife were previously married and now both of their former spouses are dead; whose ashes should be interred together?
The intertwined memento mori elements of the film are leavened by a streak of dark, dry humour. But discussion of such topics causes Suzhen, who habitually bottles up her feelings, considerable distress. Emotional waters are further muddied by partial revelations relating to violent events during the start of the Cultural Revolution in 1966 ("we got caught up in the Red Guard struggles,") which affected the couple, their families and friends.
The exact nature of what went on and why remains somewhat opaque: few of the characters here are especially voluble, and – as is often the case with long-term marrieds — communication is often conducted by a look, a touch, or a significant silence. Much is left unspoken; sequences featuring dialogue are outnumbered by reflective, ruminative, observational scenes, often in the Nies' cluttered flat, and frequently after dark.
So immersed do we become in this domestic space that the sudden switch to the wide-open spaces of rural Shanxi, just after the 45-minute mark, comes as a deftly-handled surprise (the four editors include Jia Zhang-ke regular Matthieu Laclau and Hongyu Yang). Li travels to the location of his former wife's grave, leaving Suzhen alone in Xi'an. The pair are thus separated for 20 minutes of the running-time, coming back together for a climactic and cathartic quarter-hour during which Suzhen's dam of reserve finally breaks. Thanks in no small part to Song's finely-etched performance, this moment's impact is powerful and feels fully earned.
Previously known for co-writing Shujun Wei's youth-oriented road-movie Striding Into the Wind (2020), Gao manages to freight his slender-seeming story with myriad minor subplots and observations. His is clearly attuned to wider political and sociological aspects of quotidian Chinese life - the film, set in late 2019, includes a TV news-report of Hong Kong protests.
Prominent among Gao's concerns is the breakdown of traditionally strong family bonds under 21st Century demands and stresses yet there is more than a whiff of Ozu's 1953 classic Tokyo Story in this chronicle of how younger generations blithely disregard or ignore the needs of their elders — and the Japanese master would likely approve of how Shen Junyi's widescreen cinematography works exploits the angles, reflections and confines of the couple's apartment. The picture's careful avoidance of sentimentality, meanwhile, is typified by Wang Xiaomu's score with its classy, sparely-deployed guitar notes.
Production company: The Seventh Art Pictures
International sales: The Seventh Art Pictures, sjbfilm@gmail.com
Producers: Liang Jing, Guan Hu, Wang Donghui, Zhu Wenjiu, Justine O.
Production design: Shi Rongfeng
Editing: Matthieu Laclau, Yang Hongyu, Tom Hsin-Ming Lin, Gao Linyang
Cinematography: Shen Junyi
Music: Wang Xiaomu
Main cast: Li Xuejian, Song Xiaoying