Gaspard Ulliel, Gerard Depardieu are stand-outs in this haunting story of revenge in Indochina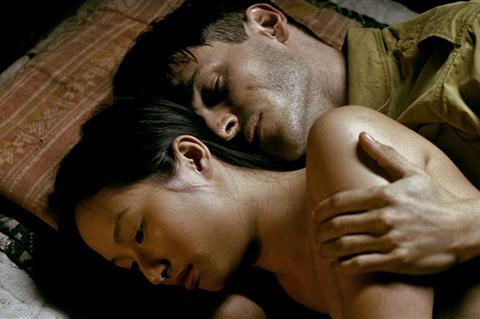 Dir: Guillaume Nicloux. France. 2017. 103mins
Love, longing, cruelty, revenge, grief, and mercy are exquisitely evoked in To The Ends of the World (Les Confins du monde) a ravishingly-shot depiction of the bottomless insanity of war, set in Indochina in 1945. The first 3 minutes establish the tone – a perfect balance between stunned contemplation and barely imaginable atrocity. The expression "couldn't be better" applies to Gaspard Ulliel's portrayal of conflicted French soldier Robert Tassen as it does to Gerard Depardieu's turn as a French writer in exile.
This emotionally haunting tale joins the ranks of the very best cinematic renderings of the toll war takes on all sides
Shot on 35mm anamorphic Scope, in large part in the jungle or among lush hills, Guillaume Nicloux's (Valley of Love) powerfully draining film is stunning to look at and hard to shake. The political foundations of the harsh time depicted (colonial rule, Japanese designs on the territory, the independence movement led by Ho Chi Minh) are complex, but one needn't be an historian to grasp various characters' motivations. These range from patriotic duty to soul-ravaging indoctrination and from thwarted romance to ravenous hunger.
Having survived the massacre by the Japanese against the French that left 7,000 dead in early March of 1945, lanky and taciturn Robert Tassen (Ulliel) is nursed back to health in wild terrain where beheadings and dismembering of enemies are not uncommon. He stumbles back to town and identifies himself as a soldier wishing to join a regiment and continue to serve France. But what Tassen is really after is a crack at killing a bloodthirsty man named Vo Binh who, we learn, he has excellent reasons to hate.
In a bar, Tassen meets Saintonge (Depardieu), an enigmatic writer. Depardieu (in his third collaboration with Nicloux) establishes his character's literal and figurative heft with just a few words of dialogue – the actor's every gesture is the distilled essence of character work in the service of a broader tale. Tassen is convinced that the only way to fight the enemy is to "turn" local prisoners who know the terrain. He pushes his commanders to let him have a unit made up of starving "gooks". This may or may not be a good idea.
Tassen enjoys an at-first adversarial but later strong relationship with fellow soldier Cavagna (Guillaume Gouix, excellent). The staples of Europeans abroad in an exotic setting – smoking opium, for example – are on display but Nicloux makes them feel both inevitable and fresh.
This knack also applies to the most disruptive aspect of Tassen's existence, when he falls for the beautiful prostitute Maï (Lang-Khê Tran). Tassen can't seem to fit both romance and revenge into his life and embarks on an odyssey rife with peril. Bursts of oft-dissonant music are highly effective at sustaining the ambient unease.
This emotionally haunting tale joins the ranks of the very best cinematic renderings of the toll war takes on all sides – and just how many "sides" there are, sometimes within the same individual.
Production companies: Les Films du Worso, Les Armateurs, Orange Studio, SCOPE Pictures, Rectangle Productions, Arena Films, Arches Films
International sales: Orange Studio
Producers: Sylvie Pialat, Benoît Quainon
Screenplay: Guillaume Nicloux and Jerome Beaujour
Production design: Olivier Radot
Editing: Guy Lecorne
Cinematography: David Ungaro
Music: Shannon Wright
Main cast: Gaspard Ulliel, Guillaume Gouix, Lang-Khê Tran, Gerard Depardieu