Dir: Rachid Djaïdani. France. 2016. 95 minutes.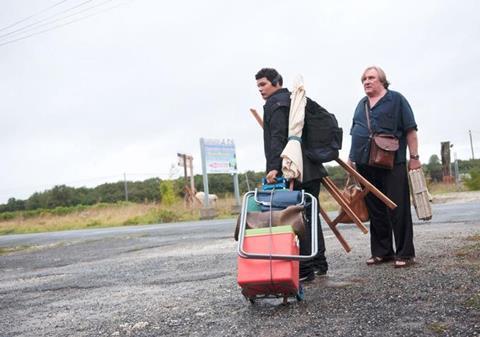 Three years after his debut feature Hold Back premiered at Cannes Directors' Fortnight, French writer-director Rachid Djaïdani returns in the same slot with Tour de France, an amiable mismatched-buddy road movie that throws together veteran acting legend Gérard Depardieu with rapper Sadek in his first movie role.
Dyed-in-the-wool old cheese eater Serge is one of Depardieu's more appealing recent roles
This sentimental odyssey is not without lo-fi charm, but lacks the comic oomph that made Olivier Nakache and Eric Toledano's 2011 high-concept crowd pleaser Untouchable such a crossover hit. Further festival berths surely represent the film's best chances outside its native France.
With his baseball cap pulled down to his nose, doughy, slouchy rapper Far'Hook (Sadek) initially lands as a rather unlikely protagonist, any charismatic potential smothered by a posture of surly irritability. Then again, he has good cause for that peevishness: he's being shot at by associates of rap rival Sphinx (Mabô Kouyaté), who is going to extreme lengths to prevent him from appearing at an upcoming concert in Marseilles. Far'Hook's producer friend Bilal (Nicolas Marétheu) has a plan to ensure his safety, despatching him from Paris to Arras in Pas-de-Calais where he will fill in as a driver to Bilal's father Serge (Depardieu) for a long-cherished road trip.
Audiences are likely to forgive this rather contrived set-up once the familiar bear-like Dépardieu lumbers on to the screen, and there is some comic mileage from his initial antipathy to Far'Hook, fuelled by his disappointment that his own estranged son – who has converted to Islam – has sent a substitute. Why the grouchy widower actually needs a driver is not readily apparent but, nevertheless, the pair set off an unlikely journey, one in which Serge will paint his own versions of a series of seaport paintings originally made by artist Claude Joseph Vernet by royal command of Louis XV. Conveniently, this will deliver Far'Hook to Marseilles just in time for his concert.
Happily for sensitive eyes, Dépardieu keeps his shirt on this time after his too-generous exposures in Welcome to New York and Valley of Love. And even his brief attempt at rap – first mocking the empty sexual bragging he believes defines the musical form, then developing into an angry articulation of his own societal disconnect – is not quite the cringe moment that this Vine-ready description suggests. Taken overall, the dyed-in-the-wool old cheese eater is one of the actor's more appealing recent roles, especially as he begins to help fill the fatherly vacuum in Far'Hook's life. Similarly, Far'Hook also becomes progressively more appealing, surprising the older man with his knowledge of Baudelaire and French singer Serge Lama.
A romantic subplot for Far'Hook – enter gorgeous environmental activist Maude (Louise Grinberg) and her charmingly battered camper van – brings another contrived element to the plot, while the farcical resolution of the Sphinx storyline pushes the film even further from real life, and a so-called featured role by Yasiin Bey (aka Mos Def) barely warrants cameo credit.
Not-so-cynical viewers might nevertheless respond to the film's fuzzy pro-tolerance sentiments, that could scarcely be arriving at a more propitious time. Whether Tour de France actually entices either of the twin audiences suggested by the two lead actors remains to be seen.
Production companies: Les Films des Tournelles, Mars Films, Cité Films, AOC Films, Useful
International sales: Cité Films, rberdugo@citefilms.com
Producers: Anne-Dominique Toussaint
Screenplay: Rachid Djaïdani
Cinematography: Luc Pagès
Editor: Nelly Quettier
Production design: Jimmy Vansteenkiste
Music: Clémont Dumoulin
Main cast: Gérard Depardieu, Sadek, Louise Grinberg, Nicolas Marétheu, Mabô Kouyaté, Raounaki Chaudron, Alain Pronnier, Yasiin Bey