Justin Kurzel returns to form with this gritty Australian gothic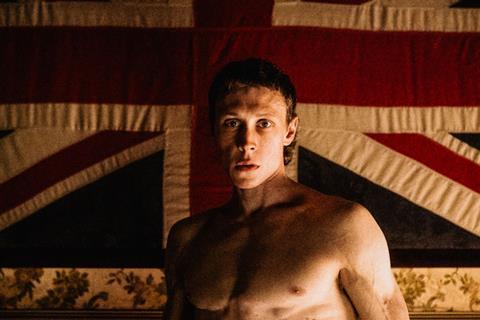 Dir. Justin Kurzel. Australia/UK/France. 2019. 124mins.
An Australian legend is brought vividly and bloodily to life – with a distinct literary flourish – in True History of the Kelly Gang, Justin Kurzel's adaptation of the 2000 novel by Peter Carey. Very much of a piece with his richly imagined Macbeth, True History is deeply rooted in national history and myth and as irreducibly Australian as Kurzel's 2011 debut Snowtown, whose working-class outsiders could be direct descendants of this film's characters.
Craziness - of an elemental, even operatic nature - is what gives this film its intensity
Fiercely and flamboyantly executed, True History offers a range of virtuoso performances from a cast headed by George MacKay – including a turn from a barely recognisable Russell Crowe, and one of quite startling intensity from The Babadook's Essie Davis, whose international status will surely soar as a result. This full-blooded essay in Australian Gothic achieves an authentic epic sweep, although its unrepentantly poetic tone, along with somewhat baggy episodic structure and occasionally prolix dialogue, destine this to be a succès d'estime rather than any sort of commercial contender. Even so, after his coolly received misfire, video game adaptation Assassin's Creed, it will very decisively reaffirm Kurzel as a auteur of significant international clout and visionary ambition.
Prefaced with the written warning "Nothing you are about to see is true," the film – scripted by Snowtown collaborator Shaun Grant - presents itself as a mythical quasi-biography of Ned Kelly, the 19th-century Australian bandit legendary for his use of steel armour (as celebrated in several films including Tony Richardson's 1970 version starring Mick Jagger, and Gregor Jordan's 2003 version, with Heath Ledger). Framed by the adult Kelly writing a memoir for his son, this version begins with Ned as a boy played by enormously impressive newcomer Orlando Schwerdt, whose angelic looks jar strikingly with the implacable ferocity he comes to embody.
Raised in poverty in the outback by a father no-one respects, Ned becomes the 'man of the house', according to his mother Ellen (Davis), who feeds her family partly by providing sexual favours to local policeman Sergeant O'Neill (Charlie Hunnam). Ned is later adopted by his mother's boyfriend Harry Power (a charming but menacing Russell Crowe, bulked up to Falstaffian dimensions), although Ellen has really sold the boy as assistant to this ruthless bushranger.
Years later, Ned (now played by MacKay) returns home an outcast, and has to prove himself to his suspicious family, including brother Dan (Earl Cave). He soon finds himself at odds with English lawman Constable Alex Fitzpatrick – played with serpentine malignity and silky sexual ambivalence by Nicholas Hoult. Ned comes to lead the soon-to-be-notorious Kelly Gang – although here it is his associates who teach him about the Irish rebelliousness that the gang represent, and the tactic of wearing women's dresses to frighten the foe – because "nothing scares a man like crazy."
Indeed craziness – of an elemental, even operatic nature – is what gives this film its intensity, not least in MacKay's Ned; initially a reticent, sensitive figure, later a fiery-eyed wild boy, as much Puck as punk. The film contains all the deranged machismo you might expect, not least in the way that bandits like Harry make a point of targeting their enemies' manhood. Amid the maleness, however, Davis rules the show as Ellen, a feral and intensely sexual matriarch whose contempt for her husband and passion for her sons gives the drama a classically Oedipal edge from the start. Hoult, meanwhile, delivers his best performance to date as a sneeringly patrician bad 'un with a suave vocal delivery that appears to channel Hugh Grant, Hoult's co-star in 2002's About a Boy.
While the emotional intensity and somewhat protracted narrative can be exhausting, in visual terms the film is a tour de force, steeped in blood, dust and squalor. Production designer Karen Murphy excels particularly in a brilliant touch, making the famous Kelly armour a visual leitmotif that plays out in the form of several buildings, including the gang's graffiti-covered hideout. Touches of both Western and Gothic emerge in Ari Wegner's landscape images and nervy, floating camerawork, with such hallucinatory moments as Ned's final confrontation with the law, seen as ghost-like figures glowing in the night. Recurrent images of riders racing breakneck through ravaged woods add to the mythic dimension.
The director's brother and regular collaborator Jed Kurzel contributes a memorable score, taut with pared-down strings and dark folk elements, supplemented by acoustic numbers written by cast members, including a roistering anti-law ballad from Crowe and a performance by singer Marlon Williams, playing Ellen's American beau.
Production companies: Porchlight Films, Daybreak Pictures, Screen Australia, La Cinéfacture, Film4
International sales: Memento Films International, sales@memento-films.com
Producers: Hal Vogel, Liz Watts, Justin Kurzel, Paul Ranford
Screenplay: Shaun Grant
Cinematography: Ari Wegner
Editor: Nick Fenton
Production design: Karen Murphy
Music: Jed Kurzel
Main cast: George MacKay, Essie Davis, Nicholas Hoult, Charlie Hunnam, Russell Crowe