A woman attempts to retrace the steps of her Soviet soldier father who was captured by the Nazis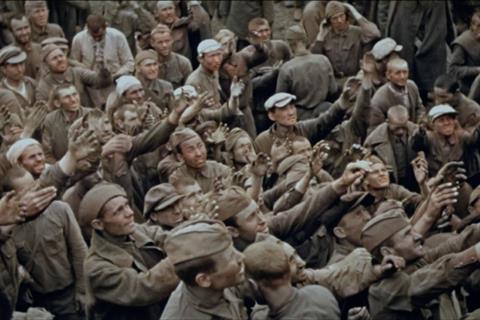 Dir. Aliona Van Der Horst. Netherlands. 2021. 93mins
The history of Soviet soldiers in the Second World War is a known, horrible, tragedy: Stalin's casual indifference to human life as he hurled millions of Russian bodies at the German army on the Eastern Front. What, though, about those who survived – or were captured? Aliona Van Der Horst's accomplished documentary follows the almost-unimaginable hardship of Sandar, a conscripted soldier from Moscow. He would never speak about that time, but now his daughter, Sana, attempts to trace his footsteps across Europe and back east to the Siberian gulag.
An evocation of a time when man's cruelty seemed to know no bounds, or repercussions
Premiering in IDFA's main International Competition and repped by Taskovski Films, Turn Your Body To The Sun begins at the end of Moscow-born Sandar's icy purgatory and tracks back to his draft into the Red Army at the age of 19, revealing a 14-year tale of hardship and exile. The audience follows Sana's attempts to weave his eloquent diaries and letters to her mother together with the established history of the time. Colourised film makes this brutal past more immediate; double-passes reinforce significant moments in the cruel odyssey of these men. There are hints of Peter Jackson's They Shall Not Grow Old, although this is a far more personal, small-scale film which eschews a conventional narrative through-line.
Referring to Solzhenitsyn's fictional 'Gulag Archipelago', Turn Your Body To The Sun starts with letters and watercolours sent by Sandar from a forced labour camp in Siberia to Sana's Estonian mother Tagira. Sana watches big-screen footage of her father's twin tormentors: Stalin and Hitler. Sandar was sentenced to 10 years hard labour in a re-education camp in June, 1945 at the end of the war: the reason why will occupy the rest of the film, as Sana travels East to see where her father lived in such freezing hardship and what made him such a solitary, lonely figure for the rest of his life. He would never forget the cold there, or on the Eastern Front: turn your body to the sun, he would urge his wife and two daughters. Appreciate the warmth of life.
Sandar was a Moscow boy of modest means and education when he was drafted into Stalin's army in 1943. One of the unexpected benefits of spending the following years of his life in state-sponsored slavery was that he came into contact with persecuted intellectuals and artists, and soaked up their teachings: his letters and diaries are movingly-written dispatches. This was a time when Soviet solders were told they should die before they were caught: that the penalty for capture was their own execution and the imprisonment of their families.
Sandar was imprisoned by the Germans at the Battle of Smolensk; haunted footage shows ruined, defeated troops being beaten with whips – although it was a victory for the Red Army, it led to Sandar's internment in a giant POW camp. Hitler planned to starve the inmates here to death; for Stalin they didn't exist as only war heroes were allowed in 'Stalin the Cannibal's' USSR. The Nazis offered Sandar food if he volunteered to fight for them, but that was be just one of so many betrayals in his short life. 'I was a slave solder to the Germans,' he writes in his diary. But it was still better than the life he'd had before.
There are several points in Van Der Horst's film which remain unclear. How did a man of such limited education become an interpreter? Much is spoken of her parents' relationship and late-life marriage, but Sana never really talks about their lives together after the Gulag. There's mention of Sandar's remoteness and lonely inaccessibility, but no real picture of the family. Such vagueness is perhaps to be expected, but it does leave the film without a link between Sana of today and Sandar of 70 years ago.
Turn Your Body to the Sun does not fail, however, in its evocation of a time when man's cruelty seemed to know no bounds, or repercussions. Roosevelt and Churchill sent two million Soviet POW's back home to Mother Russia in the full knowledge of what would happen to them when they got back, so it wasn't just Stalin and Hitler who blighted Sandar's life. It's not surprising that he turned to face the sun in whatever scant time he could find it.
Production company: Docmakers
International sales: Taskovski Films, festivals@tavskovskifilms.com
Producer: Ilja Roomans
Cinematography: Rogier Timmermans
Editing: Gys Zevenbergen
Music: Anton Silaev