Adam Sandler and the Safdie brothers unite to jittery, almost unbearably tense effect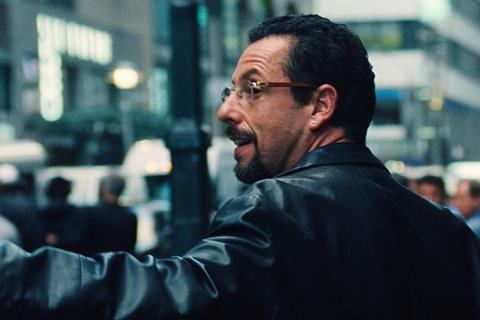 Dirs. Josh Safdie, Benny Safdie. US. 2019. 134 mins
Brash doesn't come close to describing New York jeweller Howard Ratner (Adam Sandler), a slippery hustler with a satin shirt, a voice like metal shavings and a diamond-hard veneered smile. With creditors baying for money, Howard's life is one long high-stakes gamble. He lives for the score. And the biggest win of his career is tied up in a black opal, obtained from an Ethiopian mine in a manner which is not entirely above board. The latest from the Safdie brothers is a cracking follow up to Good Time: a jangling panic attack of a movie and a timely reminder that, when he puts his mind to it, Adam Sandler can be one of the finest actors currently working.
This level of nervous tension for over two hours is as tough on the audience as it is on the central characters
A December 13th US release by A24 should ensure that Sandler figures as an awards contender, for a performance which transcends even that of Punch Drunk Love for jittery intensity. Elsewhere, the picture will be a Netflix release, however the enthusiastic response from festival screenings – the picture shows in Toronto following its premiere in Telluride – should prompt audiences to seek it out on a big screen where possible.
Certainly, the vivid urgency of Darius Khondji's cinematography cries out to be experienced on the largest, most immersive format available. The picture opens with a brutal prologue in that Ethiopian opal mine. Two workers use the distraction of a grisly injury to illicitly chisel a massive black opal from the mine. The camera lingers, fascinated, on the stone before diving into it. And in a way, we never actually leave it. The whole colour palette of the picture is saturated with the seductive colours of the gem – aqueous blues and greens, and fire flashes of pink and orange. It looks sensational, although, with the wired pacing and rattling editing, it is not a restful experience.
The visual assault is matched by the sound. Howard approaches conversation like a machine gun duel; over the jostling layers of dialogue, Daniel Lopatin's twitchy electronic score adds a further element of tension. As does the fact that many of the most hectic scenes play out in rooms which always feel slightly too small for the number of people crammed into them.
One such room is Howard's showroom, where he tries to hustle bling to the athletes and celebrities brought to him by his middleman Demany (Lakeith Stanfield, excellent). A buzzer operated airlock security system provides one the funniest scenes in a picture in which humour comes as a welcome release from the tightly wound stress. Another is the dining room in which his extended family – including at least one person to whom he owes money – gather for passover dinner. While his wife (Idina Menzel) smiles thinly in a half-hearted show of unity for the children's sake, Howard checks a text message from his on-off girlfriend under the table. He's a man addicted to risk who charges headlong into each new get-rich gamble, a slightly more socially acceptable spin on Robert Pattinson's character in Good Time. The Safdies clearly have a type.
This level of nervous tension for over two hours is as tough on the audience as it is on the central characters. It's bracing, but also exhausting. Relief, when it finally comes, feels like a mercy bullet to the brain.
Production company: A24, Elara Pictures
Worldwide distribution: Netflix
Producers: Scott Rudin, Eli Bush, Sebastian Bear-McClard
Screenplay: Ronald Bronstein, Josh Safdie, Benny Safdie
Production Design: Sam Lisenco
Editing: Ronald Bronstein, Benny Safdie
Cinematography: Darius Khondji
Music: Daniel Lopatin
Main cast: Adam Sandler, Lakeith Stanfield, Julia Fox, Kevin Garnett, Idina Menzel, Eric Bogosian, Judd Hirsch