In one of his two works at this year's Forum, Romania's Radu Jude looks back on a case of state oppression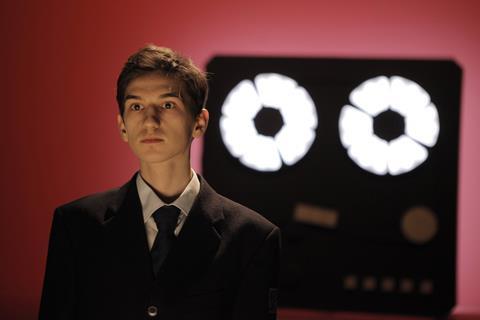 Dir. Radu Jude. Romania. 2020. 128 mins.
The abuses of state surveillance in Romania's Ceausescu years are brought vividly to life – with stark ironic distanciation – in Uppercase Print, the latest feature by Radu Jude. A bold hybrid combining archive documentary with a highly theatrical staging of a 'documentary play' by Gianina Carbunariu, this uncompromising but accessible and involving film should further boost the director's profile on the international circuit. Working with Carbunariu, Jude offers a spare, visually striking evocation of the methods of Ceausescu's secret police, the Securitate, in its pursuit and punishment of a young dissident.
The approach recalls the radically stripped-down experiments of Lars von Trier's Dogville
One of the most adventurous alumni of the Romanian New Wave, Jude has moved away from the realist mode for which that generation is famous, diversifying with a black-and-white 19th-century epic (Aferim!), a stylised 30s period piece (Scarred Hearts) and the intransigently challenging "I Do Not Care If We Go Down in History as Barbarians", a self-reflexive fiction about an artist staging a performance work critiquing modern Romanian society. In a different vein, Jude has made two politically-themed archive documentaries, 2017's The Dead Nation, now followed by The Exit of the Trains, in collaboration with Adrian Cioflâncâ, which is also featured this year in Berlin's Forum section.
Uppercase Print, which is based on Carbunariu's research into Securitate files and uses transcripts of file material, examines a 1981 case of a small outbreak of protest slogans written on walls. The chalk inscriptions cry out against government repression and call for Romania to have free trade unions like Poland's then ascendant Solidarity.
Actors playing Securitate officers face the camera, recounting investigation methods which eventually unmask the perpetrator as a teenage boy, Mugur Calinescu (Serban Lazarovici). He confesses to having been influenced by broadcasts on Radio Free Europe. But it becomes clear in his discussions with his divorced parents – recorded by Securitate bugging devices – that Mugur has a lucidly independent commitment to forming and voicing his own opinions. While he faces a disciplinary session at his high school, his friends are called on by the state to testify about him, while his baffled parents promise to keep him in line.
Mugur appears to become the young model citizen that the nation demands, but a later jump from the 80s to the present day chillingly suggests that the Securitate did not easily let its victims off the hook.
Foregrounding its stage origins, Uppercase Print uses minimalist, anti-illusionistic techniques, framing the actors in static shots with vivid lighting. On Irina Moscu's diagrammatic sets, Mugur faces his parents with a giant TV in the background, police agents stand before the image of a tape recorder, authority figures sit in a classroom and turn to the camera to denounce Mugur. With the dialogue read in uninflected tones, this approach recalls the radically stripped-down experiments of Lars von Trier's Dogville or Alain Resnais's late-period ventures in confronting cinema with theatre.
But that is only part of Jude's technique here. He also intercuts the drama with excerpts from Romanian television of the period: light entertainment, newsreels and blatant propaganda for the Ceausescu personality cult, interspersed to give a revealing, often bitterly-comic view of how the Romanian Communist worldview was promoted. The items, mainly in black and white, are often marvellously corny: a goofy song by a comedy duo, a bouncy pop ballad about the wonders of childhood, a rather magnificent folk chorale. But what's always apparent is the transparent ideology, notably in a super-kitsch montage praising the wonders of Romanian womanhood, and items that purport to entertain by pointing the finger at 'anti-social elements' like people who inappropriately sound their car horns (the bouncy, faux-glamorous pop soundtracks are a bonus).
Cutting off each of these segments abruptly (à la Godard, or in the style of Michael Haneke's 'fragment' films), Jude uses them to piece together a picture of the false utopia that Mugur rejects, and that aims to crush individual will in the name of "a land of indestructible solidarity."
Fronted by a quotation from Michel Foucault, the film enacts some of the French philosopher's ideas about surveillance and control through the use of a camera pan round what appears to be a circular studio set, echoed in a shot that similarly scans a Romanian city street today. The film is excellently acted by a large cast, including – as Mugur's mother - "I Do Not Care…" lead Ioana Iacob, and Serban Lazarovici, who manages to project a potent image of Mugur as a vital exemplar of social protest.
Production company: microFILM
International sales: Best Friend Forever, sales@bffsales.eu
Producer: Ada Solomon
Screenplay: Radu Jude, Gianina Carbunariu, based on the play by Gianina Carbunariu
Cinematography: Marius Panduru
Production design: Irina Moscu
Editor: Catalin Cristutiu
Main cast: Bogdan Zamfir, Serban Lazarovici, Ioana Iacob, Serban Pavlu