Agnès Varda tells her life story, and it's a pretty picture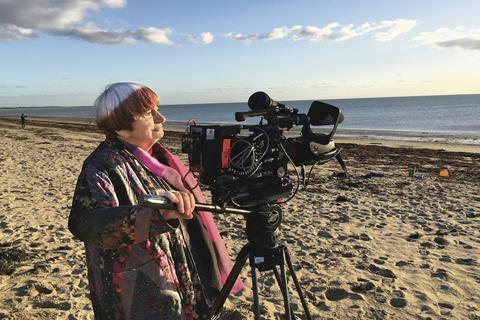 Dir Agnès Varda. France. 2019. 115 mins.
"A filmmaker's nightmare is an empty cinema," muses Agnes Varda, who, in a pretty much archetypal Varda moment, is sitting on a beach surrounded by cheerful cardboard seagulls. There's little chance of her nightmare coming to fruition with this film, in which everyone's favourite maverick nonagenarian guides us through a lively and engaging account of her inspirations, work practises and engagement with the audience.
The approach of the film is roughly chronological, although Varda is fond of exploring whatever avenue of thought occurs to her
Like much of her digital work in the twentieth century, Varda's approach here is a kind of expansive introspection; it's a film which looks both inwards and outwards at the same time. And like Varda herself, it pulls off the combination of a trundling, amiable pace with a biting intellectual acuity. Varda's international treasure status among cinephiles should ensure plenty of festival exposure for this typically idiosyncratic career retrospective, while a profile which has been boosted by the Oscar nomination for Faces Places last year should help the picture connect with wider audiences theatrically, albeit on a small scale.
Varda By Agnes is constructed from footage of a series of fluent, often humorous lectures given by Varda, archive footage, clips from her films and newly shot material – a conversation with Sandrine Bonnaire, the star of Varda's Venice Golden Lion winning picture Vagabond, is conducted on a trolley in a field, with two plastic umbrellas to protect them from the unforgiving weather. It's a practical example of a creative policy which Varda has long preached – the importance of flexibility and the ability to take on board and work with whatever fate throws at the production.
The approach of the film is roughly chronological, although Varda is fond of exploring whatever avenue of thought occurs to her. A brief digression into her former life as photographer, touched upon also in Faces Places, is inserted at a mid point – the work is glorious, full of life and wit. You rather wish she had dedicated a little more time to exploring it. But overall, the picture is roughly divided into two chapters, carved up between two centuries and between her work shot on film and the later pictures, starting with The Gleaners And I, which made use of the freedom and versatility of digital cameras.
This is a film about an artist and a legacy, but Varda is an artist who never had any problem with incorporating herself into her work. So we get glimpses of her personal life also, mediated by the ever present camera. Most poignant are her comments on the way she processed the failing health and eventual death of her husband Jacques Demy – through cinema, naturally. Her need to feel present during Demy's final years manifested in the use of extreme close ups which memorise every quirk of his face. Did she want to stop time? asks an interviewer. "Not to stop time. To accompany time."
Music has always been a key component in Varda's films; she acknowledges that "Early on, I realised that contemporary composers were my allies." And Varda has continued to find allies outside of the immediate sphere of the film industry. Her late-life parallel career as a visual artist has seen her create installations, video work and even performance pieces – for a time she would turn up to art world events dressed as a potato. But for Varda, there's an interconnectivity between all these artistic outlets, a sense of a creative continuum – potato-based japes have featured in her films after all, and her artwork harnesses her idiosyncratic take on cinema.
There is a sense of finality to this picture, this retrospective of a long and varied career. It's tempting to view it as Varda signing off. But then minds as active as hers are not cut out for retirement, so it seems likely that she has a few more films left to make yet.
Production companies: Ciné-tamaris
International sales: mk2 Films, intlsales@mk2.com
Producer: Rosalie Varda
Screenplay: Agnès Varda
Editing: Agnès Varda, Nicolas Longinotti
Cinematography: François Décréau, Claire Duguet, Julia Fabry