Family portrait chronicles four generations of women and the Bavarian Alps lake which connects them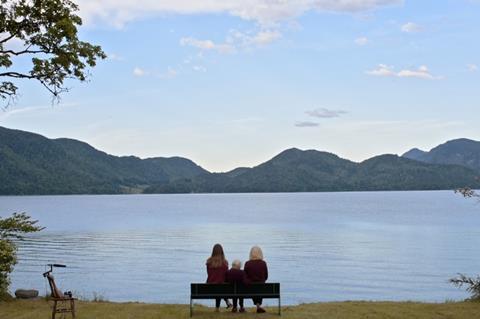 Dir. Janna Ji Wonders. Germany. 2020. 112 mins.
Walchensee, a lake in the Bavarian Alps, is constant in the lives of four generations of women from one family. With its mercurial weather, which has a habit of heightening and harmonising with the stories unfolding on camera, and the shadowy secrets under its glassy surface, the lake serves as both a location and a fitting metaphor for the ancestral history which director Janna Ji Wonders chronicles in this involving but slightly overlong family album.
The film really hits its stride when it follows the director's mother Anna Werner and her feisty younger sister Frauke as they take to the road
But although the Werner women are the focus of Walchensee Forever, which explores how a single tragedy can anchor a whole family in a sadness which is hard to escape, the film also works on a secondary level — as a first-hand account of the late-'60s and early-'70s counterculture movement in Germany and America.
A considerable asset Wonders taps into is the work of her mother, photographer Anna Werner, whose revealing, informal portraits are a window into the worlds in which she moved. In addition, each of the women, either through hoarded letters, home videos or detailed diaries, had a tendency to self-chronicle, which makes for a vivid tapestry of memories. Anna Werner's public profile — she was a member of an "experimental living community," known as The Harem — will mean that this intimate journey will likely be most attractive to domestic audiences with some familiarity with Werner and her circle. Elsewhere, it should attract further interest on the festival circuit, particularly in specialist documentary events.
The family link with Lake Walchensee was forged nearly a century ago, when, prompted by grief following the death of a child, Wonders' great-grandparents relocated to the area and built a cafe at the edge of the water. Wonders' soignée great-grandmother relished the role of hostess, gliding between the kitchen and the tables, impeccably coiffed and dripping with jewellery.
But for her daughter Norma (who appears in the film in archival footage and as a fragile 104-year-old in the present day), shouldering the responsibilities of the cafe was done out of a sense of duty rather than vocation. And it was a duty which put strain on her marriage to a man who never fully healed from his experiences in World War II. Wonders asks her mother to read aloud from the letter her father sent to Norma which heralded their breakup, opening the door to the first of a host of painful memories.
The film really hits its stride when it follows Anna and her feisty younger sister Frauke as they take to the road, touring Mexico equipped with a dulcimer and guitar, performing traditional Bavarian yodelling. Their travels brought them to the West Coast of the US, just in time to ride in on the wave of the 1967 'Summer Of Love.' But from the beginning, Frauke sought out "more extreme experiences," which included peyote rituals in Mexico and psychedelic drugs in San Francisco. Wonders reveals in Walchensee Forever's opening scene that Frauke died young; it's a fact which sits ominously on the horizon of a deftly edited central section of the film. Frauke's death, in a car accident and suspected suicide which followed a battle with mental health issues, is a pivotal moment in the story.
However, like Anna, Walchensee Forever feels somewhat unmoored following Frauke's death. Grief brings her back to Walchensee but her perennial search for meaning leaves her restless and unquiet. There's also a sense that, for all the reopening of old family wounds in the film, Wonders guards her own experiences as a child growing up in the turbulent communal environment. There's a palpable tension in an interview with the Harem's male member, Rainer Langhans. And a telling moment when another Harem founder, Jutta Winkelmann, concedes that the experiment was tough on the children, but that perhaps "open shock is better than repression."
Production company: Flare Film
International Sales: Deckert Distribution, info@deckert-distribution.com
Producers: Katharina Bergfeld, Martin Heisler, Najda Smith
Cinematography: Janna Ji Wonders, Sven Zellner, Anna Werner
Editor: Anja Pohl
Screenplay: Janna Ji Wonders, Nico Woche
Sound design: Andreas Lindberg Svensson
Music: Markus Acher, Cico Beck
Featuring: Anna Werner, Janna Ji Wonders, Rainer Langhans, Norma Werner