Chinese filmmaker Li Ruijun explores the isolation of modern city life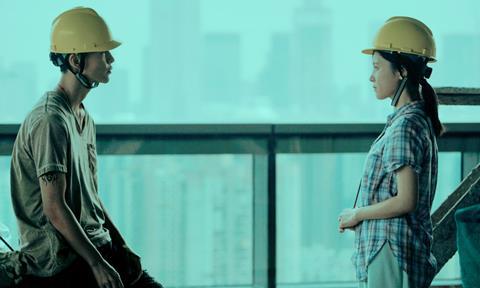 Dir/scr: Li Ruijun. China. 2017. 129 mins
The hand-to-mouth gig economy associated with the new Chinese capitalism gets a well-meaning but unconvincing melodrama treatment in Walking Past the Future, from writer-director Li Ruijin (River Road). The story of a young woman struggling to survive dehumanising city life is clearly rooted in contemporary socio-economic realities, but uneven dramatic treatment makes for a less than entirely cogent modern tragedy.
Yang Zishan's reserved control as the tenacious Yaoting holds the narrative together
The film, which premieres in Cannes Un Certain Regard, opens with vistas of steely, antiseptic urban life in the city of Shenzhen, north of Hong Kong. Here, one family, originally rural villagers, have been toiling to make a go of it, with relative success, for 25 years. But in one of the film's scarcely believable coincidences, the family's elderly dad narrowly escapes dying in a factory collapse as a result of being laid off — on the very same day that his wife loses her job too.
And so the family move back to their village in the north-eastern province of Gansu, but things go badly there too. Their old land is now owned by a glib young local boss, Dad is too old and infirm to work the fields, and the daughters, Yaoting (Yang Zishan) and her younger sister are too attuned to city ways to know how to wield a sickle.
Devoted Yaoting returns to the city and her old job in an electronics factory, while her airhead nosejob-fixated flatmate introduces her to a new acquaintance; opportunistic, abrasive young hustler Xinmin (Yin Fang). He makes a living recruiting guinea pigs for clinical drugs trials, and it's not long before Yaoting — short of money and desperate to put down deposit for an apartment — signs up, despite health problems that are counter-indicative to say the least. But Yaoting and Xinmin also happen unknowingly to be long-term pseudonymous social media buddies, and it can only be a matter of time before 'Desert Ship' and 'Misty Landscape' discover each other's identities.
The film starts promisingly by establishing its urban drama in an elegant visual tone of polished modernism, with a gliding long take across a hospital lobby and an opening image of crowds lost in their mobile phones — inescapable visual shorthand for spiritual impoverishment. This is a theme somewhat overworked through the film, especially when Yaoting and Xinmin sit at the same table texting, unaware that it's with each other.
Writer-director Li sometimes provides neat visual encapsulations of the economic stakes, notably in a scene in which a man coolly ensures he gets the apartment he's after by opening a holdall stuffed with ready cash. But there are jarring notes too, such as the brashly comic tone that intrudes whenever Yaoting's scatty flatmate is around. As setbacks, then catastrophes pile up with sometimes laborious inevitability, the point is rather insistently driven home that urban fripperies like karaoke and social media are poor consolations in an increasingly alienated world.
Nevertheless, Yang Zishan's reserved control as the tenacious Yaoting holds the narrative together, with Yin Fang as a watchable bad boy foil; even if his final-act compassionate redemption never quite convinces. DoP Wang Weihua's sleek visual finish is highly appealing, although it sometimes undermines the film's claims to harder-edged social realism. An out-of-nowhere, egregiously flashy CGI vision sabotages what could have been an affecting final shot.
Production companies: Edko Fims Ltd, QiTai Ocean Culture& Media, Irresistible Alpha, Edko Fims (Beijing) Ltd, PULIN Pruduction, Hucheng No.7 Films
Sales agent: Edko Fims Ltd, chiujulian@edkofilm.com
Producers: Lin Jin, Zhang Min
Cinematography: Weihua Wang
Production designer: Dahai Han
Editor: Li Ruijun
Music: Peyman Yazidanian
Main cast: Yang Zishan, Yin Fang, Li Qunqin, Haren Hua, Zhou Yunpeng