Brad Pitt stars as an American general attempting to make effective change in Afghanistan in 2009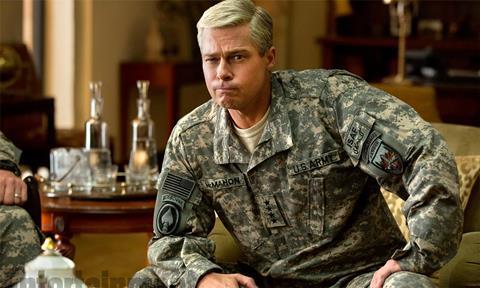 Dir: David Michôd. US. 2017. 121mins
War Machine is a clattering apparatus; inelegant, propulsive and, ultimately, inefficient. Taking aim at US foreign policy in Afghanistan — and, more broadly, the American government's overreaction in the wake of 9/11 — this satire boasts plenty of ideas but is only occasionally compelling. The film's intermittent effectiveness is embodied in star/producer Brad Pitt's performance, which aspires to greatness but too often feels muddled and showy when it ought to be incisive.
Among a large ensemble, very few of the supporting cast have opportunity to stand out
Releasing through Netflix from May 26, War Machine represents the most ambitious original movie yet from the streaming platform, which is banking on Pitt's celebrity and the story's irreverent tone to attract audiences. But, unlike popular patriotic post-9/11 war films such as American Sniper, War Machine is critical of America's Middle East adventures, which may prove a turnoff — and, for those who opposed the war, an unwelcome reminder.
Pitt plays Glen McMahon, a four-star general who, after his success in Iraq, is ordered to lead coalition forces in Afghanistan in 2009, just as Barack Obama takes office. A cocky, smart leader of men, McMahon wants to end the conflict after eight years of quagmire, convinced that US victory is still possible. But he soon learns that government bureaucracy and an inability to understand the region may dash his hopes.
War Machine is written and directed by David Michôd (Animal Kingdom) and based on Michael Hastings' nonfiction book The Operators, which documented the journalist's 2010 travels with American General Stanley McChrystal in Afghanistan. Hastings' unflattering portrayal of McChrystal's arrogant attitude, which first appeared in a Rolling Stone profile, resulted in the general's humiliating termination.
McMahon is a fictionalized version of McChrystal, and Pitt portrays him as a boisterous, strong-willed individual with a comically outsized gait as large as his ego. Adopting a blustery tone, Pitt drifts into self-mocking caricature, as he did in Inglourious Basterds, but the character is no buffoon. In fact, what's appealing about War Machine is how Pitt and Michôd conceive McMahon to be both a blowhard and a genuinely intelligent general. McMahon may saunter into every room like he owns it, but he's convinced that Afghanistan can be "saved" if his men treat the locals with respect and demonstrate that the US military's motives are honourable.
As history has shown, War Machine's cruel joke is that generals like McMahon did very little good in the Middle East, and Michôd wields a sarcastic tone to express his outrage at American hubris and incompetence. Sometimes, that approach can be bracing; McMahon isn't so much waging a war as he is juggling conflicting personalities, particularly that of tuned-out Afghan president Hamid Karzai (a hammy Ben Kingsley) and opportunistic American government officials (Alan Ruck).
But while recasting the war movie as an elaborate series of backroom negotiations has its kicks, Michôd fumbles between tones, segueing from bitter satire to touching marital drama to taut action movie without enough confidence to weave them into a coherent whole. Likewise, Pitt veers from cartoonish to nuanced, and the performance is far too impressed with its own theatrics to really put a human face on American military arrogance.
Among a large ensemble, very few of the supporting cast have opportunity to stand out, which forces them to over-act to compensate. Anthony Michael Hall proves tiresome as McMahon's passionately loyal comrade, while Scoot McNairy (in the Hastings-surrogate role) provides War Machine's mannered voiceover, ranging from pseudo-profound to calculatedly blasé.
Best of the bunch, interestingly, are the film's two prominent female characters. Tilda Swinton resonates in a one-scene cameo as a German diplomat who voices the film's moral argument. And Meg Tilly plays McMahon's loving, resigned wife with real delicacy — through her sad smile, we see how far this war machine has stepped away from the humanity of life outside the battlefield.
Production companies: Netflix, Plan B Entertainment
Worldwide distribution: Netflix, www.netflix.com
Producers: Brad Pitt, Dede Gardner, Jeremy Kleiner, Ted Sarandos, Ian Bryce
Executive producers: James W. Skotchdopole, Pauline Fischer, Sarah Bowen, Sarah Esberg
Screenplay: David Michôd, based on the book The Operators: The Wild And Terrifying Inside Story Of America's War In Afghanistan by Michael Hastings
Cinematography: Dariusz Wolski
Production design: Jo Ford
Editor: Peter Sciberras
Music: Nick Cave and Warren Ellis
Main Cast: Brad Pitt, Emory Cohen, RJ Cyler, Topher Grace, Anthony Michael Hall, Anthony Hayes, John Magaro, Scoot McNairy, Will Poulter, Alan Ruck, Lakeith Stanfield, Josh Stewart, Meg Tilly, Tilda Swinton, Ben Kingsley