Respectful biopic relates the life and turbulent times of Maori activist Dame Whina Cooper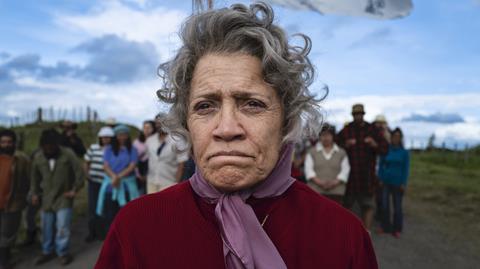 Dirs: James Napier Robertson, Paula Whetu Jones. New Zealand. 2022. 112 mins.
Celebrating the legacy of Dame Whina Cooper, a Maori activist who devoted her days to fighting for the rights of Indigenous New Zealanders, Whina is a heartfelt, often touching biopic which is more reverent than electric. Rena Owen and Miriama McDowell deliver unwavering performances, portraying Cooper at different crucial phases of her life. The film opts for a sweeping overview, which gives the narrative scope but suffers by not always capturing the inner world of a woman who experienced myriad heartbreaks without losing a sense of herself. As a result, viewers may walk away from Whina disappointed by the execution but nonetheless inordinately impressed by this trailblazer, who was fearsome throughout her long life – she died in 1994 at the age of 98.
Admiring sketch which lacks the complexity and fire of its subject
Fresh from opening in New Zealand in June, the picture screens as part of the Edinburgh Film Festival. Whina doesn't boast many big names — and Cooper herself may not be well-known outside her homeland — but the film's inspirational-drama structure should prove accessible to anyone coming to this story without any prior knowledge of her life.
In 1975, Whina Cooper (Owen) leads a 640km march organised by the Northern Tribes of New Zealand to protest the seizure of Maori land. Remarkably, she was 80 at the time. Whina uses this headline-grabbing, month-long protest as its framing device, repeatedly flashing back to earlier moments in her life, with McDowell portraying the younger Cooper, the daughter of a tribal chief who discovers how difficult it is for her voice to be heard as a woman.
Directors James Napier Robertson (The Dark Horse) and Paula Whetu Jones (the short films A Matter Of Time and Yellow Roses) approach the material with a dutiful earnestness, an obvious indication of their high regard for Cooper. Whina often feels like a respectful re-creation of this activist's pivotal periods, which, strung together, suggest the amount of pain she endured in her private life while watching her people being marginalised and displaced by the New Zealand government. The film's default depiction of its subject is that of a proud, quietly dignified and slightly staid leader — rarely does Cooper break free of this somewhat one-dimensional portrait.
A crucial exception occurs when, after starting a family with her first husband Richard (Richard Te Are), she falls for William (Vinnie Bennett), a land consolidation officer blindsided by her indomitable spirit. Their affair causes a scandal in her community, resulting in Cooper being driven out of her beloved Panguru. The sequences that focus on the couple's long and sustaining relationship offer a valuable glimpse of the flesh-and-blood human underneath the folk hero, and McDowell and Bennett boast a grownup rapport that helps explain why Cooper was so happy with this man, even though she temporarily felt cut off from her larger Maori family.
Owen has less screen time than her costar, playing the frailer Cooper with steely resolve. McDowell (who appeared in Robertson's The Dark Horse) adroitly navigates her character's stirring speeches, which decried sexism and European colonisation in equal measure, but the actress is actually more effective when Cooper is silently withstanding the prejudice of others. Subtly, Whina argues that it's not the grandiose public appearances that make a leader — it's all the difficult times when she doesn't feel as confident and yet somehow finds it within herself to keep fighting. After being briefly sidelined while making a life with William, Cooper will take up the Indigenous cause once again, and McDowell illustrates how this activist couldn't deny her rabble-rousing ways for too long — even though she always preached the importance of nonviolence to achieve her people's goals.
The New Zealand landscape is beautifully photographed by Leon Narbey, while Dana Lund's string-laden score is sometimes a little too emotionally invasive. Outside of Bennett, the supporting cast isn't particularly dynamic, but that's perhaps understandable considering that Whina Cooper is meant to take centre stage. One doesn't need to be wowed by this biopic to note how real-life tales of oppression and defiance are depressingly common across the globe. Whina pays tribute to a woman who stood up to injustice, but it's a shame that Robertson and Whetu Jones' admiring sketch lacks the complexity and fire of their subject.
Production companies: Ingenious Media, The New Zealand Film Commission, GFC Films
International sales: Cornerstone Films, office@cornerstonefilm.com
Producers: Matthew Metcalfe, Tainui Stephens, Liz Adams
Screenplay: James Lucas and Paula Whetu Jones & James Napier Robertson
Cinematography: Leon Narbey
Production design: Shayne Radford
Editing: Chris Plummer, John Gilbert
Music: Dana Lund
Main cast: Rena Owen, Miriama McDowell, Vinnie Bennett, James Rolleston, Erroll Shand, Wayne Hapi, Richard Te Are, Matu Ngaropo