Dir/scr Todd Solondz. US, 2016, 89 mins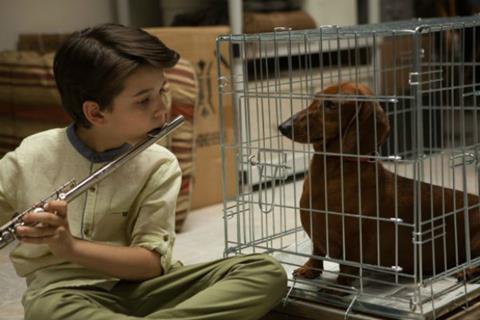 Despite initial appearances to the contrary, veteran misanthrope Todd Solondz hasn't quite found the light in Wiener-Dog, his first film since 2011's Dark Horse (and which arrives at Sundance a full two decades after Welcome To The Dollhouse took the Grand Jury Prize). While his followers will be relieved, this Wiener-Dog isn't particularly out to make new friends. A loose anthology about a dachshund and her series of owners, which comes complete with an intermission and its own catchy song The Ballad of the Wiener-Dog, Solondz's latest is morose and jaundiced and, although uneven, a relentlessly clever little film.
There's nobody here to like, just outlandish moments to admire
This Christine Vachon and Megan Ellison-produced production is clearly a festival piece destined for specialty play. It's certainly not for innocent pet lovers. Variously named Wiener, Doody and Cancer, the titular dachshund's diarrhoea is awarded a lengthy tracking shot accompanied by Debussy's Clair De Lune, just one of many audacious flourishes which pull the film back from the abyss. The Wiener-Dog is, above all, a device by which Solondz can visit some old preoccupations through four distinct chapters, with the two bookends elevating the film's dispiriting central section.
Solondz's careful tableaux elevate Wiener-Dog. In the opening chapter, a small boy who has recovered from cancer plays his flute for the caged animal. By the end, when embittered grandmother Ellen Burstyn is witnessing versions of her former self, Solondz has found his thematic and visual touchstone. There's a flabby mid-section to wade through, however, with Greta Gerwig playing Dollhouse's Dawn Wiener, and Danny DeVito delivering a strong performance in an indulgent section about a furious and depressed film-maker reduced to teaching indifferent students, clearly the filmmaker's alter-ego.
Solondz opens Wiener-Dog with a winsome credit-sequence during which the adorable animal is placed in a cage at the kennels, provoking wistful sighs from the Sundance audience – which certainly weren't to be continued throughout the piece. She arrives in the home of cancer survivor Remi (Keaton Nigel Cook) and his abrasive, self-absorbed parents, played by Tracy Letts and Julie Delpy. The latter makes the most of some pungent scenes when she explains what it means to be 'spayed' and 'put down' and describes the rape of her former pet Croissant by the stray dog Mohammed.
Wiener-Dog then moves into the guardianship of Dawn Wiener (Gerwig, lip-biting and oversize spectacles), who decides on the spur of the moment to accompany the silent druggie Brandon (Kieran Culkin) on a road trip to visit his brother Tommy and wife April (Connor Long and Bridget Brown), both with Down's Syndrome. Sad-eyed Mariachi's in the back seat of their car give the sequence a boost – "America is so lonely," they say, "a big fat elephant drowning in a sea of despair". After a sparkly intermission, the sequence drives back down the death and despair deep end.
De Vito's desperate, pent-up screenwriter is followed by Ellen Burstyn's irascible grandmother Nana, who has decided to call the dog Cancer. Wiener-Dog then lifts itself through to the closing credits, with a visit from grand-daughter Zoe (Zosia Mamet) and her self-absorbed boyfriend Fantasy (Michael Shaw), on the mooch for money.
There's nobody here to like, just outlandish moments to admire. The sourness of Solondz's world view is an acquired taste. Nana's garden reverie is punctuated by the words "everything has a beginning and everything has an end". Solondz delivers on both of those fronts with Wiener-Dog – but like life itself, it's the mid section he has the biggest problems with.
Production companies: Annapurna Pictures, Killer Films
Director: Todd Solondz
Producers: Megan Ellison, Christine Vachon
Executive producer: David Hinojosa
Cinematography: Ed Lachman
Production designer: Akin McKenzie
Editor: Kevin Messman
Music: Nathan Larson, James Lavino
Main cast: Ellen Burstyn, Keaton Nigel Cooke, Kieran Culkin, Julie Delpy, Danny DeVito, Greta Gerwig, Tracy Letts, Zosia Mamet, Connor Long, Bridget Brown, Michael Shaw