Ethan Hawke directs his daughter Maya Hawke as Southern Gothic writer Flannery O'Connor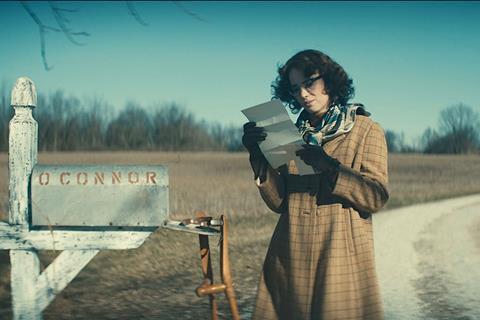 Dir: Ethan Hawke. USA. 2023. 108mins
More hall of broken mirrors than traditional literary biopic, Ethan Hawke's mosaic portrait of the life and work of the Southern Gothic writer Flannery O'Connor (Maya Hawke) is a suitably unconventional and challenging response to her writing. Casting actors in multiple roles, and blurring the line between real life and her fictional stories, the film focuses on a key early period in O'Connor's life. While finding her voice and her writing process, she grapples with a conflict between her religious faith and the profane and abrasive nature of her subject matter. And then she is struck down with lupus, the chronic autoimmune disease that claimed the life of her father. It's a bold, intriguing approach that gets into the skin of the writing but since Hawke chooses to confront, head on, the racism that is baked into the worlds that Flannery creates, it can make for uncomfortable viewing.
The screenplay is smart enough to lean into the contradictions of the woman and her work
Hawke's latest directorial outing continues with the fascination with the artistic creative process that was evident in his last picture, Blaze, which was inspired by the life of Texan songwriter Blaze Foley, and his documentary Seymour: An Introduction, which focused on pianist Seymour Bernstein. The racial slurs and, to a lesser extent, the picture's non-traditional formal approach may scare off some potential distributors. But an impressive, mercurial performance from Stranger Things star (and Hawke's daughter) Maya Hawke should raise the film's profile. Wildcat screens in Toronto having premiered in Telluride, and will likely go on to find further festival exposure.
The film's playful, shapeshifting approach takes a while to settle into its stride. A black-and-white opening sequence, cut together to resemble a lurid trailer for a B-movie exploitation flick, feels a little indulgent. But this is immediately followed by a more effective device, a glimpse of a story about an escaped convict, unfolding as O'Connor writes it. The percussive rattle of her typewriter keys, mixed low but just audible and echoed by the score, means that the writer is always present in her work. The casting of Maya Hawke in multiple roles in the stories, together with grotesque versions of her family members (her mother, played by Laura Linney, figures prominently) further knits together the identity of the artist and her creations. And this presents something of a quandary when it comes to the racism.
If O'Connor, who was born in Savannah, Georgia in 1925, is merely reflecting the truth of the world in which she grew up, a world in which casual racism was prevalent, then it can be argued that she is writing about a mindset that does not necessarily reflect her own. "The truth doesn't change according to your ability to stomach it," she says to a fellow writer who cautions her about her use of the N-word in a story. But the film creates a permeable membrane that barely separates the writer from her work, making it harder to cling to the possibility that she was not a massive bigot herself, but just wrote stories about them.
Ultimately, the screenplay, written by Ethan Hawke and Shelby Gaines, is smart enough to lean into the contradictions of the woman and her work, but not to attempt to offer a definitive statement one way or another. O'Connor is well aware that her writing is often unlikeable and difficult, it is one of the stumbling blocks to her resolution of the conflict between her art and her religious faith. "If my writing is scandalous," she asks in a powerful scene opposite Liam Neeson's wise priest, "can it still serve God?" Finally, we see her renouncing everything, even the pleasant view from her bedroom window, in order to pursue an ascetic dedication to her work and her God.
Production companies: Renovo Media Group, Under the Influence Productions, Good Country Pictures
International sales: UTA
Producers: Ryan Hawke, Joe Goodman, Cory Pyke, Karri O'Reilly
Screenplay: Ethan Hawke, Shelby Gaines
Cinematography: Steve Cosens
Editing: Barry Poltermann
Production design: Sarah Young
Music: Shelby Gaines, Latham Gaines
Main cast: Maya Hawke, Laura Linney, Philip Ettinger, Rafael Casal, Steve Zahn, Cooper Hoffman, Willa Fitzgerald, Alessandro Nivola, Vincent D'Onofrio, Liam Neeson