A comedy set in Zurich's Orthodox Jewish community could be a surprise hit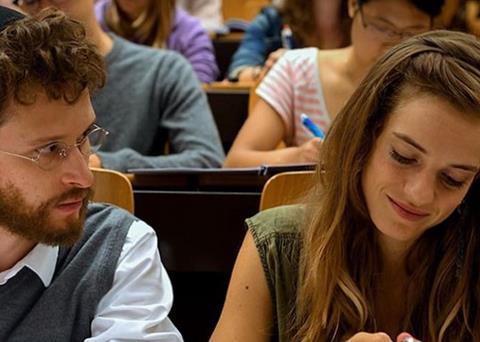 Dir. Michael Steiner. Switzerland. 2018. 92 mins.
Nebbish student Motti Wolkenbruch (Joel Basman) sits squished firmly under his mother's thumb in a life strictly prescribed by his religion: choosing a different pair of spectacles is a family drama, matched only by the scandal of him buying a colourful T-shirt. Yet his outsized mother's determination to marry him off in a series of embarrassing matchmaking 'shidduchs' results in her waking nightmare: the arrival of a beautiful shiksa into Motti's immediate orbit.
Key to the film's success is the full-figured, full-throated character of the bewigged Mame, an over-dramatic mother even by Jewish mother stereotype standards.
On paper, a Swiss comedy about a repressed young Orthodox Jew from Zurich seems an unlikely hit. However Wolkenbruch is based on a novel of (almost) the same name which has been a huge success for its author, Thomas Meyer, selling over 100,000 copies in its small home country. The resulting adaptation, directed by Michael Steiner (My Name Is Eugene) should repeat that domestic success, and travel widely to Jewish festivals and celebrations thereafter. Put simply: it's funny, albeit as broad as Mame's bottom.
Wolkenbruch is not a complete film – it stops abruptly, forfeiting an entire third act – and neither is it a particularly enticing visual prospect. But this story of a henpecked student who defies his larger-than-life mother (with dialogue in German, Yiddish and Hebrew), is like a film-length TV sitcom – a Passover special, perhaps. The more specific its characters are – and these are very specific – the more amusing the gags in this warm-hearted comedy about growing up and breaking free.
Key to its success is the full-figured, full-throated character of the bewigged Mame, an over-dramatic mother even by Jewish mother stereotype standards. Played with evident relish by Inge Maux, Mame/Judith is prone to collapsing when things aren't going her way, pleading with the ambulance crew to "kill me now". She runs a junk shop; Motti's ultra-observant father Tate (Udo Samel) manages an insurance company for the Orthodox Jewish community, a very tight-knit bunch indeed in central Zurich.
Motti breaks the fourth wall frequently to complain how confined his life is, as Mame shriekingly sets up one shidduch after another, all unsuccessful. When he and one of his dates pretend to be interested in each other to placate their parents, it does not turn out as successfully as they imagined. In the meantime, Motti finds himself attracted to fellow student Laure (Noémie Schmidt), a gentile (or shiksa) who smokes, swears and drinks gins and tonic. Soon, he's doing the same. The solution will be to send Motti to Israel to find a beautiful wife but an encounter with the brand-new Om Shalom sect and one of its more free-thinking members puts paid to that idea as well.
It's a shame that Wolkenbruch doesn't manage to cobble together a satisfying resolution to a light-hearted story which seems to be going so well. Perhaps that could be explored in future TV interations, small-screen being a better fit for the film's meat-and-potatoes aesthetic (this should do roaring business on El Al). The interaction between Israel and the folks at home in the old world seems ripe for further comic exploration too.
Basman happily plays up to the stereotype, all tight curly hair and bumfluff ginger beard, jumping around in enormous white Y-fronts in several surprise bedroom sequences. Sunnyi Melles makes the most of a small part in which she plays the chain-smoking psychic Frau Silberzweig. But Mame would brook no argument that Wolkenbruch is her show entirely.
Production companies: Turnus Film AG, DCM, Schweizer Fernsehen SRF, Teleclub AG
International sales: Turnus Film, wasser@turnusfilm.com
Producers: Hans Syz, Anita Wasser, Michael Steiger
Screenplay: Thomas Meyer, from his novel
Cinematography: Michael Saxer
Editor: Benjamin Fueter
Main cast: Joel Basman, Noémie Schmidt, Inge Maux, Udo Samel, Sunnyi Melles, Lena Kalisch, Aaron Arens