An accident on a building site in Mexico is the starting point for David Zonana's carefully-composed drama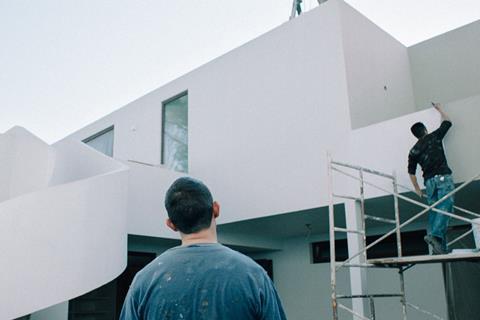 Dir/scr: David Zonana. Mexico. 2019. 82 mins
A workplace tragedy is the starting point for this carefully crafted examination of cycles of economic abuse. Claudio plummets to his death on the building site of a luxury villa for a wealthy client. His brother and co-worker Francesco (Luis Alberti) is devastated; Claudio's pregnant wife Lupe is left without support. But when it becomes clear that the boss is intending to wriggle out of compensating Lupe for the accident, Francesco's grief hardens into anger in this slow creep of a drama.
The use of architecture is eloquent
This is the first feature from producer-turned-director David Zonana (he co-produced Chronic by Michel Franco, who in turn takes a producer credit here). It's the kind of measured, intelligent provocation which is tailor-made for the festival audience, and should go on to screen extensively at other events.
With its juxtaposition of lives of oblivious luxury against the hand to mouth vulnerability of the workers, the film explores similar territory to that of Lila Avilés' The Chambermaid. And, for a while at least, it matches that film for meticulously constructed atmosphere. But while Avilés' work burrowed deep under the skin of the of its central character, Workforce deliberately keeps Francesco at a mysterious distance, hinting at a darkness in his character which makes the audience wary about empathising with him wholly. He's a cipher who reacts against the callousness of the privileged, only to start absorbing the same traits.
The use of architecture is eloquent. The half-built villa is as central to the story as the house in Alfonso Cuaron's Roma. Its clean, sharp lines are used to carve up the frame, and provide a contrast to the homes to which the workers return. Francesco's shack has a roof that leaks so badly that his possessions float when it rains. In Lupe's cluttered rooms, her possessions are stored in plastic bags hung from nails bashed into the walls. One night, when a storm threatens to wash out his home yet again, Francesco climbs back into the villa, hunkering down for a stolen night's sleep. It's all too easy. And as the men are repeatedly swindled out of wages – the boss hands out polo shirts in lieu of payment – they are persuaded by Francesco that their unpaid work gives them the right of ownership of the building.
Soon the blank canvas emptiness of the building is obscured by piles of possessions as more and more families move in. Francesco explains that if they all contribute financially, they will share the ownership of the building. It's not clear whether he ever fully believes his own plan, but, like all utopian dreams, this one soon sours. Zonana uses several repeated images – most notably Francesco huddled in a room filling with rainwater – to suggest the cyclic nature of a life in which everyone is doomed to end up back where they started.
Production company: Teorema
International Sales: Wild Bunch obensalah@wildbunch.eu
Producers: Michel Franco, David Zonana, Erendira Nuñez Larios
Screenplay: David Zonana
Production Design: Ivonne Fuentes
Editing: Oscar Figueroa Jara
Cinematography: Carolina Costa
Music: Murcof
Main cast: Luis Alberti, Hugo Mendoza, Jonathan Sanchez, Horacio Celestino