Guy Ritchie reunites with Jason Statham in another macho mishap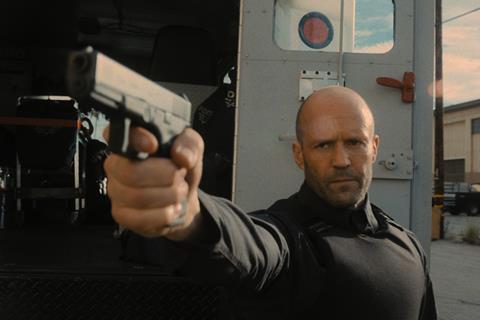 Dir: Guy Ritchie. UK/US. 2021. 118 mins.
A confident display of technical prowess without much underneath, Wrath Of Man reunites director Guy Ritchie with frequent collaborator Jason Statham, who plays the enigmatic new employee at an armoured truck company has just suffered from a deadly robbery. This remake of the 2004 French thriller Le Convoyeur possesses a macho strut and an overblown sense of grandeur, treating bro-heavy revenge tale — there are almost no women in the cast — with the seriousness of a mournful crime epic. But while there's no denying the picture's ferocious forward momentum and skilful execution, the empty swagger leaves the whole enterprise feeling a bit mechanical — a heist without the faintest whiff of escapist pleasure.
Empty swagger
Wrath Of Man has already opened in Australia and a few other territories, arriving on US screens starting May 7 via United Artists Releasing. (A UK rollout is planned through Lionsgate for July 23.) In the midst of a commercial hot streak thanks to The Meg ($530 million worldwide) and Hobbs & Shaw ($759 million), Statham is in down-and-dirty mode here, calling to mind a slicker, more adrenalised version of previous Ritchie crime capers such as Lock, Stock And Two Smoking Barrels and Snatch.
Statham plays H, who has just been hired at Fortico, a Los Angeles security firm which transports millions in cash in its trucks. A recent ambush, which led to the shooting death of two employees and a civilian, has made boss Terry (Eddie Marsan) even more concerned about safety, and although H doesn't say much about his background, he does well enough on his sharpshooting test to pass. However, when H and colleague Bullet (Holt McCallany) are hijacked during a truck run, H suddenly demonstrates a lethal expertise with firearms. Who is this man really — and does he have some connection to the previous robbery?
After the big-budget spectacle of Sherlock Holmes and the Aladdin remake, Ritchie returns to grittier fare with Wrath Of Man, relishing his characters' dark hearts and tough-guy demeanours. (Unfortunately, the latter quality quickly grows tiresome as H gets to know his posturing, nearly-all-male coworkers, whose misogynistic, homophobic banter is, perhaps, meant to be knowingly excessive but mostly comes across as exhausting.) Statham's reserved manner indicates he's hiding a secret, and soon we learn what it is: he's a ruthless crime boss whose son Dougie (Eli Brown) was killed in the previous Fortico heist, prompting him to go undercover to find the perpetrators.
Featuring a jumbled chronology and chapter titles, Wrath Of Man hums with self-importance. Chris Benstead's score bellows menacingly, suggesting an imminent reckoning as we flash back to see what brought H to this point and, separately, meet the elite crew (led by Jeffrey Donovan's Jackson) who unwittingly killed his son and are planning their most brazen heist yet. Dynamically edited by James Herbert, the film cannily juggles different sets of characters while building the suspense for the inevitable showdown between H and these thieves.
Putting aside his usual deadpan sarcasm, Statham is relatively muted, presumably in part because his character is mourning the loss of his boy. The actor's aficionados will note that Wrath Of Man is more The Bank Job than The Transporter, eschewing gaudy action set pieces and, instead, focusing on character drama and intense, bloody shootouts. But because H isn't a particularly compelling figure, Statham's grim-faced performance proves underwhelming. Like the film, it's so no-nonsense in its efficiency that it elicits almost no emotional response.
That said, Ritchie makes good use of the L.A. locales, while cinematographer Alan Stewart emphasises the material's B-movie trappings through chiaroscuro interiors. Heist films may be commonplace, but the director (who also co-wrote the screenplay) gives the familiar scenes a grubby electricity, abandoning the brash humour of his earlier pictures for a more mature tenor meant to convey the sweeping ominousness of this high-stakes drama.
But the supporting characters tend to settle into dull types, with the ensemble failing to transcend cliches. As Jackson, Donovan is neither villainous nor nuanced enough to be a worthy adversary, while Scott Eastwood, playing the thief's hair-trigger partner, lacks the necessary live-wire danger. The disposable nature of so many of the hyper-masculine participants contributes to a sneaking suspicion that, for Ritchie, the particulars of these people's lives mean less than the ambitious logistical and technical feat he's trying to orchestrate. With their macho bluster, these men parade around like kings, but Ritchie pushes them around like pawns.
Production company: Toff Guy
International sales: Miramax International/MGM

Producers: Guy Ritchie, Ivan Atkinson, Bill Block
Screenplay: Guy Ritchie and Ivan Atkinson & Marn Davies, based upon the film Le Convoyeur
Production design: Martyn John
Editing: James Herbert
Cinematography: Alan Stewart
Music: Chris Benstead
Main cast: Jason Statham, Holt McCallany, Jeffrey Donovan, Josh Hartnett, Laz Alonso, Raul Castillo, DeObia Oparei, Eddie Marsan, Scott Eastwood