Dir. Jonathan Littell. France-Germany-Belgium. 2016. 133 mins.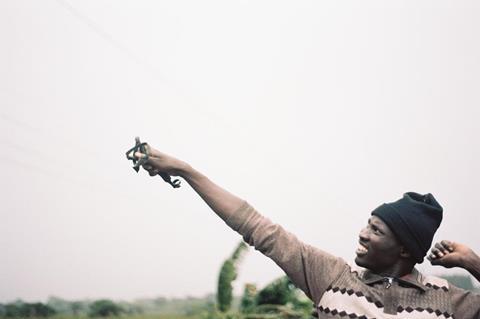 Truth and reconciliation is a mirage shimmering on the horizon in Franco-American novelist Jonathan Littell's first feature, a sensitive documentary that follows a handful of Ugandan adults who were abducted as adolescents by the Christian cult warriors known as the Lord's Resistance Army (LRA) and turned into child soldiers or underage brides, before finding their way back to a society that has never fully accepted them. There's a touch of the Joshua Oppenheimer in Littell's method, which is to coax revelation out of recall and reenactment, but it's milder here than in The Act of Killing; more respectful, perhaps, of its subjects' traumas.
Littel's method is to embed fragments of spoken confession or reminiscence, significant meetings and passages of role-play in a frame that foregrounds the environments these returnees inhabit
There's also a meander in the flow of a film which never quite justifies its two-and-a-quarter-hour running time, and some stylistic uncertainties – like the occasional distracting intrusion of the director as interviewer in a work that otherwise lets us commune directly with these LRA returnees, or a fascination with the macabre (maggots, entrails, a slaughtered goat) and African spiritualism that we don't quite know what to do with. But for those with time to invest, Wrong Elements builds towards a rewarding, poignant and also topical study of a violent, extremist cult's after-effects on those who manage to escape its clutches.
Further festival play looks assured, with quality streaming platforms like Netflix (which last year picked up child soldier feature Beasts of No Nation) providing another potential outlet.
Deriving from the preachings of inspirational militia leader Alice Lakwena, a precursor (some say a cousin) of LRA leader Joseph Kony, the film's title is double-edged; originally applied to the guerrilla army's enemies, here it hovers over those who once fought for it and have returned home. There's an echo of John Ford's The Searchers: like the white children kidnapped by Indians in frontier America and 'nativized', these 'victims' are sullied by association, guilty because unlucky, and tainted by the spectre of what they did, or were forced to do, while in the bush.
Supplying context via occasional informative intertitles, the film follows four such returnees: Lapisa, Geofrey, Nighty and Mike. All were abducted when they were between the ages of 11 and 13, and all spent at least three years as killing machines or child brides in LRA camps. Geofrey and Mike work as boda-boda motorbike taxi drivers in the town of Gulu; the shy, taciturn Lapisa and the more confident Nighty are mothers and providers – Nighty's eldest son, conceived in captivity, is one of Kony's many children.
It's lanky, amiable Geoffrey, joker Mike and capable, grounded Nighty who emerge as the main characters, bonding awkwardly over their memories when a documentary deus ex machina takes them all to a now-overgrown former LRA camp in South Sudan where they lived for several months. Just over halfway through, we leave the civilian returnees to follow a group of Ugandan army soldiers on patrol. who were themselves recruited from among former LRA fighters, then segue into an overlong sequence detailing the handing over of former LRA commander Dominic Ongwen (another child abductee) to African Union forces prior to his transferal to the ICC in The Hague to answer war-crime charges.
Littel's method is to embed fragments of spoken confession or reminiscence, significant meetings (like a final one between Geofrey and a woman whose children were slaughtered in a raid his unit carried out) and passages of role-play – some of it seemingly spontaneous – in a frame that foregrounds the environments these returnees inhabit. This is augmented by sensitive camerawork that, at times, homes in on nature – ants marching along a rope, say – in Malick-like detail.
Fragments of Baroque music by Bach and von Biber play nicely against the grain of a film that is at its best when it leaves a quiet space to Geofrey (the standout presence) and his friends to sift gingerly, and movingly, through memories and traumas.
Production companies: Veilleur de Nuit
Co-production: Wrong Men, Zero One Film
International sales: Le Pacte, contact@le-pacte.com
Producer: Jean-Marc Giri
Co-producers: Benoit Roland, Thomas Kufus
Screenplay: Jonathan Littell
Cinematography: Joachim Philippe, Johann Feindt
Editor: Marie-Hélène Dozo
Editor: Marie-Hélène Dozo