Hafsia Herzi goes in front of and behind the camera in a brisk, energetic low-budget tale of a Parisienne's romantic trials and tribulations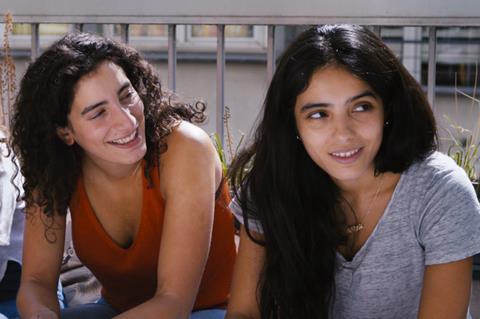 Dir. Hafsia Herzi. France. 2019. 102 mins.
A young woman tries to get over her problem lover with the help of friends, downtime and the occasional hot encounter. The story is hardly unusual in French cinema, but in You Deserve a Lover, it comes with a twist of apparent self-portraiture in that the writer, director and star are one – Hafsia Herzi, making her debut behind the camera and giving a very engaging, candid performance in front.
A brisk femme-positive approach and the personal urgency that comes with Hafsia Herzi's energetic, no-bullshit presence
Herzi made a striking big screen debut in 2007 with Abdellatif Kechiche's Couscous, winning a César for best female newcomer; she has since worked with Bertrand Bonello, Alain Guiraudie and Sylvie Verheyde (who plays a supporting role here) among others, as well as appearing in Kechiche's Mektoub My Love films. Without a doubt, the Kechiche touch has rubbed off in that Herzi proves extremely good at getting relaxed, spontaneous performances from her cast, and from herself.
The low-budget but more than competent execution is in a familiar intimate-realist style harking back to the New Wave, and this promising film's only setback is that the pros-and-cons-of-dating premise isn't sufficiently distinctive to make it stand out in the marketplace; that may be offset, though, by a brisk femme-positive approach and the personal urgency that comes with Herzi's energetic, no-bullshit presence.
Herzi - who also produced this micro-budget, hands-on venture – plays Lila, a young Parisian woman who discovers that her on-off (currently off) boyfriend Rémi (Jérémie Laheurte) has made other plans. The relationship seems finished, but Lila can't quite get Rémi out of her system, and he insists on hovering around her too. But while he's off 'finding himself' in Bolivia, she's open to other possibilities, encouraged by her supportive circle, including Gay Best Buddy and dancer Ali (a show-stoppingly witty performance by Djanis Bouzyani).
These include a dinner date with a young guy (Jonathan Eap), who approaches her in a park; a dalliance with a dashing hunk (Alexander Ferrario) who isn't quite as romantic as he claims; even an experimental moment with two older swingers (Sophie Garagnon is outrageously upfront in a droll restaurant scene). There's also a montage of interested (but not necessarily interesting) men she meets on a dating app, and a budding relationship with a polite young café waiter (Anthony Bajon, from Cédric Kahn's The Prayer), who is a student photographer eager to capture her image.
Cheerfully unrestrained in her acting, but markedly discreet when it comes to the love scenes, Herzi makes her Lila the archetype of the modern, untrammelled young Parisian woman – casting herself as a somewhat modest person who, not implausibly, sets hearts pounding all around. That said, the film comes across as confidently self-knowing rather than narcissistic on Herzi's part. It's also notable that she foregrounds Lila's and many of her friends' North African identity without making a big deal of this, showing them absorbed into French secular life (although there's a comic moment when she resorts to the services of a somewhat conceited marabout, a Muslim holy man).
The title, from a poem by Frida Kahlo, comes into play at the film's open ending – and comes across as Herzi's note of encouragement to her character, and as a discreetly pitched 'because-you're-worth-it' nudge to her viewers.
Production companies: Les Films de la Bonne Mère, ARTE France Cinema
International sales: Wild Bunch, ediederix@wildbunch.eu
Producer: Hafsia Herzi
Screenplay: Hafsia Herzi
Cinematography: Jérémie Attard
Editor: William Wayolle
Music: NOUSDEUXTHEBAND
Main cast: Hafsia Herzi, Djanis Bouzyani, Jérémie Laheurte, Anthony Bajon