Joaquin Phoenix turns in a masterful performance as a hired gun in Lynne Ramsay's blistering fourth feature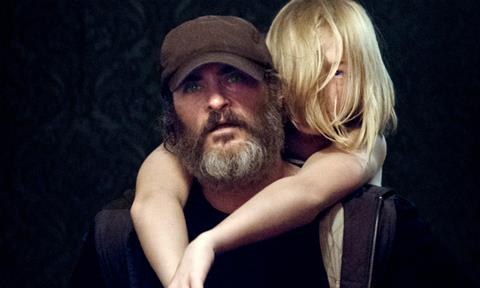 Dir/scr: Lynne Ramsay. UK. 2017. 85mins
You Were Never Really Here has been worth the wait. Lynne Ramsay's first feature in six years is a brutal, unforgiving 21st century Taxi Driver with an awards-worthy performance from Joaquin Phoenix as a hammer-wielding, blood-soaked avenger in search of salvation.
Ramsay elevates the material way beyond the conventional by sheer filmmaking craft;
The level of violence, both explicit and suggested, may alienate some audiences, but others should embrace meaty, adult fare handled in stunning fashion by a visionary director at the height of her powers. This could be Ramsay's most commercial prospect to date.
Ramsay has taken a number of liberties in adapting Jonathan Ames flinty, Chandleresque 2013 novella. All of them serve to condense and re-fashion the narrative, asserting her ownership of it without diluting its lethal force. The central character Joe (Joaquin Phoenix) is a gun for hire. When a situation requires resolution without involving the proper authorities, Joe is the man that you call.
Brief shards of flashbacks rip into the main story, painting an abusive childhood and traumatic incidents when Joe served in the FBI and the Marines. None of this is spelt out but we know from Phoenix's hulking, scarred boxer's frame, stone cold manner and anguished, blank stares that Joe is all too clearly the product of everything he has witnessed and survived.
A combination of Philip Marlowe and Travis Bickle, Joe earns a living rescuing young girls who have been kidnapped into the sex trade. Joe's latest case is to find Nina Votto (Ekaterina Samsonov), the missing daughter of a New York Senator. Like Jack Nicholson's J J Gittes in Chinatown (1974), the more Joe pursues the case, the more he realises that he is only seeing the tip of the iceberg; fragments of a bigger, more horrifying picture.
On some level, You Were Never Really Here deals in familiar ingredients of abuse, revenge, trauma and the corrupt actions of a powerful, untouchable political elite. Ramsay elevates the material way beyond the conventional by sheer filmmaking craft; what she brings into sharp focus, what she chooses to omit, the juxtaposition between almost fairytale elements and moments that wouldn't seem out of place in the Death Wish series.
The film is graphic in its violence but Ramsay leapfrogs over certain incidents, sure that the audience knows that more lives have been taken without the need to show the grisly details of Joe at work with his weapon of choice — a hammer. Ramsay has also changed aspects of the book to make Joe someone who is both rescuer and rescued, providing light at the end of a very dark tunnel.
Beefed up and bearded, Phoenix makes Joe a ghost haunting the shadows of the normal world. There is a coiled tension in Phoenix's performance that leaves Joe permanently on edge. He lives in a state of rage and despair, frequently testing new means to kill himself. A tender connection to his ailing mother seems like the only reason he can find for living one more day.
You Were Never Really Here looks beautiful and beguiling thanks to the cinematography of Thomas Townend, which seems perfectly attuned to the moods and range of the film. He picks out faces in the crowd and captures a twinkling sense of the city at night but also shifts into black and white cctv footage to mute the horrors of a bloodbath as Joe rampages through a house where a girl is held, killing everyone in sight.
The film also benefits from a tremendous electronic score by Jonny Greenwood. His propulsive music captures the heartbeat of a city at night ,while all the jagged edges and discordant notes perfectly match the emotional turmoil of the central character. In choosing such sympathetic collaborators, Ramsay has managed to enhance and translate her singular vision into a hugely compelling feature.
Production companies: Why Not Productions, Film4, BFI, Amazon Studios, Sixteen Films, JW Films
International sales: IMR ndevide@insiders-film.com
Producers: Rosa Attab, Pasca Caucheteux, James Wilson, Lynne Ramsay
Screenplay: Lynne Ramsay based on the novel by Jonathan Ames
Cinematography: Thomas Townend
Production design: Tim Grimes
Editor: Joe Bini
Music: Jonny Greenwood
Main cast: Joaquin Phoenix, Ekaterina Samsonov, Alessandro Nivola, Alex Manette