A Turkish man fights to retain his woodland home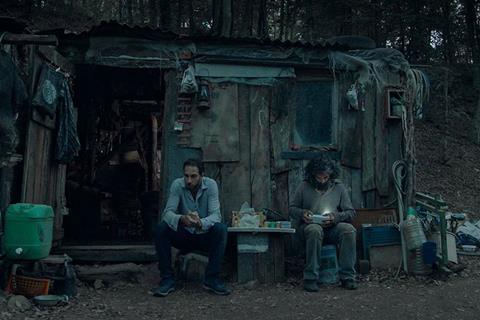 Dir/scr: Emre Yeksan. Turkey. 2018. 119mins
The second feature from writer/director Emre Yeksan after fellow Adana title Körfez, Yuva is as willowy and unconstrained as the forest-dweller at its centre, even as both protagonist and film hew to a broadly familiar path. Focusing on one man's fight to remain in the woods that he calls home, the Biennale College-funded project strips its narrative to the essentials, in what proves a sensory and emotive rather than strictly plot-driven effort.
The filmmaker wants viewers to experience the splendour of the feature's setting
A strong candidate for further festival play thanks to its lush greenery-filled images, immersive sound design and increasingly dream-like nature, Yuva initiates audiences into the world of the scruffily content Veysel (Kutay Sandikci). From the moment he is first spied scurrying through the foliage to save his dog from a trap, Veysel is clearly at one with his surroundings — later trilling at the vocal birdlife, sunning himself on the rocks after a refreshing dip and bunking down in the undergrowth. It takes 22 minutes before Veysel utters any dialogue, and he never appears happier than during that time.
Indeed, with supplies delivered by Mehmet (Okan Bozkus), a friend of his brother Hasan (Eray Cezayirlioglu), Veysel need not contemplate any other kind of life. Yet builders with their sights set on bulldozing the land are adamant that he is not welcome, and have ample firepower to back up their threats. As Yeksan's wordless opening makes plain, the filmmaker wants viewers to experience the splendour of the feature's setting and to then feel the pain brought by its antagonists. An early shot that overlays a caressing hand on top of the forest also stresses these intentions.
That is the type of experimental flourish that keeps Yuva memorably unorthodox, although it is also indicative of the movie's not-quite-satisfying supernatural bent. Yuva is better when it is soaking in the woodlands and Veysel's place within them. Patient shots that barely move and the scantest traces of Mustafa Avci's score allow an otherworldly sensation to emanate naturally, rather than by force. Similar sentiments apply when the distant sound of chainsaws become more tangibly menacing, as well as to the film's few narrative twists.
Production company Istos Film
Sales contact Istos Film, annamaria@istosfilm.com
Producer Anna Maria Aslanoglu
Production design Osman Ozcan
Editing Selda Taskin
Cinematography Jakub Giza
Music Mustafa Avci
Main cast Kutay Sandikci, Okan Bozkus, Eray Cezayirlioglu, Imren Sengel