Bertrand Bonello's latest is 'contemporary French cinema at its most conceptually ambitious'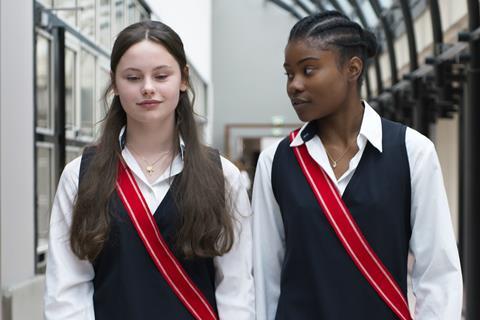 Dir. Bertrand Bonello. France. 2019. 103 mins.
French director Bertrand Bonello is notoriously unafraid of risk. A highbrow cinematic provocateur since the late 90s, he caused a stir in France with his last film Nocturama, a knowingly glamorous drama about terrorism and consumerism. He goes into dangerous territory again with Zombi Child, which reclaims the currently flogged-to-death zombie myth for its authentic origins in Haitian culture. Mixing political commentary, ethnography, teenage melodrama and genre horror, the film is an unashamedly cerebral study of multiple themes – colonialism, revolution, liberalism, racial difference and female desire - with its unconventional narrative structure taking us a journey that's as intellectually demanding as it is compelling.
Some will find the film contentious, and Bonello knowingly lays himself open to charges of cultural appropriation; but a manifestly scholarly approach will give the film prestige with festivals and outlets interested in contemporary French cinema at its most conceptually ambitious.
Not undead but bracingly alive
In Haiti in 1962, a young man named Clairvius (Mackenson Bijou) finds himself transformed into a zombi (sic): nothing to do with the shambling undead of gore cinema, this is a process whereby a drug causes victims to seemingly die, leading to their being buried, exhumed and then exploited in their amnesiac state as sugarcane harvesters. In other words, zombification is a brutal reductio ad absurdum of the condition of slavery.
In a parallel, contrasting strand, Bonello takes us into a very white milieu - an élite girls' lycée in France today, where the teenage students include dreamer Fanny (up-and-coming Louise Labèque, in her third feature), whose concentration is disturbed by interior-monologue love letters to her boyfriend and occasional fantasies about female schoolmates. Fanny is a member of a secret 'literary sorority' (in fact, a midnight drinking club for a small group of snooty girls), and suggests recruiting new Haitian student Melissa (Wislanda Louimat). Melissa passes the induction test by reciting a militant poem by René Depestre, 'Cap'tain Zombi' – although she never quite overcomes her peers' racist suspicion of her 'weirdness'.
The film's slow-burning juxtaposition of its two strands comes to a head, and takes an unexpected structural turn, when Fanny visits Melissa's aunt Katy (a warm, imposing performance by Tatiana Wilfort), a mambo or practitioner of voodoo, hoping that she can solve her love problems. This is where things get more outré, in a way that mixes well-researched voodoo lore and horror imagery (the film echoes Jacques Tourneur's I Walked With a Zombie, Wes Craven's The Serpent and the Rainbow and others), although the climax so departs from the tone hitherto established that viewers will either gasp at Bonello's audacity or feel he has crossed a line in both taste and narrative logic. By the end, however – and the use of the most incongruous pop standard imaginable – the film has taken us to places that we rarely visit in cinema (and certainly never in legit zombie movies).
Invoking French history and political theory (with real-life historian Patrick Boucheron giving the students a somewhat demanding lecture) and using striking locations including a palatial school in Saint-Denis and the ruins of Haiti's Sans-Souci Palace, the film plays stimulatingly with ideas of freedom and revolution, with Clairvius, struggling against his zombi state, figuring as the ultimate freedom fighter.
While the film, with its sequences showing Haitian ceremonies, might strike some as a white French director indulging in exoticism, Bonello takes Haitian history and culture absolutely seriously, and in juxtaposing them with the most exclusively white French experience imaginable (the school is for children and descendants of Légion d'Honneur laureates), Zombi Child poses timely and provocative questions. Crisp lensing by Yves Cape, Katia Wyszkop's design, and music by artists including rapper Damso, plus Bonello himself, combine to make a richly conceived piece. Strong performances from the young cast, including charismatic newcomer Louimat, make this a zombi drama that's not undead but bracingly alive.
Production companies: My New Picture, Les Films du Bal, ARTE France Cinéma, Playtime
International sales: Playtime, info@playtime.group
Producers: Bertrand Bonello, Judith Lou Lévy, Ève Robin
Screenplay: Bertrand Bonello
Cinematography: Yves Cape
Editor: Anita Roth
Production design: Katia Wyszkop
Music: Bertrand Bonello
Main cast: Louise Labèque, Wislanda Louimat, Katiana Milfort, Mackenson Bijou, Adilé David