Oscar-winner Meryl Streep to also attend this year's festival.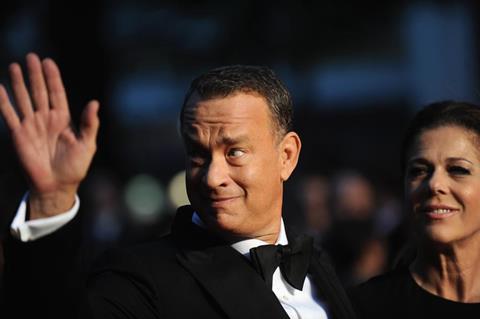 Oscar-winning actor Tom Tanks is to attend the 11th Rome Film Fesival (Oct 13-26), where he will receive the festival's lifetime achievement award.
The star of Saving Private Ryan, Forrest Gump and last year's Bridge of Spies will also be the subject of a 15-strong retrospective, including Hanks' work as a director on That Thing You Do! (1996) and Larry Crowne (2011).
"I consider Tom Hanks to be one of the greatest actors of all time," said the festival's artistic director Antonio Monda.
"His extraordinary talent and profound humanity make him a classic but always contemporary actor: his films and his performances will never be dated."
Fellow Oscar-winner Meryl Streep is also set to attend the festival where she will talk about the great Italian actresses who influenced her, including Silvana Mangano.
In addition, screenwriter and director David Mamet (Glengarry Glen Ross) will be the subject of an on-stage conversation; US writer Don DeLillo will talk about the relationship between cinema and literature and his passion for Italian filmmaker Michelangelo Antonioni; and architect Daniel Libeskind, who designed the Jewish Museum in Berlin and the project to rebuild the World Trade Center in New York, will discuss the relationship between the film and architecture as well as his love for Paolo Sorrentino's films.
RETROSPECTIVES
There are two further retrospectives in addition to the look back at Hanks' career.
The first is dedicated to Italian director Valerio Zurlini, and the second, on the eve of the US Presidential elections, will focus on the theme of American politics with 15 films, from John Ford to Frank Capra to Steven Spielberg.
TRIBUTES
A special tribute will be devoted to Italian director Luigi Comencini, on the 100th anniversary of his birth.
The tribute will include: an exhibition displaying 50 photographs by the director; a commemoration through the eyes of his daughters; and a screening of the restored version of Le avventure di Pinocchio.
Another tribute will be devoted to Gillo Pontecorvo, on the 10th anniversary of his death, with the screening of the restored versions of Queimada.
In addition, Mario Monicelli's L'armata Brancaleone will be screened to celebrate its 50th anniversary.
FESTIVAL EXPANDS
This year's festival is to expand beyond the Auditorium Parco della Musica, which has been the heart of the Rome Film Festival 2006 with its red carpet and screening rooms.
The festival will involve many other locations in Rome from the Cinema Village - where a temporary structure seating 800 people will be set up - and will include other movie theatres across the city, from the centre to the suburbs.
Elements of the festival will also take place in cultural venues throughout the Italian capital, and will feature a red carpet in Via Condotti.
The full line-up of films and events will be revealed late September.