Dir: Carlo Carlei. US. 2013. 119mins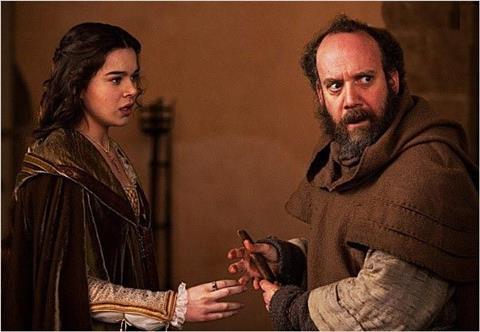 A fairly faithful retelling of one of the world's most well-known love stories, Romeo & Juliet is tasteful and straightforward, perhaps to a fault. While there's nothing objectionable about director Carlo Carlei's adaptation of William Shakespeare's romantic tragedy, the film's overall pleasant, safe approach provides an inviting surface but never risks digging into the material. The story's lovers are impassioned, but the telling is only lukewarm.
It's an honourable staging of a classic work, with the play's most memorable scenes—the couple's first encounter, their tragic farewell—performed crisply, allowing Shakespeare's timeless dialogue to work its wonders.
Releasing in the US and UK on October 11, Romeo & Juliet will rely on audience's familiarity with the Bard's play, and indeed some may prefer this version to the more radical ones that came in the 1990s, whether they were bold re-imaginings (Baz Luhrmann's Romeo + Juliet) or merely lively riffs on the play's origins (Shakespeare In Love). Newcomer Hailee Steinfeld, three years removed from her True Grit breakthrough, could attract viewers, as could Paul Giamatti in a supporting role. But the film's lack of audacity may keep it from rising above the noise during a cacophonous awards season.
This Romeo & Juliet doesn't try to update the setting or contemporise the dialogue. Instead, the film (adapted by Downton Abbey creator Julian Fellowes) returns us to the play's original location: Verona near the end of the 16th century. Romeo (Douglas Booth) becomes smitten with Juliet (Steinfeld), their intense teen ardour only slightly stifled by the fact that their families, the Montagues and Capulets, have been feuding for generations. The supportive Friar Laurence (Giamatti) marries them in private—but once Juliet's combative cousin Tybalt (Ed Westwick) learns of the love affair, he vows to kill Romeo.
Carlei (director of the Golden Globe-nominated Flight Of The Innocent) emphasises the swooning, impetuous pull of new love, and by casting young actors—Booth is currently 21, Steinfeld 16—Romeo & Juliet hopes to show both the naivety and resilience of that first infatuation.
Both actors acquit themselves nicely, but although they deliver Shakespeare's dialogue with ease, their performances remain studied throughout—Booth and Steinfeld are pushed around by their characters' melodramatic fervour rather than offering a confident take on the material. Consequently, the film's lovebirds can't help but seem immature and unequipped to face the consequences of what their impulsive decision to marry will mean to their warring families. In a sharper adaptation, this might be the filmmakers' point—driving home the notion that these star-crossed lovers were doomed from the start—but Abel Korzeniowski's earnest, sobbing score suggests that these characters' superficial passion should be taken seriously.
As an example of how to breathe new life into a familiar character, Giamatti is a sly delight as the friar, a quiet man whose genuine concern for the couple's well-being is undercut by his own self-regard and sureness in his plan to reunite them after Romeo is banished from Verona. But Giamatti's vividness in the role doesn't mean he winks at the audience or hams up his part: A reliable pro, he works perfectly within Carlei's restrained, respectful approach, enlivening every scene in which he appears.
Because True Grit was Steinfeld's first onscreen role, for which she received a Best Supporting Actress Oscar nomination, it's intriguing to see what she brings to Juliet. Far from her tough-as-nails turn as Mattie Ross, Steinfeld's Juliet is more sensitive girl than seductive woman, and rightly so, the actress highlighting the character's innocence and emotional openness. There aren't many layers to the performance, but Steinfeld reveals the same poise that she showed in True Grit, suggesting that she can bring warmth to a role when the character requires it.
Production designer Tonino Zera and cinematographer David Tattersall give the Italian locales a storybook, otherworldly feel without unmooring the movie entirely from reality. And Carlei lets Shakespeare's words flow harmoniously from a large cast that includes Damian Lewis, Natascha McElhone and Lesley Manville. Regrettably, the play's humour mostly comes off awkwardly, this Romeo & Juliet more comfortable indulging its lovers' adolescent angst.
It's an honourable staging of a classic work, with the play's most memorable scenes—the couple's first encounter, their tragic farewell—performed crisply, allowing Shakespeare's timeless dialogue to work its wonders. But in his pursuit of delivering a faithful Romeo & Juliet, Carlei mostly keeps this immortal work under glass: observing its brilliance without ever quite feeling its emotional resonance.
Production companies: Swarovski Entertainment, Blue Lake Media Fund, Amber Entertainment, Indiana Production Company, Echo Lake Entertainment
US distribution: Relativity Media, www.relativitymedia.com
Producers: Ileen Maisel, Lawrence Elman, Julian Fellowes, Nadja Swarovski, Simon Bosanquet, Alexander Koll, Dimitra Tsingou, Doug Mankoff, Andrew Spaulding
Executive producers: Markus Langes-Swarovski, Steven Silver, Neil Tabatznik, Marco Cohen, Benedetto Habib, Fabrizio Donvito, Philip Alberstat, Jackie Walsh, John Walsh III
Screenplay: Julian Fellowes, adapted from the play by William Shakespeare
Cinematography: David Tattersall
Editor: Peter Honess
Production designer: Tonino Zera
Music: Abel Korzeniowski
Website: http://romeoandjulietthefilm.tumblr.com/
Main cast: Hailee Steinfeld, Douglas Booth, Damian Lewis, Kodi Smit-McPhee, Ed Westwick, Paul Giamatti, Tomas Arana, Christian Cooke, Natascha McElhone, Lesley Manville, Laura Morante, Tom Wisdom, Leon Vitali, Stellan Skarsgård