US and Hong Kong producers joined by European distributor.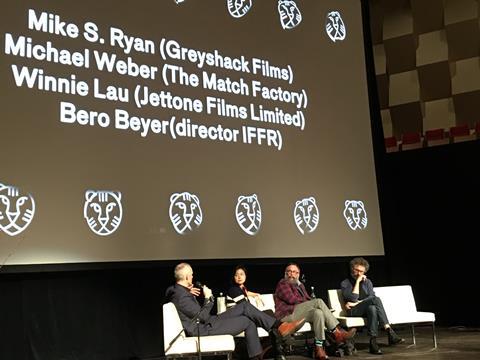 Independent filmmakers and distributors must change with their audience and embrace new platforms such as Amazon Prime and Netflix, according to Michael Weber, managing director of German sales agency The Match Factory.
Speaking on a panel titled "The Creative Thunder of Cinema" at the International Film Festival Rotterdam (IFFR), Weber said: "Ultimately, we want our movies to be seen by people. While I am very passionate about all of the films we sell, some of the films never make it to the cinema outside of festivals or, if they do make it to the cinema, they are often kicked out within a week by the bigger films.
"So if I sell to Netflix or to Amazon, it's likely more people will see that movie. And companies like Amazon understand there is value to a cinematic experience. I wouldn't say it's all a bad thing."
Weber, whose company is selling the three-part film Arabian Nights being screened in IFFR's Voices section, suggested that both older and younger viewers have moved away from the cinema as a preferred way to watch a movie.
He said that recently he took his 14-year-old daughter to the cinema to see "his kind of independent film", only for her to ask afterwards why they couldn't have watched the film at home on YouTube so that she could have fast-forwarded or done other things while watching.
"Where is the hope? The kids can't last longer than 20 minutes. It's all about mobile viewing and, I confess, most of the films I watch are online via links for work. Even I don't get to the cinema as often as I would like," he said.
Weber added that the average working person would rather "grow big bellies, drink lots of red wine and watch television" than go to the cinema or seek out independent films on specialist streaming platforms.
Experience
Mike S Ryan of Greyshack Films, whose producing credits include indie hit Junebug and whose Free In Deed was also in IFFR's Voices strand, countered the view that cinema was a dying medium.
"Vinyl was proclaimed dead and now everybody has a record player. Books were proclaimed dead and people are still reading 500-page Philip Roth novels. The cinema experience will eventually have value again. We just have to ensure there is added incentive to go to the cinema," he said.
Ryan pointed to directors such as Wes Anderson and Todd Solondz for their unique storytelling, Quentin Tarantino for screening The Hateful Eight on 70mm and films such as Ex Machina that provide an exceptional visual experience.
While he agreed that cat videos and television now provide competition for people's attention, Ryan said there were still opportunities for independent films to succeed at the cinema.
He said, "Look at directors like Ben Wheatley or Hungarian auteur Bela Tarr. They bring something different to the cinema. Yes, their taste is not for everyone but they do have an audience and luckily producers like Megan Ellis believe in these types of films."
US distributors such as Broad Green Pictures, A24 and Radius have pioneered new models, Ryan added, noting that Radius released Korean post-apocalyptic feature Snowpiercer on VOD for several weeks before releasing it theatrically.
New reach
For Jet Tone Films' Winnie Lau, a former EVP of sales outfit Fortissimo Films, Netflix's announcement at CES that it has launched into 130 countries meant that filmmakers now have a much bigger potential audience and new way to reach it.
She said, "It's a different strategy. You can watch film and television now at any time, in any place and, even better, you have potentially 70 million people watching your film."
Lau also questioned whether every film needed to be seen on the big screen, suggesting that sometimes it could be that a cinema run is simply booked to appease the director, writer and actors and that it might not help the film's exposure.
Weber believed that the film world has changed with the advent of streaming and digital distribution to a multitude of devices: "We have to accept this is the reality and we need to think how we can target this audience on a wider scale. They are not going to watch some niche VOD platform – you need a big brand like Netflix or Amazon."