Rotterdam reveals 2017 Tiger lineup and jury ahead of 46th edition.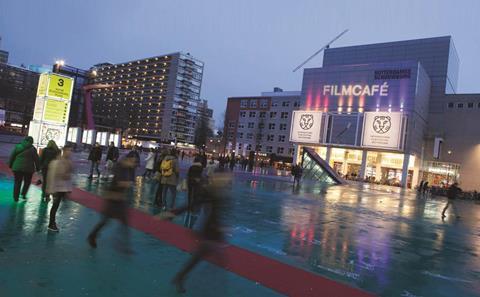 The 46th International Film Festival Rotterdam (25 Jan – 5 Feb) has revealed the full lineup for the Hivos Tiger Competition 2017.
Scroll down for lineup
This year's selection includes world premieres of new feature films by up and coming directors Niles Atallah, Pedro Aguilera and Hagar Ben Ashar, as well as debut features by India's Sanal Kumar Sasidharan, American-Korean filmmaker Kogonada and Dutch director Daan Bakker.
This year's jury will comprise of Newsha Tavakolia, Diana Bustamante Escobar, Fien Troch, Michael Almereyda and Amir Mohammed.
Festival director Bero Beyer commented: "This years line-up of the Hivos Tiger Competition features bold and daring filmmakers that don't shun the use of other media, alternative narrative structures and provocative and relevant themes. The nominees and their works deserve international recognition for their artistry. We are proud to present each of these eight films with a special spotlight on their own day, and bring them to a big audience throughout the festival."
Previously announced films set for the festival include Jackie, Paterson and The Levelling.
Hivos Tiger Competition lineup:
Arábia - Brazil, 2017, Affonso Uchoa /João Dumans
Life and death of a Brazilian factory worker.
The Burglar - Israel, 2017, Hagar Ben Asher
A young woman becomes a burglar herself after her mother's home is broken into.
Columbus - USA, 2017, Kogonada
In the modernist town of Columbus two haunted souls find respite in one another and the architecture that surrounds them.
Demonios Tus Ojos - Spain / Colombia, 2017, Pedro Aguilera
A filmmaker discovers an erotic clip of his younger half-sister on a sex site. He decides to visit her and soon becomes fascinated.
Light Thereafter - Bulgaria / Belgium, 2017, Konstantin Bojanov
An emotionally unstable young man criss-crosses through Europe in search of his idol, the mysterious painter Arnaud.
Quality Time - Netherlands / Norway, 2017, Daan Bakker
A series of short narratives about quaint young men and their concerned parents.
Rey - Chile / France / Netherlands / Germany / Qatar, 2017, Niles Atallah
A French adventurer establishes a kingdom in 19th century Southern Chile.
Sexy Durga - India, 2017, Sanal Kumar Sasidharan
During a nocturnal ride, a young woman and her lover are faced with a cross-section of Indian male society.