The Fixer among five projects selected for the CineLink Work in Progress sessions.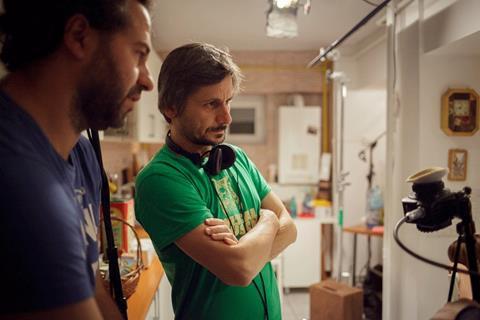 The Sarajevo Film Festival (Aug 14-22) has unveiled five projects selected for this year's CineLink Work in Progress sessions - an industry preview of upcoming films from Southeast Europe.
The presentations are open for invited guests who may engage in the projects completion or distribution, and will run Aug 19-20.
Scheduled to attend are representatives from Wild Bunch, The Match Factory, Pyramide, Memento, Fortissimo as well as the Cannes, Berlin, Sundance and Rotterdam film festivals.
The 2015 project line-up consists of three fiction projects, one animation and one documentary, selected from the festival's documentary workshop Docu Rough Cut Boutique.
They include The Fixer (Fixeur) from Adrian Sitaru, the Romanian filmmaker who won best director at Locarno in 2011 with Best Intentions and the DAAD Short Film Award at the 2010 Berlinale with The Cage (Colivia).
The Fixer is inspired by true events and centres on a young journalist, who goes to Transylvania together with a French TV crew led by a top reporter, to deal with a case of a young prostitute repatriated from France.
Scripted by Claudia Silişteanu and Adrian Silişteanu, it is produced by 4Proof Film and was shot earlier this year in Bucharest and Bistrita.
Also in Work in Pogress is Godless (Bezbog), the feature debut of Bulgarian director Ralitza Petrova, who previously won the Prix UIP Berlin (European Short Film) with Rotten Apple in 2007 and was nominated for the Cinefondation Award at Cannes 2009 with short film By The Grace Of God.
Godless centres on a young woman who looks after elderly people but trafficks their ID cards with her boyfriend. A shift occurs when she meets a new patient, a survivor from a Communist labour camp, who is arrested for fraud as a result of her actions. It is produced by Klas Film (Bulgaria) and co-produced by Alcatraz Films (France).
The third fiction project is Catrinel Dănăiaţă's debut feature, Double (Dublu), which shot in Bucharest in April and May. The drama follows a promising young architect as he tries to balance his personal life with the burdens of his career.
The film stars Bogdan Dumitrache (Child's Pose), Maria Dinulescu and Corina Moise. Gabi Antal is producing through Abis Studio in coproduction with Ada Solomon through HiFilm Productions.
Korida is a feature documentary from Austria's Siniša Vidović and follows three protagonists on their journey through the world of Bosnian bullfights, the Koridas. The film is produced by Golden Girls Filmproduktion and Filmservices GmbH Austria.
Birds Like Us (Ptice kao mi) is dubbed the first Bosnian 3D animated feature and is directed and written by Faruk Šabanović. The film is based on the 11th century Persian story The Conference of the Birds by Farid al-Din 'Attar.
TRT Turkish Radio and TV is the partner and investor in this project, which is produced by Bosnia and Herzegovina's Prime Time
CineLink Work in Progress
Godless (Bezbog) (Bulgaria, France)
Dir: Ralitza Petrova
Double (Dublu) (Romania)
Dir: Catrinel Dănăiată
The Fixer (Fixeur) (Romania, France)
Dir: Adrian Sitaru
Korida (Austria) - documentary
Dir: Siniša Vidović
Birds Like Us (Ptice kao mi) (Bosnia and Herzegovina) - animation
Dir: Faruk Sabanovic
Two awards will be handed out to projects in the Work in Progress section: The Post Republic Award, in kind post-production services worth €50,000; and The Restart Award, in kind support worth €20,000.
The jury comprises Tanja Meissner, head of international sales and acquisitions, Memento Films; Khalil Benkirane, head of grants, Doha Film Institute; and Tolke Palm, producer, The Post Republic.
Recent Work in Progress projects to make their mark on the festival circuit include Brides by Tinatin Kajrishvili; Toto and His Sisters by Alexander Nanau; Why Me? by Tudor Giurgiu; and Mountain by Yaelle Kayam.
Titles from previous years include If I Want to Whistle I Whistle by Florin Serban (Jury Grand Prix Silver Bear and Alfred Bauer Prize, Berlinale 2010), Harmony Lessons by Emir Baigazin (Silver Bear, Berlinale 2013), Mold by Ali Aydın (Lion of the Future, Venice 2012) and White Shadow by Noaz Deshe (Lion of the Future, Venice 2013).