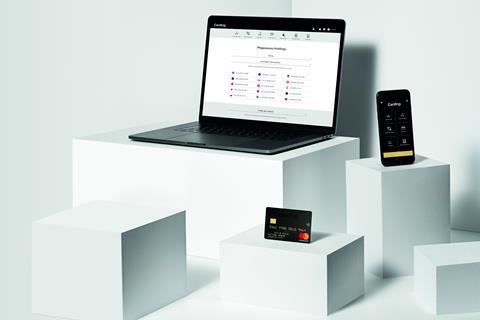 After establishing award-winning success in the music business, Centtrip has introduced its innovative financial technology services to the film industry, aiming to help a growing number of productions save significant time and money.
The UK-based firm provides the ability to control multi-currency deposits, international payments and foreign exchange. But one of its most eye-catching innovations has been the development of a pre-paid card that can hold up to £350,000 in 15 different currencies on a single card. This means productions can go cashless on location.
Six-figure sums of cash are not unusual on film shoots, with cast and crew receiving per diems (daily allowances) and large amounts required for production purchases, notably by the art and costume departments.
The challenges associated with this include making significant withdrawals from local banks in local currency; counting and distributing the cash; and storing it securely. Mistakes are easy to make, with people overspending on their allowance and receipts going astray. This is where Centtrip steps in.
Depending on the size of the production, between 30 to 100 of Centtrip Production Cards are typically distributed among cast and crew, which production accountants can load and manage instantly via an online platform.
"We are helping productions go cashless on location, which comes with a massive range of benefits," says Simon Liddell, director of music, film and entertainment at Centtrip. "Firstly, there are the safety issues. Having large sums of cash on set or in safes can be a security nightmare.
"One of our clients would previously have to walk out of a bank with suitcases full of money, go to their hotel room and spend a day counting out £500,000 worth of per diems to distribute to crew. With Centtrip, everyone gets a card, which can be loaded instantly."
Liddell highlights that a general shift from cash to card in society has only been accelerated by the pandemic. "With so many people working remotely, the ability to physically give people cash is sometimes impossible, aside from the fact that just handling cash feels a bit weird now with the current hygiene considerations," he says.
Crucially, going cashless ensures strict control over a budget and can save notable sums. "The Centtrip platform offer instant reporting and show what is being spent: where, when and by who," explains Liddell. "This means if someone has a budget of £5,000, that is exactly what is loaded onto the card and avoids overspend."
At a time when the industry is increasingly mindful of environmental sustainability, this fresh approach to spending also vastly reduces the amount of paper. It is a move that resonates with Liddell, whose previous role as a producer saw him having to store more than 10 boxes packed with paper.
"With Centtrip, there is no paper involved whatsoever," says Liddell. "When it comes to reporting expenses and petty cash spend, crew are required to photograph receipts using our app and it's on the platform, ready to be reported. It digitises everything."
Taking control over currency
Centtrip also provides protection to productions from the risk of currency fluctuations, an area in which "there is going to be a lot of uncertainty and volatility," according to Liddell, due to the impact of both the pandemic and Brexit.
The firm works with producers to set a fixed exchange rate so that when international finance comes in to a project, there is no ambiguity as to how it might affect the budget.
"It's a massive variable in a budget that can be controlled," Liddell explains. "Producers or line producers might budget at £1.35 on the dollar, for example, on a $10m investment. If it shifts by 5% to £1.42, that generates a shortfall of $500,000 bases solely on the currency movement."
Such a shortfall could see a production potentially in breach of a completion bond (insurance that is provided when a project is fully funded) so presents a real threat to the financial stability and future of a project. "We fix the exchange rate, mitigate that risk and ensure productions do not have to cut costs elsewhere," adds Liddell.
Further information on Centtrip's multi-currency card, expense management, foreign exchange and both international and local payments can be found in the practical guide Better Manage your Production Budget, which can be downloaded here.
Liddell will discuss how to save time and money by going cashless on location at the upcoming Restart Conference on May 18 at 1.10pm. He will be joined by James Shannon, business development manager at Moneypenny Services, and independent production accountant Gareth Jones. Click here to register.

Centtrip is a multi-award-winning fintech business that operates in the film and TV, music, arts, marine and aviation sectors. Founded in 2015 by experts in foreign exchange and technology, Centtrip now processes over £1 billion per year in transactions.