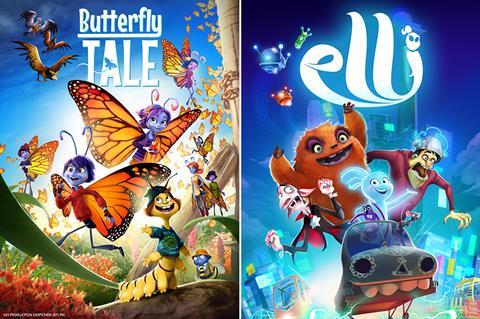 Founded in 2017, Pink Parrot Media (PPM) is an international sales agent that specialises in animated and live-action family entertainment. The company is active in distribution, acquisition, packaging, and financing projects as well as co-production opportunities.
It specialises in mainly CGI animated features but is also interested in animation TV series and live-action family features or series, especially if they are linked to any brand or feature film.
PPM's vice-president/head of international sales and acquisitions Tania Pinto Da Cunha outlined the company's strategy ahead of this year's Cannes virtual market activity.
Q: How will you be approaching this year's virtual Cannes market?
We are very happy to be part of this first Virtual Cannes Market Online and we are looking forward to catching up with all our industry friends, clients and colleagues to share this new experience together. We are aware that the situation in our industry is still uncertain in a lot of aspects, but in animation we are lucky to be able to continue working and producing without being affected too much. We are optimistic to find other ways to pursue those great animation stories that are still being produced, even with the Covid-19 pandemic still ahead.
Q: What are the highlights from your slate this year?
One of our biggest highlights for this market is the closing of the financing for our animation 3D project Butterfly Tale, a co-production between Canada (Carpediem Film & TV Inc.) and Germany (Ulysses Filmproduktion) that is preparing to start production in the next couple of months. It is a pure comedic fast-paced action film for the whole family.
We are also greatly advanced in the financing of Elli!, a third party production between Germany (Zooper Films), Belgium (Belga Films) and Canada (Carpediem Film & TV Inc,) that will go into production in Q4 2020/Q1 2021. I like to think of Elli! as Casper meets Monster Inc.
Q: What are your upcoming titles?
Our main animation titles mentioned above are still available for pre-sales in some territories. We are also happy to share for the first time at Cannes Mandala's new designs, an animation feature film co-production between Canada (Carpediem Film & TV inc.) and India (Broadvision/Studio 56). In addition, as a first market premiere, we are screening our beautiful 2D animation from Brazil entitled, The Red Scroll. It was planned to be released in theatres this summer in Brazil but will have to wait due to Covid-19. We are considering other ways for this title's release and are looking at non-theatrical rights offers. There will be two screenings during the market for buyers.
Q: Are children films, and especially animations, better suited to weather the Covid-19 crisis?
Despite Covid-19, for the most part animation studios have continued to work and produce good quality projects for television and platforms. There might be a little delay in deliveries of a few months, but production has never stopped. The delivery of pre-bought titles will then not be an issue with animation, which is good news for Pink Parrot. The titles that were fully financed and in production already will most probably be completed on time, and hence delivered as per the expectations. That is definitely a big difference compared to live-action films and series. Another benefit for the animation sector is that stars are turning to the genre for voice over work to cover the lack of live-action production. We are currently negotiating with agents more than ever for some of our upcoming animation titles.
Q: How has your company adapted to the pandemic and the theatrical shutdown?
Luckily, most of the big titles we have in our market line-up are in pre-production with a delivery planned in 2022, which does not really affect the current theatrical distribution situation for Pink Parrot. As for our other titles - some animation, some live action - we are finding new solutions by closing TV and VoD deals with the blessing of the producers we closely work with. This is for sure a step that most of us sales agents have had to take recently.
Q: What are Pink Parrot's future plans?
Continue working hard for sure! Listen to our client's current needs and share with them different ideas to continue our strong partnerships. We need to be united and work together, and need each other more than ever!